Embry-Riddle's Golden Eagles Flight Team Wins 15th National Championship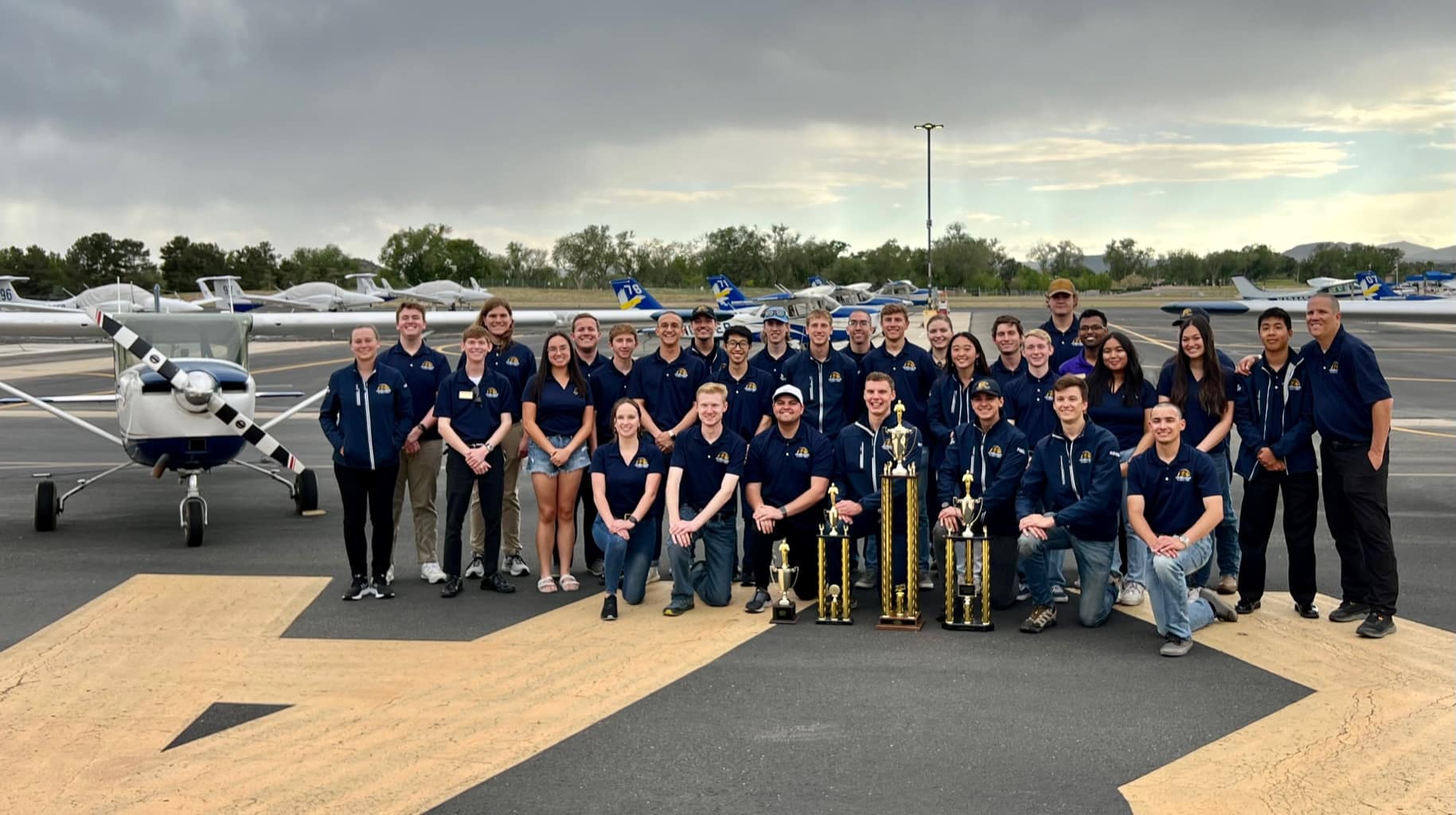 After more than 25 days of cross-country flying and competition, Embry-Riddle Aeronautical University's Golden Eagles Flight Team returned home to Prescott, Arizona — elated and victorious.
As they exited their aircraft, some for the last time as graduating seniors, there were hugs and applause for the returning champs. The team had achieved an amazing feat: defending its national championship title, capturing its third consecutive and 15th overall win at the 2023 National Intercollegiate Flying Association (NIFA) Safety and Flight Evaluation Conference.
"All year long, we've been saying 'impossible' means 'I'm possible,'" said the team's Head Coach Shaun Shephard. "And we went out there and did exactly what we needed to do with safety, focus and precision."
The 18-member Golden Eagles Flight Team soared to first place out of 28 university teams at the competition held May 8-13 in Oshkosh, Wisconsin. Embry-Riddle's Daytona Beach flight team came in sixth place this year and won the national championship in 1992.
"Our flight team is representative of the quality of students that Embry-Riddle attracts," said Prescott Campus Chancellor Dr. Anette M. Karlsson. "They are dedicated to their future professions and willing to spend the extra time to become the best."
"Anyone who knows this team has seen their commitment and service to each other," said Dr. Tim Holt, dean of the College of Aviation. "The time and dedication it takes is second to none."
The competition includes flying and ground events, such as flight planning, navigation, aircraft recognition, precision landings and message drops. In addition to being named champions of the flight events, the Golden Eagles also earned second place overall in ground events.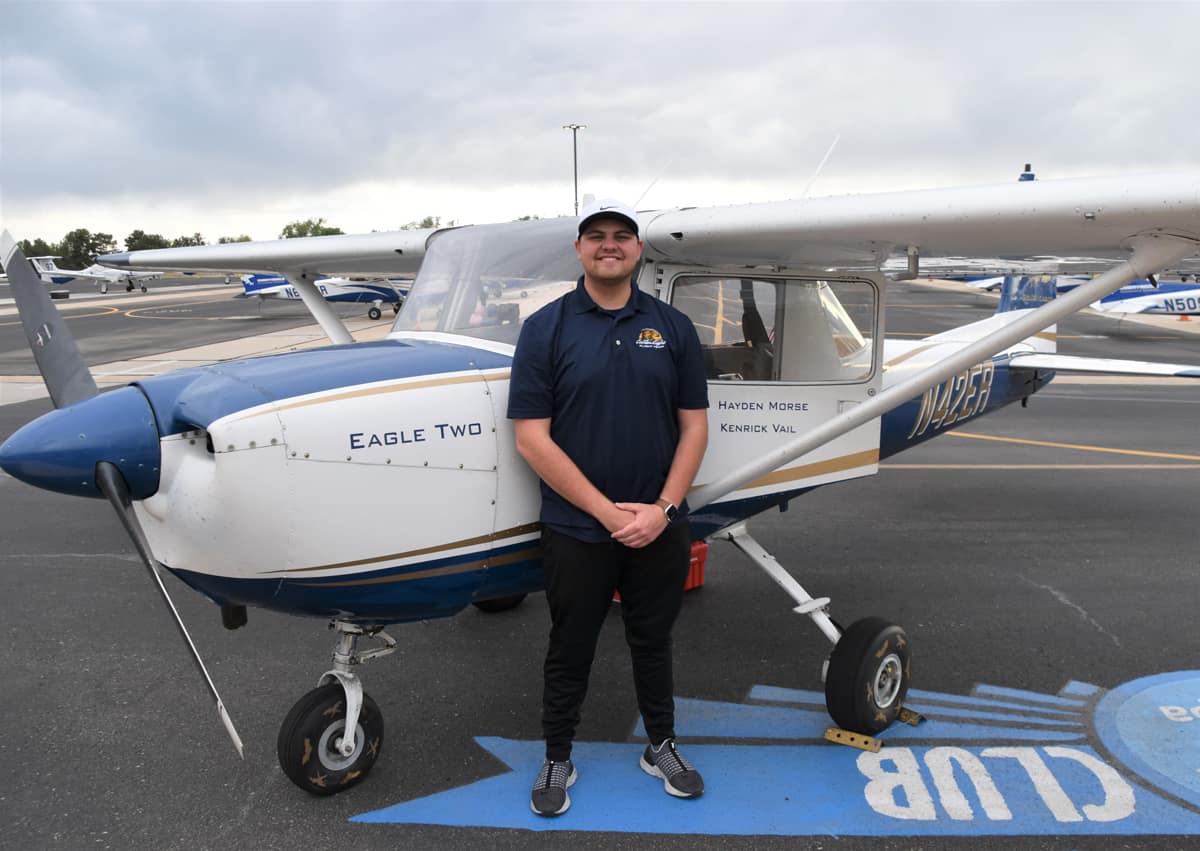 Hayden Morse was named Top Collegiate Pilot at the competition. (Photo: Embry-Riddle/Everly Chadwick)
Individual National Champions
Leading the team to victory was Hayden Morse, the top pilot overall and top-scoring contestant as well as the short-field landing champion. Morse, who is from Scottsdale, Arizona, joined the Golden Eagle Flight Team in 2020. Since then, he has been part of three championship teams and competed in numerous events.
Last year, he won the power off landing and short field landing competition which catapulted the Golden Eagles to its second straight national championship. "Hayden is a hard worker and very humble," said Shephard. "He is a great leader and teacher, always willing to help others."
"Early in his time at Embry-Riddle, Hayden dedicated himself to advancing his skills and working hard to be recognized as top pilot," said Flight Department Chair Parker Northrup. "Earning the most points overall demonstrates his competitiveness across both ground and flying events."
"This team means a lot to me," Morse said. "One of the major things I always think about is the team's legacy — those who have come before and those who will come after us. … We are proud to represent the flight department as one of the best flight training centers in the world."
Morse is one of eight graduating seniors on the team. After earning his degree in Aeronautical Science, he is now starting his career with Endeavor Air.
In a remarkable show of skill, another graduating senior, Camden Dellar, won the individual national championship in power off landing, coming within eight feet of the landing mark. Originally from Wasilla, Alaska, Dellar also earned his degree in Aeronautical Science and hopes to work for Alaskan Airlines.
Junior Zachary Sornoza won the individual national championship in aircraft recognition. Raised in Phoenix, Arizona, he caught the aviation bug at a young age then prepared for the competition by memorizing thousands of aircraft. Winning felt good he said, but the real value of the team is "true friendships, true family."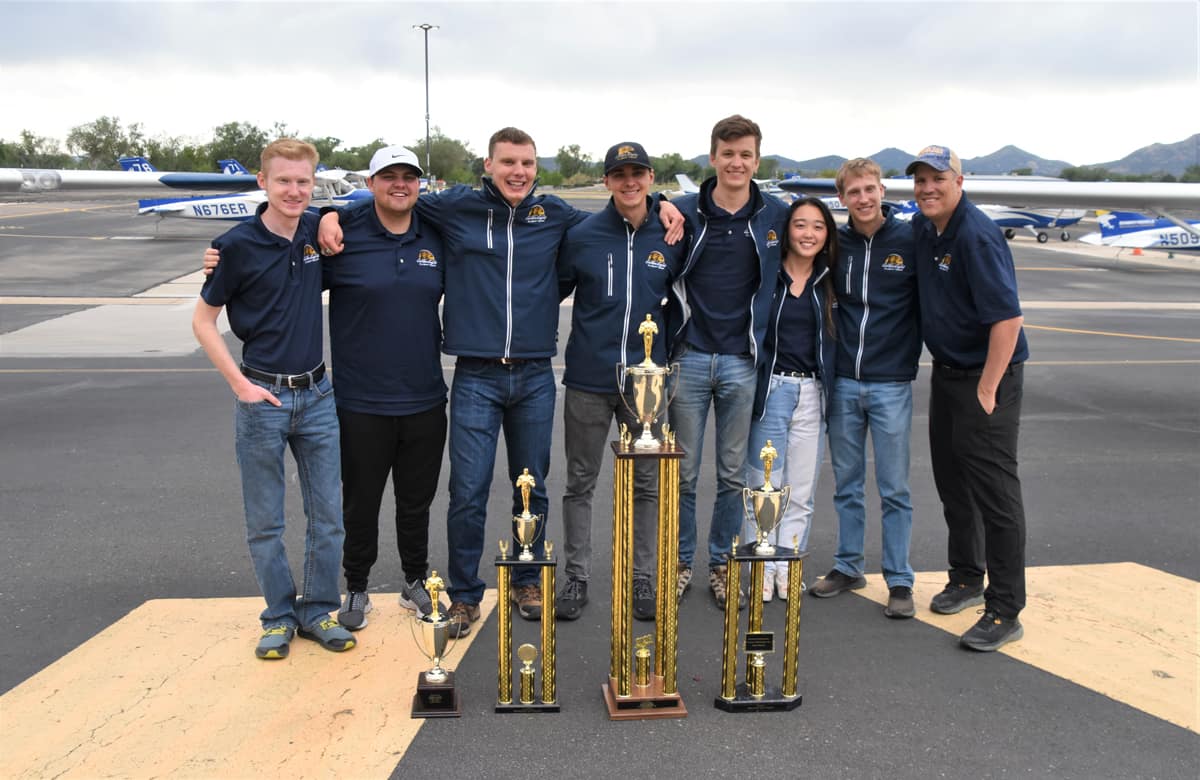 Golden Eagle Flight Team seniors: Camden Dellar, Hayden Morse, Gabriel Witt, George Fiscu, Logan Haynes, Karen Lau and Kenrick Vail, with Head Coach Shaun Shephard. (Photo: Embry-Riddle/Everly Chadwick)
About The Team
The Golden Eagles share a commitment to excellence. They train several days a week and most weekends, in addition to the rigorous academic course loads that most team members carry.
"The team has space engineers, mechanical engineers, air traffic controllers," said Shephard. "We have a wide variety of everybody on the team, not just pilots, and that's what makes this group really special."
Shephard is an Embry-Riddle graduate with a degree in Aeronautical Science and a minor in Meteorology. He became a flight instructor in 2008 and enjoys sharing his passion for flight with future generations of pilots.
Coach Farrell Haris, who is also the team's fleet technician, has been with the Golden Eagles since 2009. He also serves as the preflight event coach and on-site maintenance technician for competitions.
The team's academic advisor is Dwayne Fernandes, assistant chief for ground school and assistant professor of Aeronautical Science.
Members of the 2023 National Championship Golden Eagles Flight Team are listed as follows:
Head Coach: Shaun Shephard
Technical Coach: Farrell Harris
Flight Events:
Gabriel Witt
George Fiscu
Hayden Morse
Camden Dellar
Logan Haynes
Kenrick Vail
Zoltan Belady
Davin Blunt
Eli Hemmerlein
Karen Lau
Ground Events:
Bri Francis
Samuel Low
Jedrick Sanders
Erich Norris
Griffin Jeannette
Ethan Michon
Kyle Neighbors
Zachary Sornoza
Coach Colin Kennedy
Coach Matt Masangcay
Coach Colin Ho Tseung
Coach Jamie Gallagher
See a complete list of the 2023 NIFA SAFECON national competition results.
Posted In: Aviation | Institutional News