Embry-Riddle Unveils Partners for Research Park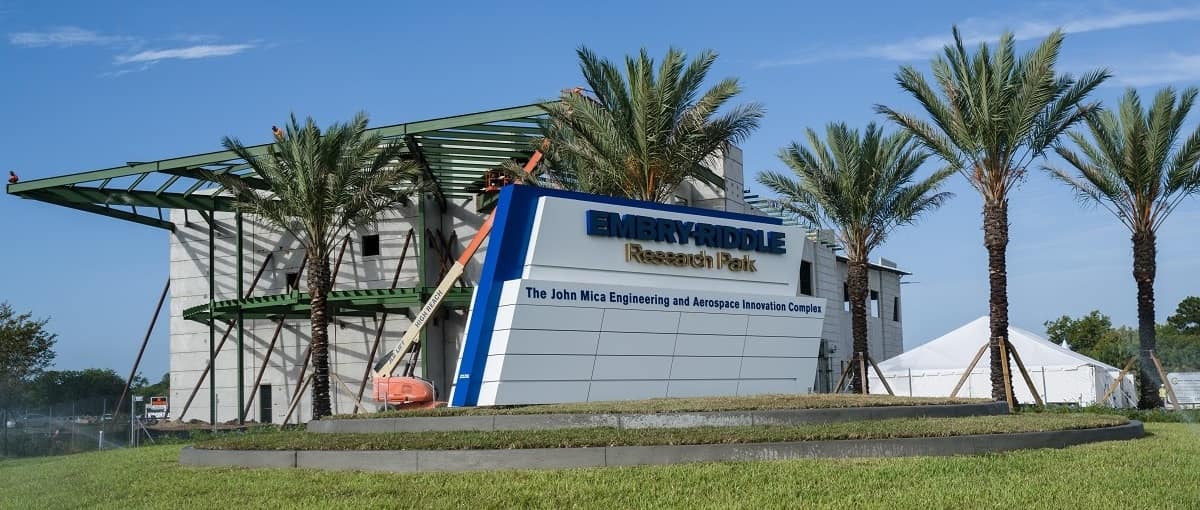 International Speedway Corporation, DuvaSawko, Cobb Cole, FireSpring Fund, James Moore & Co., Vann Data Services and venVelo To Be Part of University's John Mica Engineering and Aerospace Innovation Complex
Seven Central Florida companies and organizations specializing in advanced technology, business start-up, legal services, IT, professional sports, venture capital, accounting and more have partnered with Embry-Riddle Aeronautical University's Research Park in a joint effort to foster and facilitate innovative business creation and incubation within Florida's booming research corridor.
As announced August 2 at Embry-Riddle's Daytona Beach, Fla., campus, International Speedway Corporation (ISC) and DuvaSawko EM Billing & Management Solutions have signed on as Nexus Partners and are positioned to influence, contribute and access the burgeoning businesses that will bring new tech enterprises to market.
As the leading promoter of motorsports entertainment and events in the United States, ISC owns and operates 13 motorsports facilities including Daytona Beach International Speedway. In addition to a focus on innovation and cutting-edge concepts within the racing industry, ISC invests in community, charitable and environmentally sustainable programs.
Based in Ormond Beach, Fla., DuvaSawko is a locally-owned company nearly 20 years in business that has earned a national reputation for its revolutionary approach and success in software development and revenue cycle management – specifically in department coding, billing, accounts receivable (A/R) management, practice management software and service and professional fee billing.
The expertise these Nexus Partners bring will benefit emerging enterprise as well as support the development of innovation and technology.
Filling the five Resident Partner positions are Cobb Cole, FireSpring Fund, James Moore & Co., Vann Data Services and venVelo. Resident Partners will provide professional advice, direction and services in addition to making connections and long-term relationships with start-up companies within the Research Park and university. They will support start-up ventures while advancing new technologies toward commercialization and launch.
A staple in Central Florida since 1925, Cobb Cole is the largest law firm in Volusia County with areas of expertise in business, employment, real estate, land development and tax law. Skilled in technology transfer, Cobb Cole recently was recognized as a top-ranked law firm by Martindale-Hubbell.
FireSpring Fund is a mentor-driven seed fund and accelerator that provides seed capital to early-stage technology companies located in Central Florida that demonstrate high growth potential with a national and/or international level reach. Investments range from $25,000 to $225,000 based on success metrics and the accelerator program runs for six months. FireSpring Fund is a non-profit 501(c)3 with the mission to bridge the funding gap and help companies start, stay and grow in Central Florida.
Founded in 1964, James Moore & Co., CPAs and Consultants is a full-service firm that provides accounting and auditing, tax, technology solutions, CFO and other business consulting services with extensive higher education and technology industry expertise. With offices in Daytona Beach, Tallahassee and Gainesville (where it is a partner of the University of Florida), it has been named among the Top 25 accounting firms in the state.
Vann Data Services, a certified Minority/Woman Owned Business headquartered in Daytona Beach, has been providing network, security and IT business solutions since 1978. Specializing in IT Infrastructure and Design, Cloud Computing and Business Continuity, Vann Data Services is a Microsoft Silver Midmarket Partner and provides support throughout Volusia and Flagler counties and Central Florida. Executive Vice President Todd Huffstickler is a graduate of Embry-Riddle.
Winner of the 2014 "Tech Investor of the Year" Award from the Metro Orlando Economic Development Commission, venVelo is the most active early-stage venture fund in Central Florida. It provides capital and mentoring through its board of entrepreneurs and executives with decades of experience in sales, marketing, human resources and finance.
All partners will be housed in the Research Park's cornerstone building, the John Mica Engineering and Aerospace Innovation Complex. Named after U.S. Representative John Mica (R-Florida) in honor of his key role in supporting the university's educational and research endeavors and more commonly called the MicaPlex, it is a 50,000-square-foot, state-of-the-art innovation hub designed to encompass research enterprises in aviation, space, engineering, unmanned systems and the environment working in partnership with Embry-Riddle faculty and students. Located adjacent to the Daytona Beach Campus, it will include 10,000 square feet of flex lease space as part of a collaborative platform for incubating new technologies. Tenant partnership opportunities are still available for the flex lease space.
"This is a unique collaborative opportunity not only for our partners and start-up companies, but for our students, staff and faculty," said Embry-Riddle Interim President Dr. Karen A. Holbrook. "The diversity and depth of experience that these partners represent provide a comprehensive suite of services for future leaders of tomorrow – whether they be students, local businesses or national organizations."
Media Contacts:
Melanie Hanns, Director of Media Relations, Embry-Riddle Aeronautical University, Corporate Communications; Office: (386) 226-7538; melanie.hanns@erau.edu.
James Roddey, Director of Communications, Embry-Riddle Aeronautical University, Daytona Beach, Fla. Campus; Office: (386) 226-6198; james.roddey@erau.edu.
---
About The John Mica Engineering and Aerospace Innovation Complex/MicaPlex
Known as the MicaPlex, this cornerstone building of The Research Park at Embry-Riddle Aeronautical University will house collaborative workspaces, a wide range of laboratories and business support services collocated to ensure that technology-focused startups will have every advantage for success. The first building phase also includes a large wind tunnel and test facility with cutting-edge instrumentation. Named for U.S. Representative John Mica (R-Florida) in honor of his key role in supporting the university's educational and research endeavors, it is strategically located in Central Florida's "Convergence Zone" of innovation and discovery. This collaborative atmosphere is designed for incubating new technologies across 10,000 square feet of flex lease space to meet tenants' needs, and is scheduled to be completed Spring 2017. For more information, go to erau.edu/micaplex. For information about partnership opportunities, call (386) 226-4928 or email micaplex@erau.edu.
About Embry-Riddle's Research Park
Embry-Riddle's Research Park includes offices, labs and hangar space with direct taxiway access to Daytona Beach International Airport. Embry-Riddle's Research Park is conveniently situated near Orlando, Tampa and Jacksonville, and is well positioned to leverage the resources of Florida's growing high-tech corridor. Research Park tenants will have direct access to use the facilities provided within Embry-Riddle's continually expanding areas of research, including unmanned design, engineering and flight:
- Center for Cybersecurity and System Assurance — which includes the NextGen Engineering Applied Research Lab
- Eagle Flight Research Center — where faculty, staff and students work with industry on experimental flight testing, design and testing of unmanned aerial systems (UAS), development and verification of high-fidelity flight-data models used in engineering and training simulators, and prototype engineering solutions to advance environmentally compatible alternatives for aviation.
- Designated a Center of Excellence in Unmanned Aircraft Systems, Embry-Riddle will be the technical lead in UAS airport ground operations and UAS pilot and crew training and will co-lead in-command and communications research. This distinction was bestowed jointly by the Federal Aviation Administration (FAA) and ASSURE (Alliance for System Safety of UAS through Research Excellence).