Embry-Riddle, University of Salford UK Form Unique Aerospace Partnership for New Master's Degree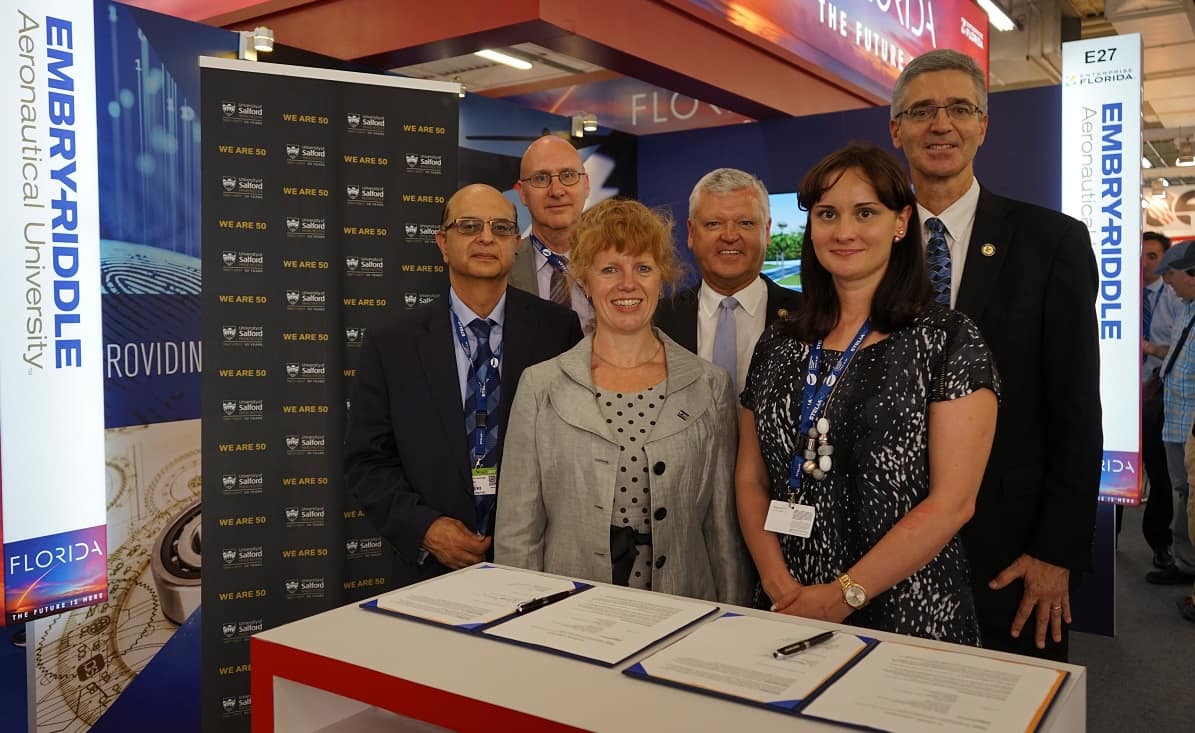 This year's Paris Air Show was the venue for the launch of a unique new master's degree program in Aerospace Engineering, as Embry-Riddle Aeronautical University's Worldwide Campus has made the University of Salford its first United Kingdom (U.K.) higher education partner.
Embry-Riddle, the world's oldest and largest university specializing in aviation and aerospace, has a long-standing education and training presence at U.K. air bases but this is the first time it has teamed up with a major UK campus.
The new master's qualification is expected to be highly coveted, as it will equip graduates with two degrees – one from Embry-Riddle and a second from the University of Salford.
Vice-Chancellor (International and Regional Partnerships) Professor Jo Purves and Embry-Riddle Worldwide Chancellor Dr. John R. Watret agreed the collaboration on the opening day of the Paris Air Show at Le Bourget, France on Monday, June 19.
Together the two universities boast long-standing partnerships with numerous industry players including Airbus and Boeing, while Embry-Riddle alumni include NASA astronauts Daniel Burbank and Alvin Drew.
"We are honored to partner with the University of Salford to deliver world-class programs that will enable our students to be productive and successful participants in the aerospace community," said Embry-Riddle President Dr. P. Barry Butler. "Collaborations between our two great universities will benefit everyone involved."
Professor Purves said "Embry-Riddle is a gold standard in aviation qualifications in the U.S. with a history going back to the 1920s, so we are thrilled to be their first UK higher education partner. Graduates with our double qualification will be uniquely placed to pursue careers worldwide in aircraft engineering and avionics, aerospace and airport management.
"This partnership fully underlines our commitment to work collaboratively with leading organizations to enhance the career prospects of our students."
The master's course, which starts in September 2017, is suitable for engineering graduates or professionals working in industry. It will be delivered online and onsite at the University of Salford's campus in the UK.
---
About University of Salford
The University of Salford draws on an iconic industrial heritage to offer real-world learning and research experiences and create highly-employable graduates. Salford is ranked by the Sunday Times as one of the best 10 places for graduates to find work – the heart of the UK Northern Powerhouse. Leading in media and digital, business, technology, science, engineering and health, its strategy to provide degree courses embedded in industry and the professions is proving successful with applications rising by 25 percent in two years and recruitment bouyant. Salford features in the QS World University Rankings for built environment and civil engineering, and 89 percent of undergraduate honors degrees support students into a work placement and many courses are accredited by industry bodies like the Institution of Structural Engineers, the Royal Aeronautical Society and the Nursing & Midwifery Council.