Embry-Riddle Teams Win Top Honors in Design/Build/Fly Competition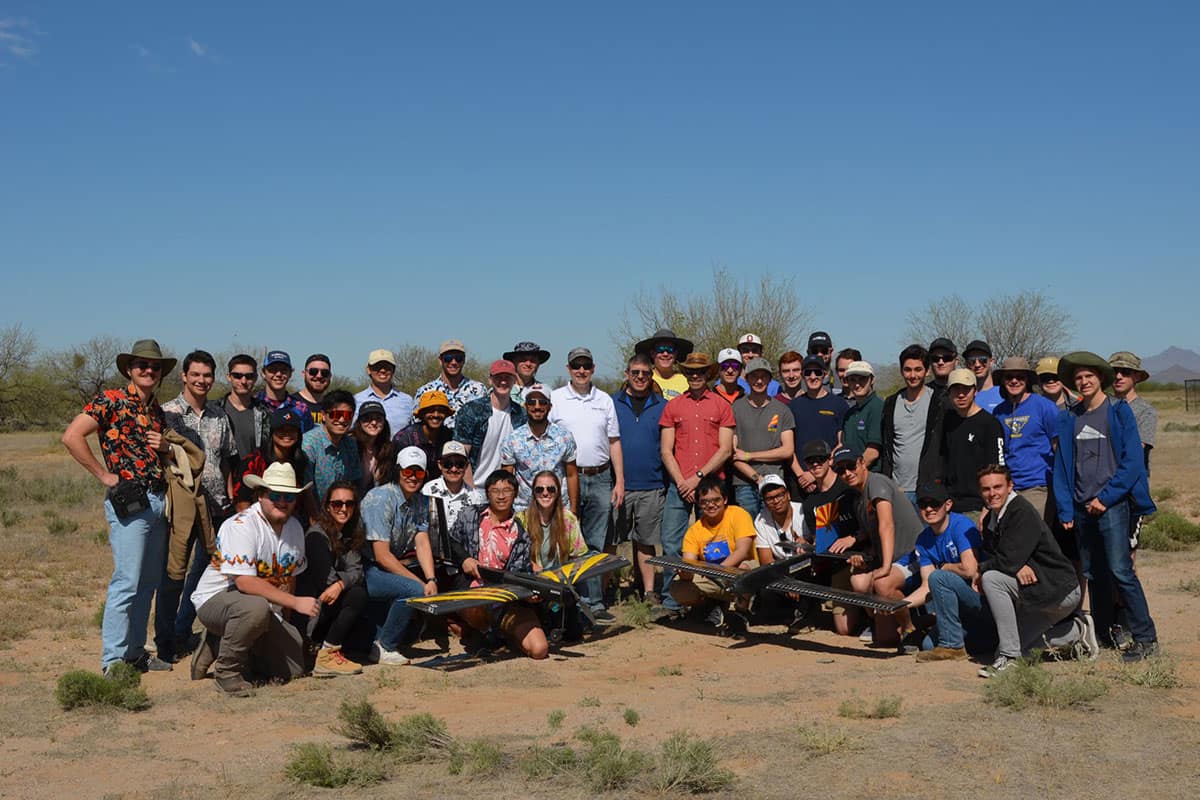 Challenged in a global competition to design, build and test an uncrewed aerial vehicle to combat electronic warfare, Embry-Riddle Aeronautical University students ranked third place among more than 80 teams from around the world.
Students from Embry-Riddle's Daytona Beach, Florida, campus also ranked highest among 28 U.S. teams in the 2023 Design/Build/Fly (DBF) competition organized by the American Institute of Aeronautics and Astronautics (AIAA).
A second student team from Embry-Riddle's Prescott, Arizona, campus blazed to seventh place globally — a notch higher than their 2022 finish — despite technological adversity that required advanced engineering and problem-solving skills.
Teamwork Makes the Dream Work
Most importantly, students from Arizona as well as Florida flexed their teamwork skills by working collaboratively to help each other succeed.
For example, when the Daytona Beach team needed to get 200 pounds of materials to Tucson, Arizona, they sent it to Prescott through university channels to avoid the high cost of commercial transportation. The Prescott team safely delivered all of that cargo to the competition, along with chairs and an awning to keep their Daytona comrades from getting sun-scorched. Then, when the Prescott team's aircraft needed repairs, the Daytona Beach students gladly shared supplies and other support.
"We always appreciate Daytona being at the competition," said Embry-Riddle junior Kyle Abbas, captain of the Prescott team and an Aerospace Engineering major. "We're one of the few teams that show up with a sister campus, and being able to work together helps us perform better."
The feeling was mutual for Embry-Riddle senior Victor Chang, captain of the Daytona Beach team. "Helping the Prescott team was a given for us," Chang said. "They helped us by taking some of our stuff out there, and during the competition as well, and we repaid them. We had all the materials they needed, and we had the people power to help them."
Chang's team-focused approach is likely to serve him well throughout his career: After he graduates this summer, Chang, an Aerospace Engineering major focused on Aeronautics, will head to St. Louis, Missouri, where he will work in structural engineering for The Boeing Company.
Triumph Over Adversity
Last fall, the AIAA asked participating student teams to create uncrewed aerial vehicles (UAVs) capable of conducting surveillance and electronic warfare. The aircraft needed to be flight-ready within five minutes so that, in a real-world scenario, a soldier in a combat situation could quickly assemble the technology.
Through several demonstrations, students proved the superiority of their aircraft. For example, one challenge was to mount the aircraft with a simulated antenna to jam enemy signals. "We had to fly the longest possible antenna as fast as we could go at full power," Chang recalled. In another challenge, the aircraft needed to carry the heaviest possible package for as long as possible. Still, another challenge looked at structural integrity after weight was loaded onto the aircraft's wingtips.
The Daytona Beach team's aircraft, called ROOSTER (for Remotely Operated Optimal Surveillance Transport for Eliminating Radar), has a 67-inch wingspan and is 52 inches from nose to tail, with a total takeoff weight of 30 pounds. The aircraft flew a lap in 75 seconds while carrying a 37-inch antenna, and it held up under 133 pounds of weight, Chang reported.
The Prescott team's UAV, named Ares, after the ancient Greek god of war, is an all-composite design with a six-foot wingspan. Designed with foam core wings and a balloon-molded fuselage, Ares can fly faster than 100 miles per hour, and it can be assembled in two minutes, Abbas noted.
After a successful first flight, the Prescott team's aircraft suffered a propulsion system failure, resulting in a crash. Undaunted, the students regrouped and repaired damages to the aircraft, said faculty mentor Johann Dorfling, who is the Raisbeck Engineering Design/Build/Test endowed distinguished chair and assistant professor of Aerospace Engineering.
"The camaraderie with the Daytona Beach team was amazing," Dorfling added. "They immediately jumped in and offered us supplies and materials to help with the repair." The Prescott students worked through the night. The next day, they completed 16 laps with their aircraft before a depleted battery caused a premature landing. On the third try, Dorfling said, "Our pilot Matthew Fyhrie did an amazing job, pushing the airplane to its limits, and managed to complete the mission in less time than ever seen in testing."
At Embry-Riddle's Daytona Beach Campus, Aerospace Engineering Chair and Distinguished Professor Dr. Tasos Lyrintzis commended all the student competitors.
"The DBF competition is the largest and most prestigious AIAA global student design competition," he said. "We are proud that Embry-Riddle's Daytona Beach team placed third overall and first among U.S. schools. This is the third time in a row that the team has finished among the top three. Our Prescott Campus is the only other team that has finished in the top 10 for the last three years. I am extremely proud of our students as well as the faculty advisors."
Dr. Mark Sensmeier, chair of the Aerospace Engineering program at Prescott, shared similar sentiments. "We are extremely proud of our terrific students and faculty mentors who continue to demonstrate excellence in the AIAA Design-Build-Fly Competition," he said. "In competition with the best schools from around the world, our students model problem-solving skills and cross-campus cooperation worthy of the Embry-Riddle tradition of excellence."
Prescott students received guidance from Dorfling as well as Joseph W. Smith, assistant professor of Aerospace Engineering.
Daytona Beach students received guidance from Distinguished Professor of Aerospace Engineering Dr. Gordon Leishman as well as faculty advisor Kimberly Heinzer, associate professor of Aerospace Engineering. Several Embry-Riddle alumni who worked on DBF projects as students also took part in the event at Tucson.
The AIAA competition, sponsored by Raytheon Missiles and Defense, took place in Tucson, Arizona. The event included teams from 14 countries, including 27 U.S. states and the District of Columbia, the AIAA reported in a news release.
Posted In: Aviation | Engineering | Uncrewed Systems