Embry-Riddle Team More Than Doubles World Record for Amateur Liquid Rocket Flight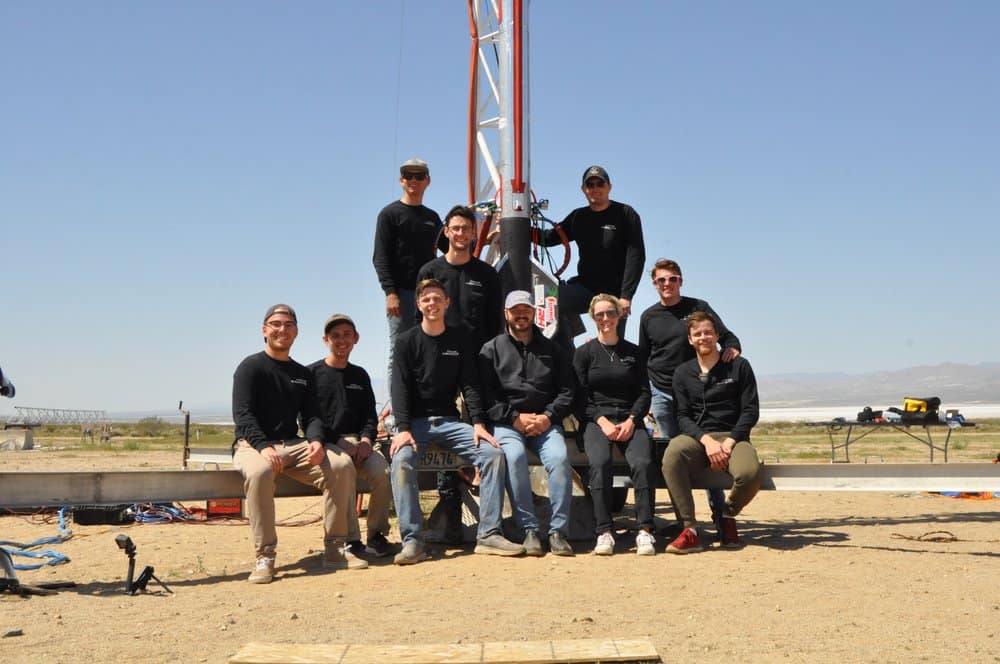 On April 16, all eyes in the launch bunker were on Deneb, a rocket built and designed by nine undergraduate students from Embry-Riddle Aeronautical University.
The students represented Embry-Riddle's Prescott Campus, and team leader and Aerospace Engineering student Dalton Songer understood what was at stake.
Over the past year, his team had worked over 4,000 hours to design, build and test Deneb's various systems. For two days ahead of the launch, they camped out in the Mojave, California, desert, reassembling their rocket after transport and waiting for their turn to launch at the Friends of Amateur Rocketry facility. After three scrubbed launch attempts the day before, the team was out of energy, out of time and almost out of the pressurant needed to push the liquid oxygen/kerosene fuel through the system.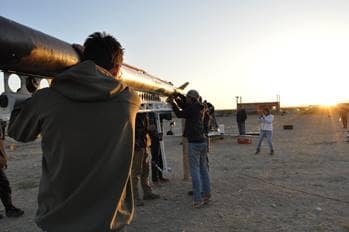 The team hauls its rocket to the rail at the launch site. (Photo: Embry-Riddle/Rocket Development Lab)
As final checks were performed, one thought filled Songer's head: "This has to work."
Inside the launch bunker, the entire team joined in the countdown to ignition. Songer saw a puff of smoke as the propellant mains opened, followed by a flash of light and the harmonic scream of the rocket.
"It was gone in an instant, but watching Deneb take off was the most exhilarating moment of my life," Songer recalled. "We all ran out of the bunker to watch as Deneb burned further and further into the morning sky. It was breathtaking."
The rocket reached an altitude of 47,732 feet, setting multiple records, including the highest undergraduate and collegiate amateur liquid rocket launch in the United States. It more than doubled the previous record of 22,000 feet.
Named Deneb after one of the brightest stars in the northern hemisphere, the rocket had a total burn time of 26.1 seconds, reaching a velocity of 1,150 mph (Mach 1.5).
Photos and video of the launch can be viewed online.
Growing up in Sheridan, Wyoming, Songer had never envisioned a life beyond ranching until his brother encouraged him to "dream bigger, be a rocket scientist." Even then, he hadn't imagined anything like this.
"We needed to prove to the world that Embry-Riddle was not only capable of building liquid bipropellant flight vehicles but the very best at building them," he said.
A Leader in Rocket Technology
In addition to Songer, the team consisted of eight engineers, each with a different area of responsibility: Ben Black, ground testing; Zoe Brand, propulsion; Dawson Damish, ground support equipment mechanisms; Tom De Vries, data acquisition and control; Kyle Dutcher, structures; Charles Flaherty, fluids; Duncan Shour, avionics and recovery; and Jared Walker, flight modeling.
"I have been working with this group of students for the past four years, and they are incredible engineers," said Dr. Elliott Bryner, director of the Propulsion Laboratory and Rocket Test Complex. He noted that several students from the team will be headed to full-time jobs this summer, at places like SpaceX, Blue Origin and Firefly Aerospace, now that they've graduated.
Andy Gerrick, department chair of Mechanical Engineering, applauded the team's accomplishment.
"This is the result of years of effort by the Cygnus team and countless others in the rocket program at Prescott," he said. "The amateur rocket community, prospective students and employers will now recognize Embry-Riddle Prescott as a leader in rocket technology."
Named the Cygnus Suborbitals, the team originated in a senior capstone propulsion design course taught by Dr. Daniel White and Dr. Jonathan Adams. The team is also part of the Rocket Development Lab (RDL), a student organization that promotes rocketry on campus and educates undergraduate students through hands-on opportunities.
The team enjoyed deep levels of support on campus and off. In addition to the many faculty members who assisted, they were supported by other RDL students, who dedicated more than 3,000 hours to the project. Donations in funding and supplies came from companies like Dayton T. Brown, Inc., Firefly Aerospace, Summit Racing Equipment, Lockheed Martin, Valworx, Inc. and Aqua Environment Co., Inc.
A Legacy of Learning
The first liquid rocket created at Embry-Riddle's Prescott Campus was called Altair, built as a capstone project during the 2019-2020 school year; however, due to pandemic-related shutdowns, it didn't get to launch. When a launch was attempted in October 2022, the rocket exploded upon liftoff.

"We learned a lot from that rocket," said Brand, a Mechanical Engineering senior from Peoria, Illinois, responsible for testing and building Deneb's engine. "Altair was very heavy. So, we deliberately focused on making our rocket lighter by integrating the propellant tanks into the structural rigidity of the rocket."
The research team was working under tight deadlines, but according to teammate Ben Black, a fellow Mechanical Engineering major from Reno, Nevada, that only served as further motivation.
"A lot of people told us that our timelines were unrealistic and that we should be content with just getting the rocket to the test stand," he said. "But our level of scrappiness and get-it-done mentality meant the only option was to be successful."
That level of camaraderie was key to the team's success, said White, the faculty mentor for the project. Every subsystem — propulsion, fluids handling, avionics, structures, recovery, ground support — faced setbacks that required the team to pivot and re-engage with the project from a different direction.
"Their adaptability and mutual respect for one another were the two vital qualities that ultimately enabled the team to deliver a successful launch demonstration," said White, faculty mentor for the project. "Going forward, we expect great things from the members of this team as they begin to contribute to industry in their various fields of study."
Even after he's moved on to his career, Songer doubts he will forget how he felt watching Deneb's launch, knowing everything that the team put into it.
"I fell to my knees, sobbing, from witnessing such an incredible feat," he recalled. "Everyone was celebrating in a giant group hug. That moment was special. Something that only happens when a dedicated group of individuals come together and make something incredible happen against all odds."
Posted In: Engineering | Research | Space