Embry-Riddle Team Makes Semi-Finals in Global RoboSub 2017 Competition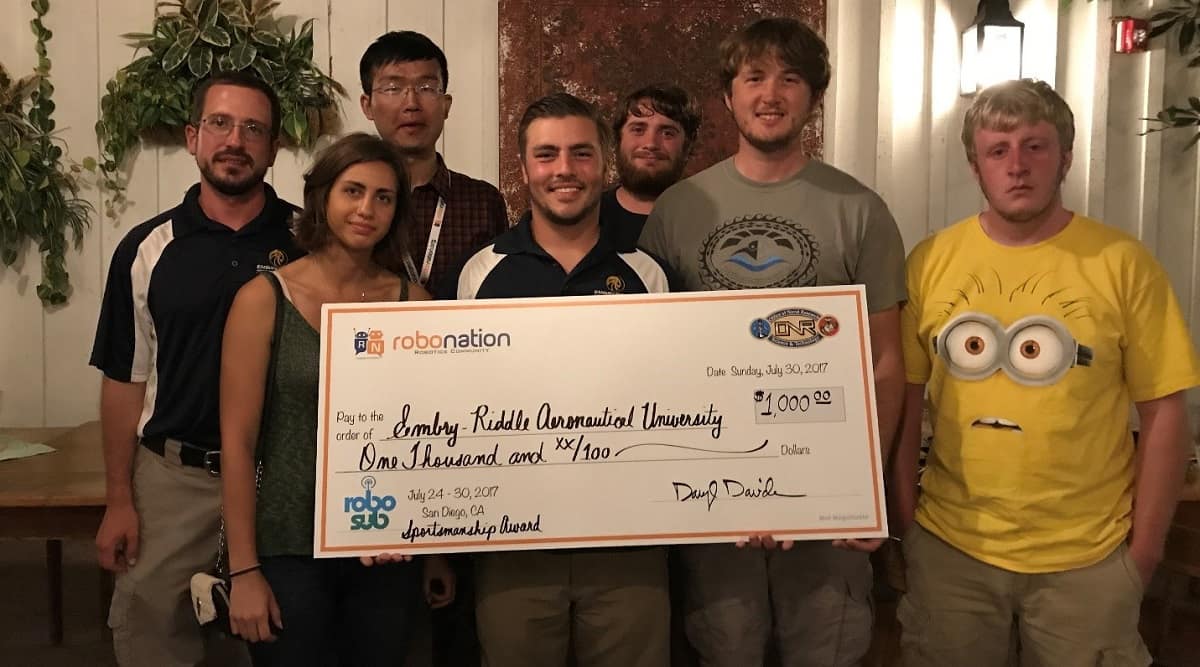 Six Embry-Riddle Aeronautical University students, under the direction of faculty member Patrick Currier, made the semi-finals and won a $1,000 Sportsmanship award in the 20th annual International RoboSub Competition, which took place July 26-30 in San Diego, Calif.
Sponsored by the U.S. Office of Naval Research and the Association for Unmanned Vehicle Systems International (AUVSI) Foundation/RobotNation, the competition encourages engineering students to further their knowledge of autonomous underwater vehicles.
The Embry-Riddle team competed with some 300 other students representing 44 institutions and eight countries – from China, India and Japan to Russia and Thailand. Competitors built vehicles and then navigated them through a research pool, completing a challenging series of visual and acoustic-based tasks at the Space and Naval Warfare System Center's Pacific Transducer Evaluation Center.
For its entry to the RoboSub competition, the Embry-Riddle team had developed a brand-new submarine that is designed for both the RoboSub and RobotX competitions. The student-built all-aluminum submarine is designed to be hydrodynamic for long endurance operations and is equipped with advanced technology including an imaging sonar and NVIDIA graphic processing units for camera processing.
"In addition to competing, the team assisted several other schools throughout the year, and many team members spent time at the competition working with other teams to help them solve problems," said Currier, associate professor and associate chair of mechanical engineering on Embry-Riddle's Daytona Beach Campus. "This spirit was recognized by the competition with the Sportsmanship award."
Participating in the RoboSub competition were students Kayla Ormiston, Lingxiao Wang, Zachary Joswick, Evan Williams, Robert Goring and Stephen Cronin.
Brian Butka, associate professor of electrical and computer engineering, supervised the team's work throughout the year. Currier supervised the team's participation in San Diego.
As part of the University's emphasis on engaging students in hands-on research opportunities, Embry-Riddle teams have long participated in engineering competitions. This summer, for example, Embry-Riddle delegations took part in six different robotics competitions.
These included the Intelligent Ground Vehicle Competition, where Embry-Riddle earned a first-place finish in design; Roboboat, where students received the first-place prize for the "static judging" of their entry; a Student Unmanned Air Systems contest; and NASA's Robotic Mining competition; as well as the International Aerial Robotics Competition.
"Embry-Riddle is the only school to compete in the AUVSI competitions that cover all three domains – maritime, air and ground," Currier said. "Embry-Riddle has been a two-time winner of the Roboboat competition."