Embry-Riddle Team Cruised to Second Place in 2022 RoboBoat International Competition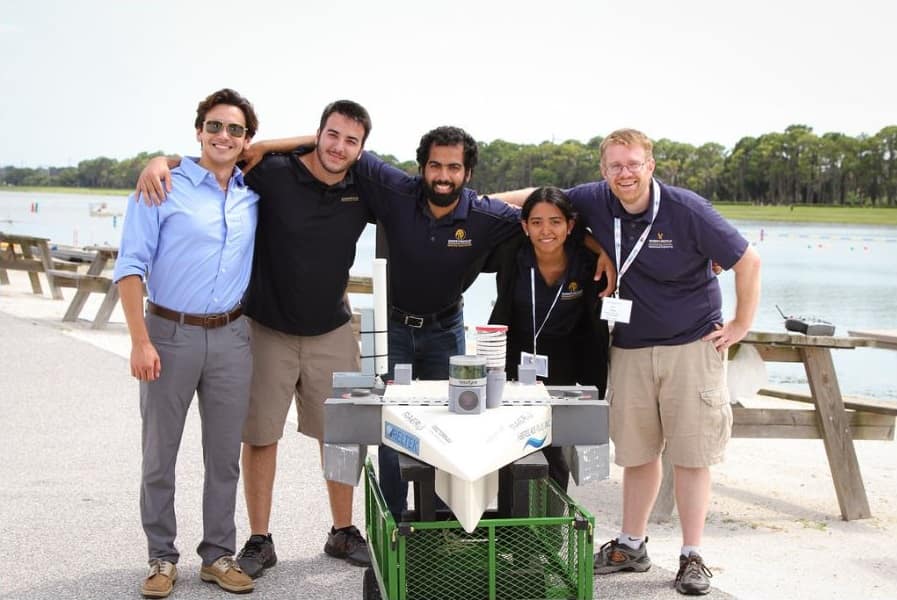 Embry-Riddle Aeronautical University's Phantom 2 team recently won a silver medal in the 2022 RoboBoat international student competition held in Sarasota, Florida.
"This is my first competition," said Dominic Marsh, leader of the four-person team, which is part of the Robotics Association at Embry-Riddle. "We came together and put together the best robot we could and came out ahead in the competition. It was just an amazing experience."
The 15th annual RoboBoat competition, hosted by RoboNation, requires teams to design autonomous robotic boats to navigate through a challenge course.
"This particular team really came together in a short timeframe," said Dr. Eric Coyle, the team's faculty advisor and an Embry-Riddle professor of Mechanical Engineering. "They redid an electrical system from the prior year in three weeks and installed a new software suite."
The team included four Embry-Riddle students, including Marsh, Ana Alvarez, River Schreckengost and Alejandro Kassarjian.
Marsh, who is a third-year Mechanical Engineering student from Port St. Lucie, Florida, said the RoboBoat competition provides a lot of opportunities for hands-on technical learning experience for Embry-Riddle students.
"I have learned a lot more about electronics and software," he said.
Coyle said the team would like to expand this year to build and design additional elements, and compete in even more challenges at future competitions.
This was the first RoboBoat competition the team had been able to attend since 2019 due to the coronavirus pandemic, he said. It has been exciting for students to be able to work more collaboratively in the lab together and travel to competitions again.
"We went to a competition this summer with people who had never been to a competition before," said Coyle. "I'm happy to get back to it."
Posted In: Engineering