Embry-Riddle Student Team Developing Low-Cost Recoverable Rocket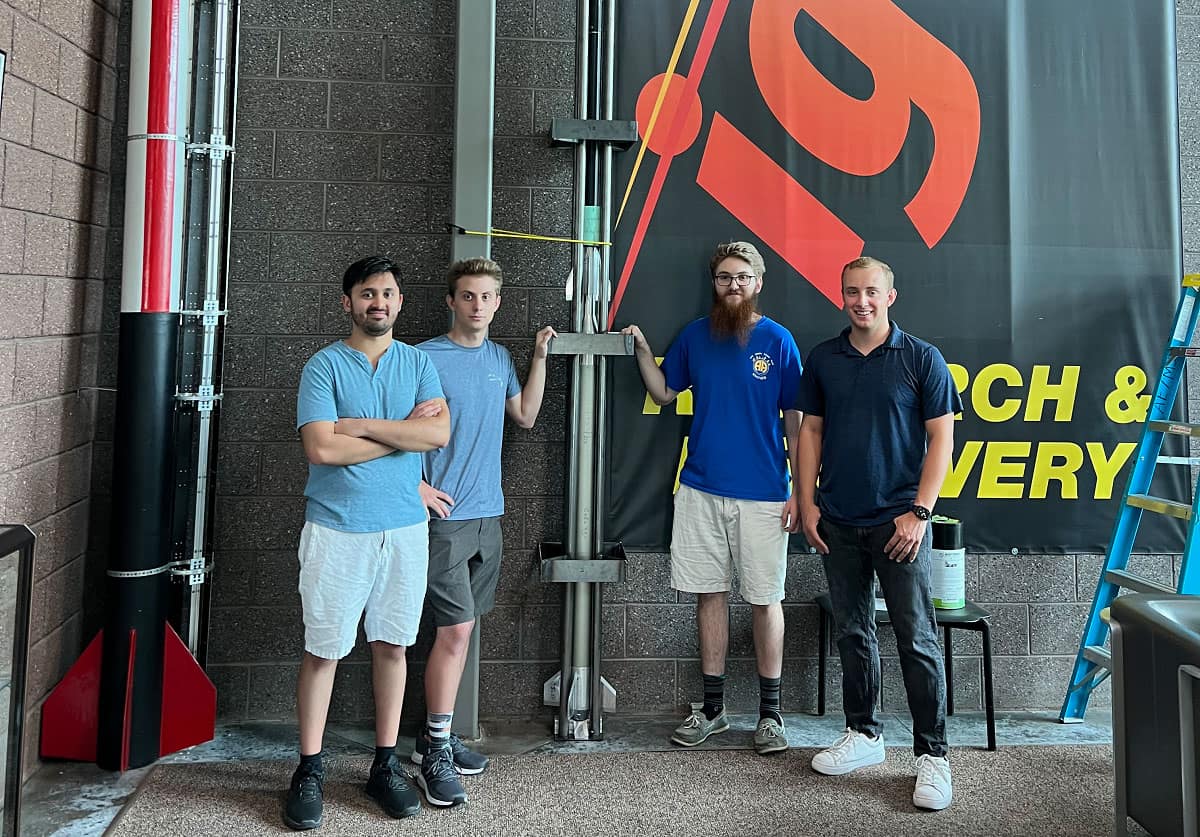 Embry-Riddle Aeronautical University students are designing a rocket that can soar through the Earth's atmosphere and reach outer space, only to be recovered through a parachute system for reuse. The project's aim is to make spaceflight more affordable to researchers — especially student researchers and those working in higher education.
"I can't think of a better way to learn about rockets than to fly them," said Gaurav Nene, the team's principal investigator and a senior in Aerospace Engineering.
Starting in 2019, Nene, along with fellow team members Cooper Eastwood, David Hadley and William Knoblauch, have worked determinedly to create the fully recoverable vehicle.
"The goal is always the same," said Eastwood, also a senior in Aerospace Engineering: "Get to space cheaper and more often."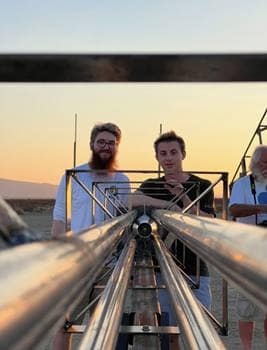 William Knoblauch and Cooper Eastwood at a launch site in Mojave, California.
As Nene explained in a recent interview, "the reusability is the driving consideration" as the students work to keep the cost of a single launch at about $8,000, such that others wanting to send experimental payloads onboard could do so for a portion of that already modest sum.
As another cost-saving strategy in addition to reusability, the team employs off-the-shelf motors and other parts as much as possible. Besides lowering the cost and enhancing the reliability of the vehicle, this approach offers a degree of modularity. It could therefore be used by other students, sometimes in conjunction with other rocket stages in a mix-and-match scenario. Nene explained that another student group might want to use their upper stage with a different booster, for example.
The team stores its vehicle and equipment at Embry-Riddle's Rocket Development Lab — where there is a cross-pollination of ideas — and in addition to using the lab facilities, has started to follow its testing protocols, said Hadley, a junior in the Robotics track of the Mechanical Engineering major.
"We have beefed up our pre-launch procedures," Hadley said, such as including igniter testing and complete assembly before test-readiness reviews that include risk assessment.
The first launch of the team's vehicle, from a site in Mojave, California, resulted in a recovery system failure, but a meticulous gathering of each piece of the rocket, including two computers, and a resultant investigative report indicated the root cause of the failure was in the avionics system.
Another test launch from the Mojave site took place in August. This second launch saw the recovery system parachute and the avionics system work properly, although the rocket, upon reaching Mach 2, experienced a structural failure, and it shot off course. Again, parts of the rocket were recovered, in this case including the entire booster stage and onboard data-acquisition systems.
After another lengthy post-launch investigation, the team is now working on structural reinforcement.
"Every launch, we're pushing the limits of the technology that is available to us," said Nene. "Our vehicles have evolved a great deal since we started three years ago."
The team's work has been supported by Embry-Riddle's Undergraduate Research Institute, contributing alumni, NASA and private industry firms such as Blue Origin and Aerojet Rocketdyne. The team members have received guidance from representatives of industry and the public sector. Their most recent flight review board included an adjunct professor who works for Raytheon, and alumni representatives from Northrop Grumman and NASA Armstrong Flight Research Center.
"We've been talking with the heavyweights," said Nene.
Dr. Ron Madler, dean of the College of Engineering on Embry-Riddle's Prescott Campus, said Nene has shown much promise leading the student team.
"Gaurav is a very driven individual who will most certainly go on to become an entrepreneur in the industry," Madler said. "I first met him after he was accepted as a student, and he wanted to talk about getting support for this project even before he came here. He networks extensively."
Madler said all the students on the team are getting a head start on their career paths.
"The students are getting great experience in all aspects of making a project happen — from pitching your ideas to finding funding to building and launching," he said. "They will have great stories to tell during any job interview."
Posted In: Engineering | Research | Space