Embry-Riddle Sees Rising Number of Students in Nation's Largest Collegiate Flight Training Program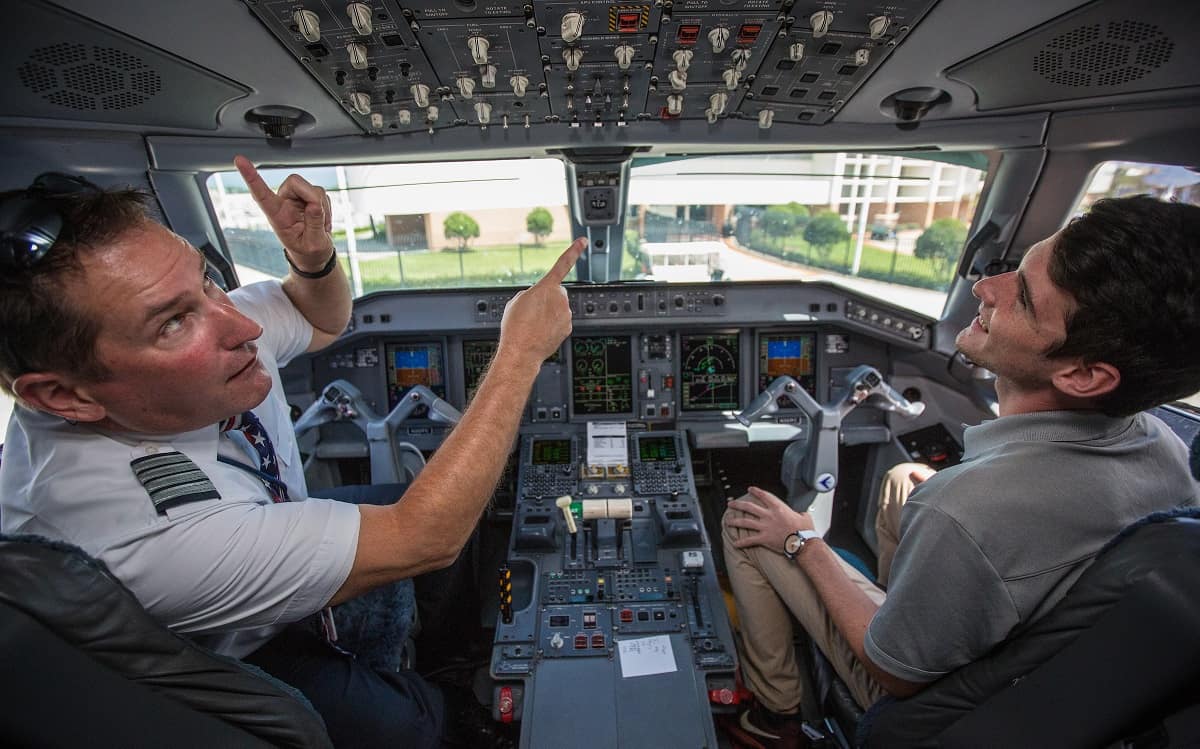 When Peter Wagner's uncle introduced him to the U.S. Air Force Thunderbirds when he was in the fifth grade, he became hooked on learning to fly.
Recent stories about the commercial pilot shortage and a tour of Embry-Riddle Aeronautical University's Daytona Beach Campus while he was in high school helped finalize his decision to live out his dream.
The 18-year-old aeronautical science major from Mays Landing, N.J., is now part of the largest incoming freshman class in 15 years in the University's flight-training program. As the fleet recently returned after Hurricane Irma, students like Wagner are ready to start flying.
According to Dr. Ken Byrnes, chair of Embry-Riddle's Flight Department, in addition to a lifelong passion for flying, the demand nationally for more commercial airline pilots, an increase in a starting commercial pilot's salary and a quicker return on investment with a degree from Embry-Riddle are all contributing factors for the rise in students this fall.
As the new school year begins, the nation's largest college-based flight program has 1,350 students enrolled in aeronautical science compared to about 1,150 students last year. The increase includes freshmen, transfer students and more returning students compared to previous years, Byrnes said.
This is also the largest increase the Daytona Beach flight program has seen since 2001, when fall semester numbers were about 1,500 and then began dropping. Enrollment has held steady at about 1,100 the past four years.
"This is the first big surge we've seen in a long time," Byrnes said. "We have both an increased interest and increased retention -- it's a happy problem to have. Students are following their dreams and passion of flight."
The interest among students who are passionate about becoming commercial airline pilots has been tested in recent years, with some choosing other career paths because of fewer job opportunities or uncertainty about securing those coveted commercial airline pilot and first officer positions.
But as tens of thousands of current pilots retire over the next ten years, and as air travel continues to increase, a study by Boeing projects the world's commercial aviation industry will need 637,000 new airline pilots in the next 20 years as well as 648,000 new airline maintenance technicians. This is good news to students interested in pursuing this career, who can now see their dream within reach. Annual starting salaries for commercial pilots at regional carriers also doubled from $30,000 to $60,000 in the past two years.
"Years ago, it used to be get your degree and pilot's license and maybe you will get a job as a flight instructor. And then, maybe you'll get a job as a regional airline pilot and maybe eventually you will go to a major airline," Byrnes said.
Now Embry-Riddle students are getting through training more quickly and becoming instructors through the FastTrack Certificated Flight Instructor/Instrument Instructor program. They are also signing agreements with regional airlines as sophomores and getting travel and other benefits before even graduating. Flight students who complete academic flight programs at FAA-approved universities like Embry-Riddle are also eligible for the FAA R-ATP certification, which reduces the number of training hours in the air necessary to qualify as commercial airline first officers.
This year, to accommodate the increase in students seeking to fill those pilot spots, Embry-Riddle's Daytona Beach campus has taken several steps, including adding four Cessna 172s to its fleet of 60 aircraft. Students will be flying about 300 flights a day, up from about 280 flights.
An additional advanced aviation training device (simulator) has also been added to Embry-Riddle's Advanced Flight Simulation Center to accommodate more training. Training in the Simulation Center may also be extended to accommodate the increase in students. In the Aviation Learning Center, a tutoring lab for students, four of the basic training simulation devices were replaced with newer and more effective devices to enhance training.
Wagner is glad he followed his dream as he sat in the cockpit of a Republic Airlines jet, parked on the Embry-Riddle flight line on the first day of fall semester as part of a student tour. Both his uncle and a brother are in the U.S. Air National Guard.
"It's a thrill. You feel your heart pumping out of your chest. It's a reminder of why I'm here," Wagner said from inside the jet. "My uncle said I was born at the perfect time to fulfill my dream."
Capt. Michael Dee, director of flight training for Republic Airlines, who flew the Embraer 170 to Daytona for the tours, said the job market today is a lot different compared to when he graduated from the Daytona Beach Campus in 1997. Airlines, he said, weren't coming to campus trying to recruit pilots.
"The students today have a great opportunity when they graduate and a lot more choices," Dee said.
The College of Aviation also added about 20 additional certified flight instructors for this fall and another 30 to 40 are expected to be hired in the coming months for a total of more than 200 on staff.
Mlouke Kharbouch, 21, of Morocco, a senior aeronautical science major, was hired this semester as a part-time instructor. She's wanted to become a pilot since she went flying with a family friend at age 16. She also was in a summer camp program at Embry-Riddle in high school where she "fell more in love with aviation."
"I like the feeling of taking off and being up there flying," she said. "I like sharing my passion with others who love aviation as much as I do and helping them reach their goal."
Evan Boggs, 30, a senior aeronautical science major, also recently started as an instructor. He grew up in Switzerland and his father was in the airline industry. During class in elementary school, he would doodle airport terminals and runways on his notebook like the ones where his father worked.
The airline industry always captured his imagination, but he didn't immediately go into the field until he knew there was more certainty.
"The pilot shortage strengthened my decision to pursue a career," Boggs said. "The industry needs pilots so I knew I wouldn't go through training and end up selling phones at Best Buy."