Embry-Riddle Researchers Use Machine Learning to Tackle Monsoon Season
Every summer, thunderstorms crop up with startling intensity across Northern Arizona's rugged terrain, bringing driving rain, high winds, flooding and lightning. It's all part of the North American monsoon, a seasonal increase in summer precipitation that occurs between June 15 and Sept. 30 each year.
Across affected regions, ground-based weather stations are few and far apart, making it difficult to forecast the location, intensity and direction of the notoriously unpredictable summer storms — exposing local residents as well as passing aircraft to potentially dangerous circumstances.
Researchers at Embry-Riddle Aeronautical University's Prescott, Arizona, campus are working to revamp traditional monsoon monitoring. They are using sophisticated satellite imagery and artificial intelligence (AI)/machine learning to develop a new kind of predictive model. The neural network tool analyzes and predicts weather patterns that are not easily calculated by humans.
The new model is expected to better identify and anticipate the atmospheric variables that can spawn sudden thunderstorms. This is especially important in remote areas where the terrain and lack of comprehensive radar coverage limits how quickly people get warnings to take shelter. Predictive data will also help identify areas with conditions ripe for lighting strikes and wildfires, which is another extreme threat in the region.
The U.S. National Science Foundation (NSF) funds the research through a $162,492 EAGER (Early-concept Grants for Exploratory Research) award. These grants are for high-risk, high-reward projects that apply new expertise and interdisciplinary perspectives.
"It's high-risk because it has never been done before," said Chris Hennon, professor of Meteorology and principal investigator on the project. "Scientifically, it will be high-reward if we can deliver a better, more accurate way of predicting thunderstorm development and movement."
Access to NASA satellites will be key to feeding the "brain" of the Embry-Riddle team's AI tool with the data it needs to make those predictions.
"Using AI for predicting weather is not something that's routinely used," Hennon said. "As meteorologists, we know it's very powerful, but everyone is still trying to figure out the best way to use it."
Other co-investigators of the project include: Dr. Abd-AlRahman Rasheed AlMomani, an expert on artificial intelligence and assistant professor of Data Science and Mathematics; Dr. Ronny Schroeder, assistant professor of Geographic Information Systems and Remote Sensing in the Department of Applied Aviation Sciences; and Dr. Curtis James, professor of Meteorology and North American monsoon expert.
Because satellites see things in the landscape that a weather station might miss, Schroeder hopes the team's efforts will bring new insight to the challenge of predicting the sudden storms that erupt in the region, which stretches from California to Utah, covering Arizona, New Mexico and parts of Mexico.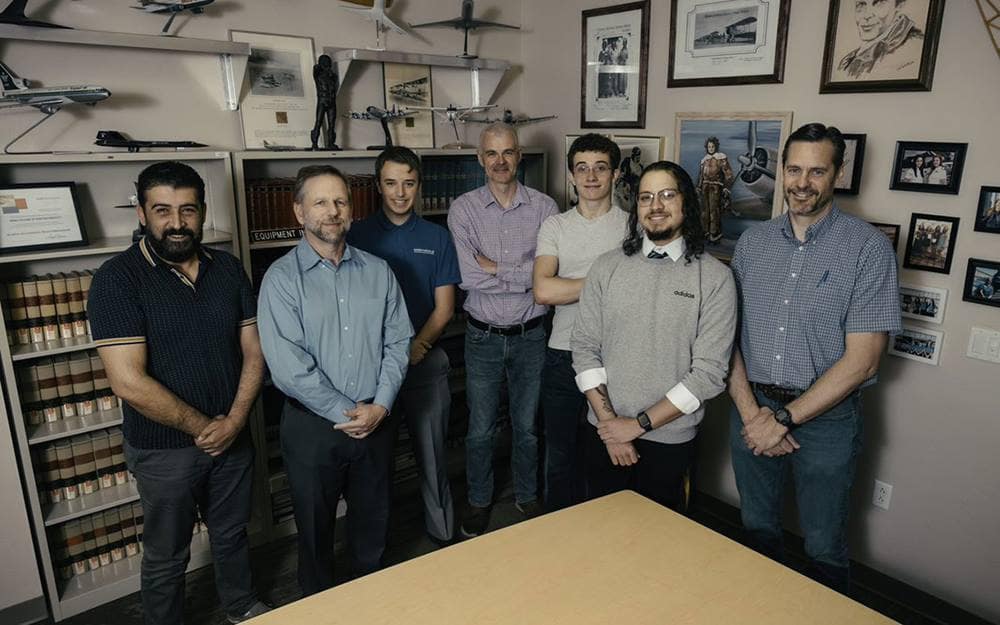 Working to better understand thunderstorm development are Embry-Riddle researchers Abd-AlRahman Rasheed AlMomani, Chris Hennon, Conner Thomas, Ronny Schroeder, Marcello Novak, Isaac Jarrells and Curtis James. (Photo: Embry-Riddle/Connor McShane)
Understanding Monsoons
As the summer sun heats the area, the prevailing dry westerly winds become more southerly, drawing moisture from the Pacific Ocean and Gulf of California, or even the Gulf of Mexico. This much is well understood, but scientists don't fully understand the arbitrary nature of the outcome.
"There is a big research debate over the North American monsoon and why it is so unpredictable compared to monsoon seasons in other countries," Schroeder said. As different sources of moisture infiltrate gaps in the terrain, it creates a complex chain of events.
"Interaction with the terrain seems to be the culprit as to why current models are so poor in predicting the propagation of summer storms," said Schroeder. "Our current models are fairly good at showing us where storms might pop up. But then you can just roll the dice as to where the storms move from there. So having satellite information that shows highly detailed surface measurements anywhere is potentially useful to solve the puzzle."
The team will pair historical weather information with the newest intelligence from two NASA satellites: the Soil Moisture Active Passive instrument (SMAP), which measures surface soil moisture from space with unprecedented accuracy and resolution; and the Moderate Resolution Imaging Spectroradiometer (MODIS), which tracks things like land surface temperature, vegetation and atmospheric readings.
The role of collecting all that data will be handled by Embry-Riddle research students Marcello Novak, Isaac Jarrells and Conner Thomas.
Thomas, a sophomore majoring in Unmanned Aircraft Systems (UAS), looks forward to working with the team for the duration of the one-year project.
"Weather and data collection are a big part of UAS operations, and I like that this research project blends the two together," he said. "By taking different data sets like SMAP and MODIS and putting it into software, we can better understand how different characteristics affect the storms."
"The machine learning model the team builds will help identify the causes of the storms," said James. These results will, in turn, guide the university's design of another extensive field experience planned for July-August 2025. Observers will use mobile weather radars and lidars (a remote sensing technology that uses pulsed laser light to measure atmospheric elements) to fill in any data gaps between ground and satellite observations.
"The new AI tool will help us plan field operations more effectively by anticipating where thunderstorms will form and move each day," James said. "The forecasts will inform us where we should place our mobile observation equipment and where to direct our research flights so we can ultimately improve computer model predictions of thunderstorms in mountainous regions."
Posted In: Applied Science | Computers and Technology | Research | Security Intelligence and Safety