Embry-Riddle Professor Wins NSF Grant to Develop Augmented-Reality Teaching Tool, Close Achievement Gap in STEM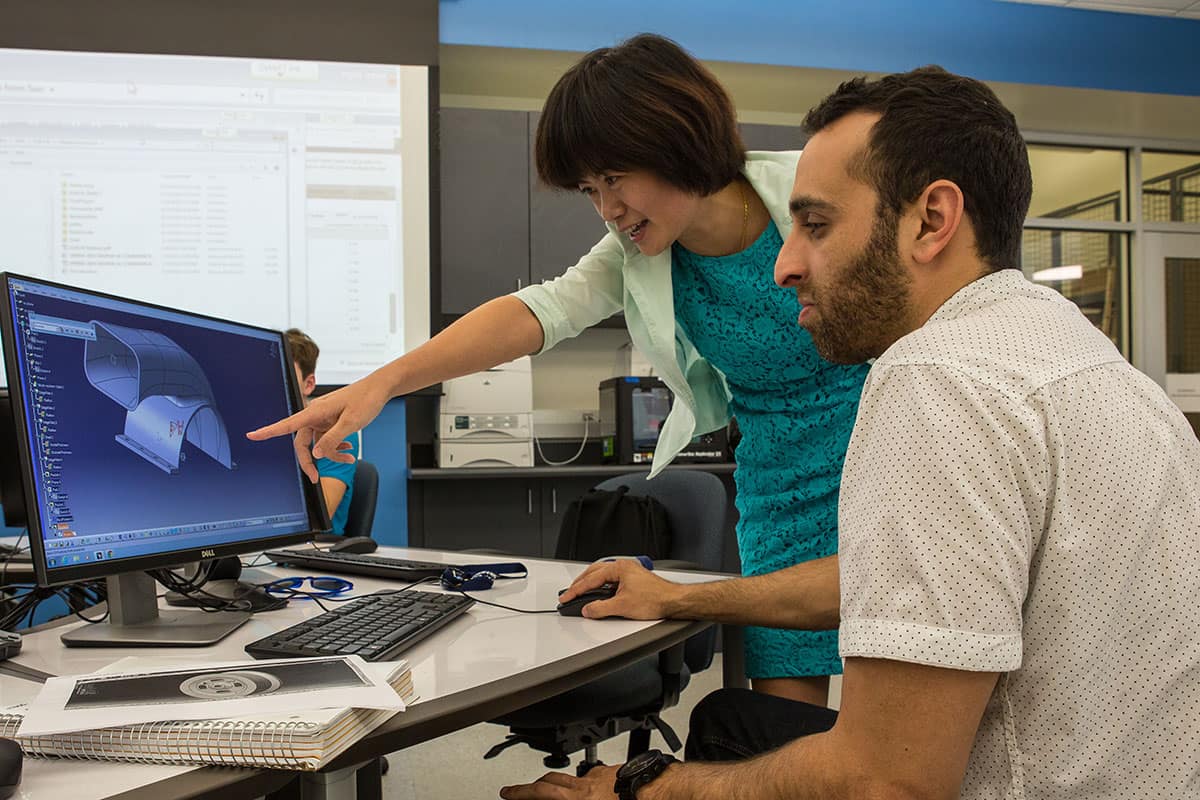 Work to develop an augmented-reality tool to teach spatial skills and boost engineering student success, led by Embry-Riddle Aeronautical University's Dr. Lulu Sun, has been awarded a three-year, $400,000 National Science Foundation Improving Undergraduate STEM Education (NSF IUSE) grant.
Sun, who since 2006 has been teaching an Embry-Riddle gateway engineering course — Graphical Communications, which involves freehand sketching of 2D and 3D objects and basic computer-aided design (CAD) techniques — said that female students and students from lower socioeconomic backgrounds have tended to struggle more in the class "because they lacked the ability to apply their spatial skills effectively." This, she suggested, was most likely because these students had been exposed to fewer activities than others had to hone such skills before college.
"My aim is to help students, regardless of their backgrounds, improve their spatial skills and ultimately excel in various fields, particularly those related to STEM," said Sun, professor of Engineering Fundamentals and principal investigator on the project. "By addressing this aspect of education, I hope to contribute to closing the achievement gap and fostering inclusivity in STEM education."
Project co-principal investigators include Juan Granizo and Dr. Kai Jun Chew, both assistant professors of Engineering Fundamentals at Embry-Riddle, and Dr. Magesh Chandramouli, professor of Computer Graphics Technology at Purdue University Northwest.
Sun said research has shown that spatial skills can be improved through a focused curriculum, and that using smart devices and augmented reality (AR) has been shown to be more effective than books, videos or software programs. The project's immersive learning application will allow students to scan an image and interact with a 3D rendering of it, rotating it and considering different views and representations. Color coding and shading will help guide students through an animation "in an engaging and gamified learning environment," Sun said, adding, "This immersive AR learning experience is expected to significantly improve students' spatial skills and study strategies, empowering them to tackle complex problems with confidence."
Sun pointed out that spatial skills are an indicator of a student's potential to continue in engineering fields and be successful. The AR application will be free and downloadable to smart devices.
Dr. James Pembridge, professor and chair of the Engineering Fundamentals Department, expressed great enthusiasm for the project.
"By embracing AR, this project is poised to advance how engineering graphics is taught and learned, making spatial skills accessible and engaging for all," he said.
The research associated with the grant will involve both undergraduate and graduate students from Embry-Riddle and Purdue University Northwest. Sun is seeking motivated undergraduate and graduate students in engineering with CATIA modeling, AR design and human factors experience preferred to work on the project for the next three years. Priority will be given to students from underrepresented groups, including female students. Email sunl@erau.edu for more information.
The AR tool will be used and tested in the engineering graphics courses generally offered to engineering students in their freshman year, and by K-12 students through Embry-Riddle K-12 STEM programs, including on-campus STEM summer camps, scholarships, outreach activities and innovative programs such as the Engineering Scholars Program at Embry-Riddle (ESPER).
The results of the research will be presented in publications, workshops, conference presentations and a project website. The Department of Engineering Fundamentals, the Department of Human Factors and Behavioral Neurobiology, the Center for Teaching and Learning Excellence, the Office of Undergraduate Research, International Admissions, the Society of Women Engineers, STEM Outreach, the K-12 Education Outreach Department, Meta and Dassault Systems will collectively offer comprehensive support throughout the duration of the funded project.
Posted In: Applied Science | Computers and Technology | Engineering