Embry-Riddle Prescott Students Participate in SpaceX's Hyperloop Competition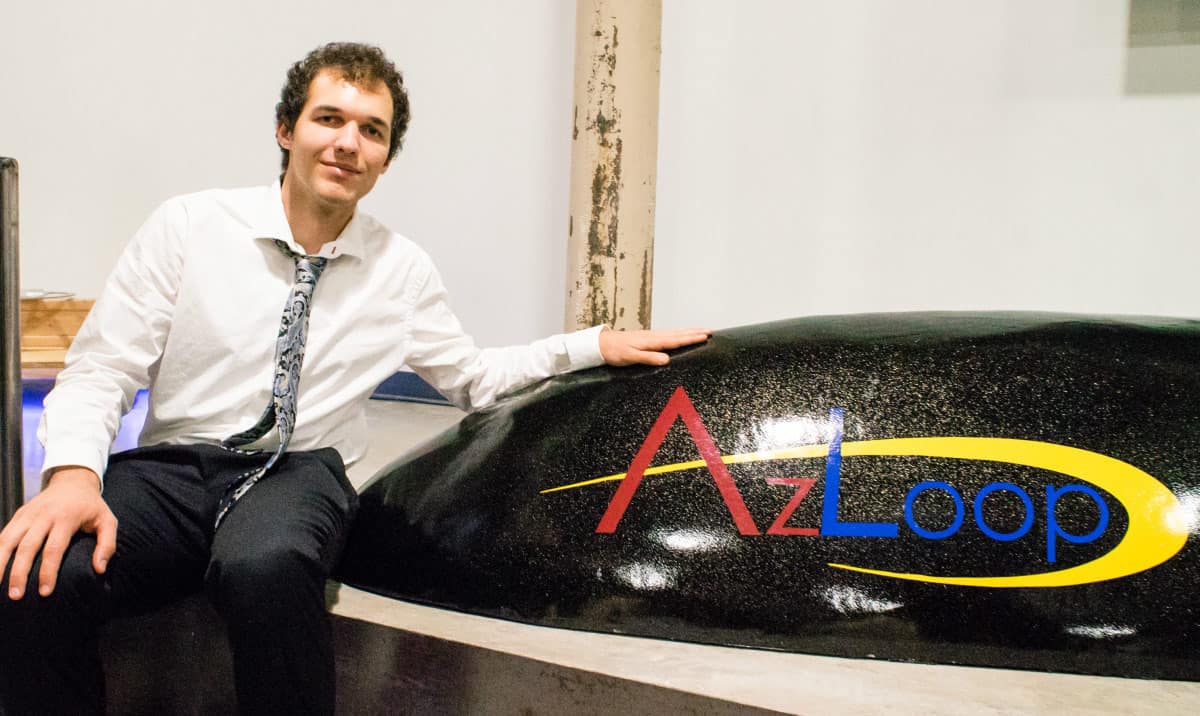 During the 2016-17 school year, five Embry-Riddle campus students took part as members of the Arizona Hyperloop team—a lineup of over 100 talented students from various colleges and universities across Arizona. Their task was to design and build a Hyperloop prototype pod for consideration in the 2nd International Hyperloop Competition hosted by SpaceX in Hawthorne, Cali. This August brought their efforts to the ultimate test as 23 teams from around the globe gathered for the chance to run their pod on a mile long vacuum test track, and claim top honors. After rigorous tests and demonstrations, Arizona Hyperloop's pod placed fifth overall—bringing to a conclusion countless cumulative hours of shared time, effort, and engineering brilliance.
"This has been an amazing experience," said Embry-Riddle Aerospace Engineering student Maciek Czyz, who was among five ERAU students to participate on the Arizona Hyperloop team. "I got to experience a project that not only taught me about engineering, but also about communication, collaboration, leadership, dedication, teamwork, failure, and success. This was an incredibly talented group of people; I am sure that with a bit more experience, we could accomplish some amazing things."
"As an advisor to any design team, I always learn quite a bit myself," said Software Engineering Assistant Professor Samuel B. Siewert. "Hyperloop is an exceptional case where the sheer audacity of the goal pushes students and advisors to work on interdisciplinary problems outside our comfort zone—requiring many different types of engineers and non-engineers to work together."
The team was comprised of students from Embry-Riddle, ASU, NAU, and the Thunderbird School of Business. Along with fellow ERAU students Meaghan Moeller (Aerospace Engineering), Amy Walker (Industrial Safety & Psychology), Garrett Ottmers (Aerospace Engineering), and Victor Ordaz (Aerospace Engineering & Mechanical Engineering), Czyz and his teammates helped assemble a world-class Hyperloop pod, and contribute to a fledgling technology that has the potential to revolutionize commercial travel as we know it.
Hyperloop transportation is a theorized modern passage system that utilizes self-contained 'pods' that are pushed along enclosed 'tubes' using magnetic accelerators and air pressure. This allows the pods to freely coast across vast distances at speeds exceeding 700 mph, unimpeded by friction, and decreasing travel times to fractions of their current duration. Traveling at such speeds would make it possible to travel from Phoenix to San Diego in as little as 30 minutes.
Yet the massive cost of development and prevailing safety concerns have made this transformative invention economically elusive to prospective investors. That was until Elon Musk of Tesla Inc. and SpaceX re-introduced the Hyperloop concept and established the International Hyperloop Competition as a way to raise awareness and inspire engineers, entrepreneurs, and scientists around the world.
"It would be great to have an alternative to flying or driving, but obviously only if it is actually better," said Musk in his Hyperloop Alpha concept outline. "Compared to the alternatives, it should really be safer, faster, lower cost, more convenient, immune to weather, sustainably self-powering, resistant to earthquakes, [and] not disruptive to those along the route."
It is still unclear when, if ever, Hyperloop technology will become available—but the International Hyperloop Competition is helping to make the concept a reality.
"I definitely see Hyperloop as a common form of transportation in the distant future," said Czyz. "The benefits it provides are just too great to ignore, and it has minimal setbacks. Hyperloop technology is sustainable, scalable, safe, silent… and fast."
Arizona Hyperloop's selection as one of the 23 teams to participate in the competition has been an incredible honor, and an exciting challenge. After SpaceX approved their proposed design model, the team sought out company sponsorship and academic institutions for support. Once funding was in place, the building began—and as soon as their prototype was viable, the team administered dozens of trials and performance tests right up until the competition. August arrived—and the 1100 lb., 15 foot pod was transported to SpaceX headquarters for consideration as the world's fastest and safest Hyperloop pod against equally talented and determined opponents.
"Time was our biggest enemy," said Czyz. "If we had another day, we could have completed the final test and been one of the three finalists who were allowed to run a full-scale test at the actual public competition. We were also the highest placed team that was not at the first International Competition. That, to us, was a great accomplishment."
Though placing fifth out of 23 competing teams—selected out of 1,300 total design submissions in March—is an incredible accomplishment in and of itself, Czyz and the rest of Arizona Hyperloop agree that with one competition under their belts, next year's Hyperloop pod design will be different.
"Once Competition III is announced, we will be back to the drawing board," said Czyz. "But we'll have all the experience from this year, and plan on using a very similar design next year."
"Forming AZLoop helped [the students] to tackle an otherwise overwhelming project," said Siewert. "However, a large team also challenged them to collaborate, decompose the problem into manageable parts, and execute to get a pod build on time. They clearly did this well."
As a University that continually challenges itself to keep at the forefront of technological trends and innovation, Embry-Riddle has been an invaluable resource of encouragement and support to its students participating in the Arizona Hyperloop project.
"For Embry-Riddle, this shows that our students are not only capable of teamwork on large projects, but eager to do so!" added Siewert. "I'm proud to have helped—but honestly, they worked so well on their own, I had little to do other than offer a few pieces of advice here and there."
Czyz believes that even though the Hyperloop may be a few decades away from becoming ubiquitous in our daily lives, making that breakthrough will be among the greatest technological developments of our time. "I want the public to look upon new technologies with curiosity, not with fear. Most things don't work the first time around, but if we gave up after a single failure, we'd have never flown. Hyperloop will change the way we travel, and will redefine what 'far away' is. We just have to be patient."