Embry-Riddle Prescott Student Team to Launch CubeSat Nov. 18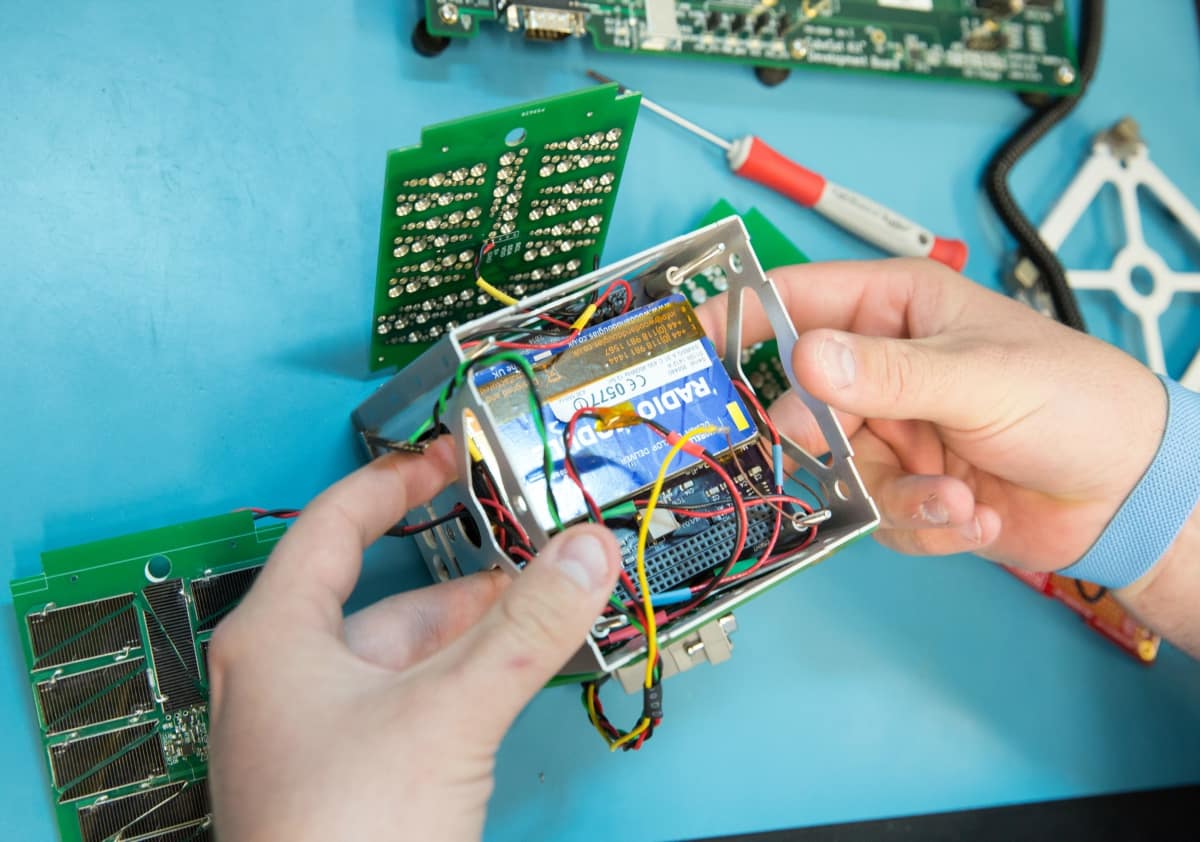 Approximately seven years in the making, engineering students at Embry-Riddle Aeronautical University's Prescott Campus will launch EagleSat-1, a cube satellite (CubeSat) aboard a Delta 2 rocket scheduled to lift off from California on Nov. 18, 2017, at 2:47 a.m.
EagleSat-1 will be launched as a secondary payload alongside the primary NASA mission of launching a new, highly advanced weather satellite. The mission of EagleSat-1 is to study the satellite's orbital decay and demonstrate the use of super capacitors for power rather than traditional rechargeable batteries. The Embry-Riddle EagleSat team estimates that their CubeSat will be in orbit between seven and nine years.
"Through comparison, we will be able to analyze the accuracy of current orbit propagations," said EagleSat-1 Project Manager Deborah Jackson. "The smaller an object is and the further in time we are estimating for, the less accurate this propagation or 'model' is. We hope to contribute to the improvement of this process."
Additionally, the team hopes to demonstrate that super capacitors are an adequate alternative to rechargeable batteries for supplying power to space systems. Super capacitors are able to charge and discharge large quantities quickly, and are therefore more durable than batteries.
Although NASA will launch the CubeSat, the EagleSat team will execute the operation of the mission from the Embry-Riddle campus. The team will then share their scientific findings with NASA.
The current EagleSat team consists of Deborah Jackson, Madison Padilla, Steven Buck, Jon Lowe, Sean Akana and faculty mentor Dr. Gary Yale. About 35 Embry-Riddle Prescott students have contributed to the EagleSat-1 project over the past seven years.
"The students have worked incredibly hard to make this day happen," said Yale, Professor of Aerospace Engineering. "We are all proud of what they've accomplished and share in their excitement about the impending launch."
A Viewing Party will take place from 2 a.m. to 3 a.m. (local time) at Embry-Riddle's Jim & Linda Lee Planetarium. Anyone interested in attending can RSVP at https://www.eventbrite.com/e/eaglesat-launch-livestream-tickets-39413516890.
---
About Embry-Riddle Aeronautical University
Embry-Riddle Aeronautical University, the world's largest, fully accredited university specializing in aviation and aerospace, is a nonprofit, independent institution offering more than 80 baccalaureate, master's and Ph.D. degree programs in its colleges of Arts & Sciences, Aviation, Business, Engineering and Security & Intelligence. Embry-Riddle educates students at residential campuses in Daytona Beach, Fla., and Prescott, Ariz., through the Worldwide Campus with more than 125 locations in the United States, Europe, Asia and the Middle East, and through online programs. The university is a major research center, seeking solutions to real-world problems in partnership with the aerospace industry, other universities and government agencies. For more information, visit www.embryriddle.edu, follow us on Twitter (@EmbryRiddle) and facebook.com/EmbryRiddleUniversity, and find expert videos at YouTube.com/EmbryRiddleUniv.