Embry-Riddle's Online Bachelor's Programs for Military Veterans Rated No. 1 by U.S. News & World Report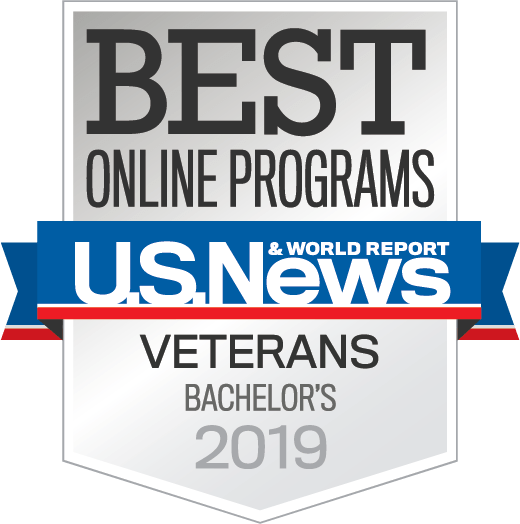 For the fourth consecutive year, Embry-Riddle Aeronautical University's Worldwide Campus has retained the top spot in U.S. News & World Report's 2019 Best Online Bachelor's Programs for Veterans.
Earlier this week, U.S. News had also named Embry-Riddle the No. 1 online undergraduate educator in the United States, among 348 schools ranked on the 2019 list.
Embry-Riddle Worldwide has ranked among the top five most outstanding programs for veterans on the annual U.S. News list since 2014.
With Embry-Riddle Worldwide, also on the 2019 top five list of the best programs for veterans are Arizona State University, Oregon State University, Pennsylvania State University's World Campus, and the University of Florida.
Embry-Riddle Worldwide Campus provides bachelor's, master's and doctoral degree programs for more than 23,000 students online and at 135-plus campuses in the United States and globally. Nearly half of those undergraduate and graduate students are active military, in the reserves or veterans taking classes online or onsite at military bases around the United States or abroad.
"We are committed to offering the highest quality degrees to our active-duty military and veteran students, and we are constantly looking at other programs and partnerships that give our veterans unique and valuable tools to succeed as they enter the workforce," said Embry-Riddle Worldwide Chancellor Dr. John R. Watret. "It is an honor to be included on this year's U.S. News list, which includes so many distinguished and innovative institutions."
The university's tradition of educating service members began in 1970 at Fort Rucker in Alabama and has grown to include base locations in Europe, Japan and South Korea.
To learn more about Embry-Riddle Worldwide's active-duty military and veterans services, go to worldwide.erau.edu/administration/military-veterans/.
Posted In: Institutional News