Embry-Riddle Meeting Demand for Corporate Pilots with Help from Solairus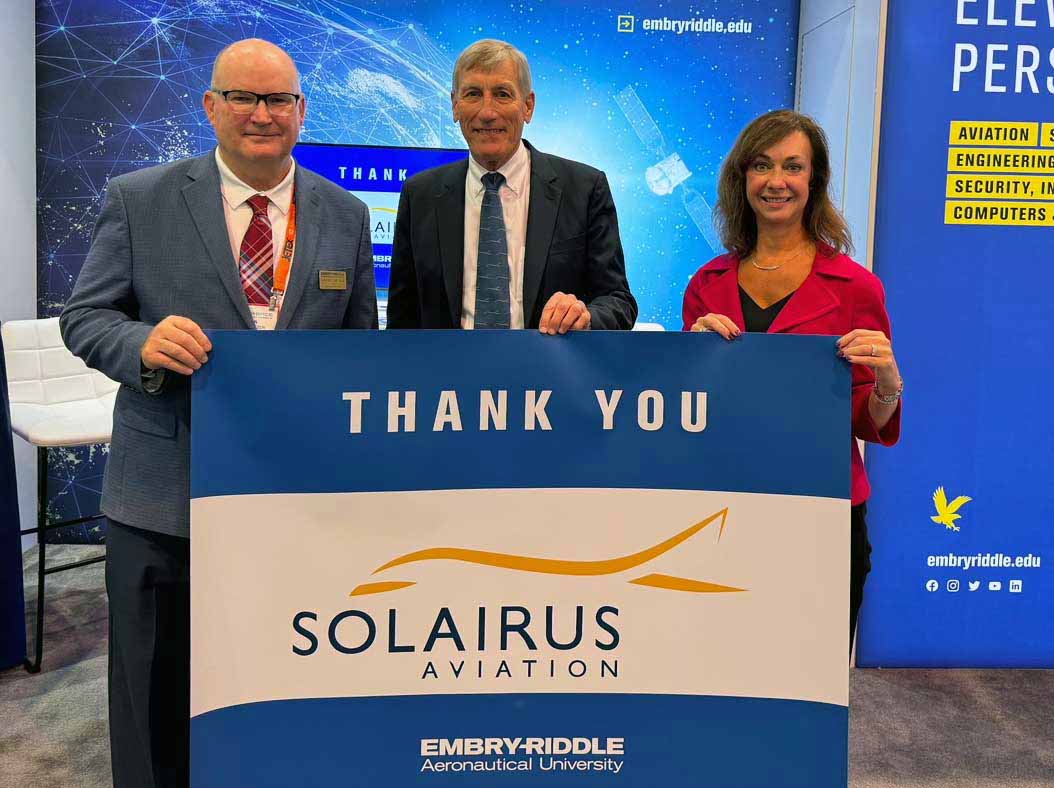 Solairus is the first company to support Embry-Riddle Aeronautical University's new scholarship to grow the availability of corporate pilots in the coming years.
Solairus, a market-leading provider of aircraft management and related services, is making the inaugural gift to the university's Runway to Business Aviation Scholarship with a $100,000 gift to help meet the anticipated growth in demand for civil aviation pilots. The 2023-2042 Boeing Pilot and Technician Outlook predicts that 649,000 new pilots overall will be needed in both commercial and corporate aviation over the next 20 years.
This scholarship fund supports flight training costs for students interested in pursuing a career in business aviation. The endowment was created to recruit high-performing students from underrepresented backgrounds and contribute to their success through a scholarship that pays for flight training costs. Students who receive the scholarship will have the opportunity to engage with peer and industry mentors and receive professional academic career advising — all designed to give them a competitive edge as a business or corporate pilot.
For Solairus Founder and CEO Dan Drohan, this is the second scholarship for underrepresented students in business aviation that he has supported at Embry-Riddle. He was the first to sign on for Project Liftoff in the university's David B. O'Maley College of Business, which supports a comprehensive scholarship for a student in aviation business.
"We are incredibly grateful to Solairus for recognizing the role business aviation can play in educating and assisting our students, with the goal of helping build tomorrow's workforce," said Alan Stolzer, Dean of Embry-Riddle's College of Aviation at the Daytona Beach Campus. "Dan Drohan has been so successful in this industry because he is a visionary — this support underscores his leadership and passion to make a difference."
Drohan, Stolzer and O'Maley College of Business Dean Shanan Gibson announced the Runway to Business Aviation Scholarship support at the 2023 National Business Aviation Association's Business Aviation Convention & Exhibition in Las Vegas.