Embry-Riddle Joins NSF Space Weather Challenge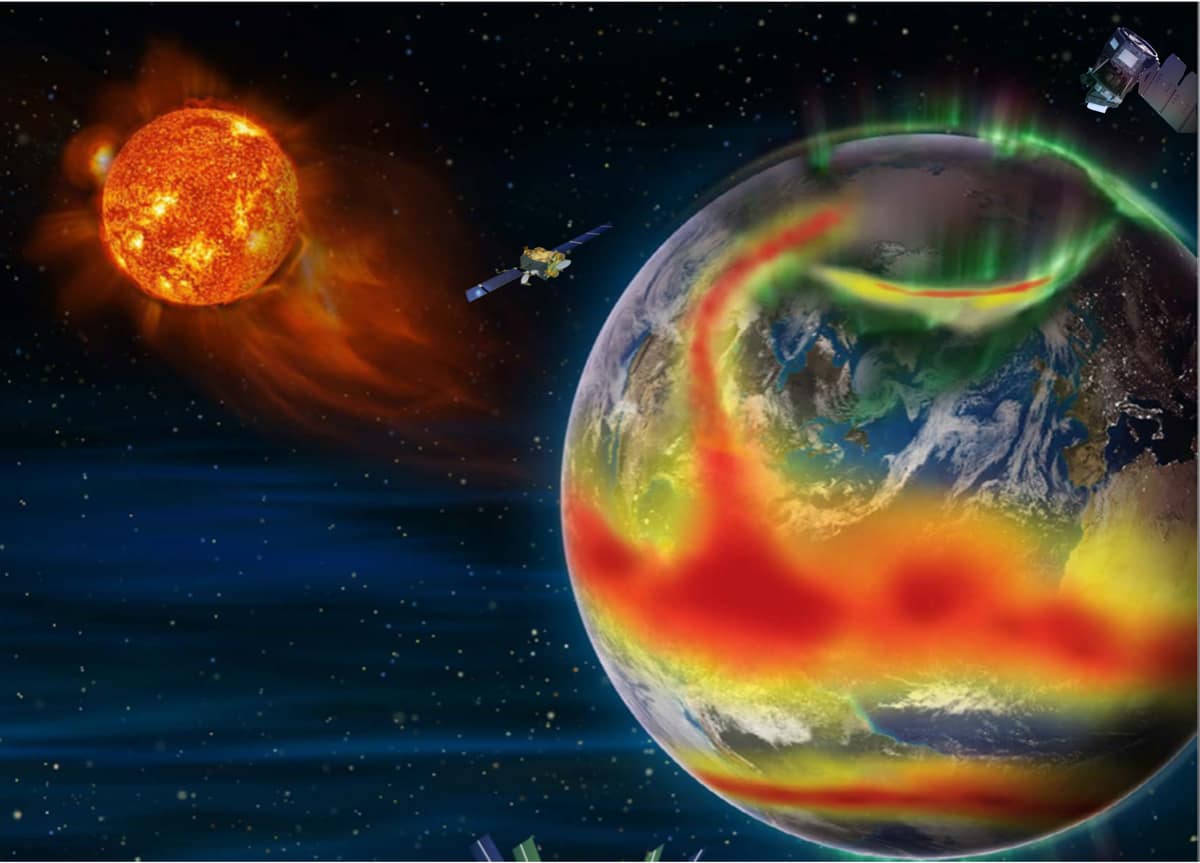 Just as the ocean's surface can be calm and glassy or churning big waves, a moody portion of space called the ionosphere can smoothly reflect communication signals or bounce them into oblivion. Predicting the ionosphere's wild mood swings is the focus of new National Science Foundation (NSF) support for research at five top engineering schools, including Embry-Riddle Aeronautical University.
The ionosphere, sandwiched between the Earth's atmosphere and magnetosphere, reflects radio waves and plays a key role in communication, but it's constantly bombarded from above and below: The sun's blasts create geomagnetic disturbances in the ionosphere, while events on Earth such as extreme weather force atmospheric waves to roll upward through space.
"Variations within the ionosphere can disrupt satellite and radio communication as well as GPS navigation," explained Dr. Christopher Heale, research assistant professor at the Center for Space and Atmospheric Research (CSAR), who has joined the NSF Space Weather Challenge. "While extreme geomagnetic storms from above can damage electronic systems on spacecraft and on Earth, ionospheric variability can also be influenced from below by day-to-day atmospheric wave activity and extreme weather events such as large thunderstorms, hurricanes and tornadoes."
If researchers could better understand exactly what causes most of the variability in the ionosphere from day to day, they might be able to predict disturbances. Someday, it might even be possible to prevent disruption or damage to communication systems, by taking action. "We would aim toward predictability – being able to say ahead of time of what the ionosphere is going to be doing so that we could shut down or adjust key systems," Heale said.
To improve understanding of space weather risks, the NSF awarded nearly $524,000 to researcher Xian Lu at Clemson University, for a project involving collaborators at Embry-Riddle as well as the New Jersey Institute of Technology, Massachusetts Institute of Technology Haystack Observatory and Virginia Tech. Heale's contribution to the project will be computer modeling of atmospheric weather events that lead to ionospheric variability.
In addition to pursuing scientific insights, the research team will plan outreach activities to help promote diversity and inclusion in STEM fields, by getting young people interested in the work, Heale added.
The NSF award was made under its Grand Challenges in Integrative Geospace Sciences: Advancing National Space Weather Expertise and Research toward Societal Resilience (ANSWERS) solicitation. ANSWERS projects encompass solar and space physics, and space weather and space climate.
"These topics are critical to advancing scientific discovery and to protecting the nation's economy and security," NSF noted in a news release. "Solar and space weather events such as geomagnetic storms pose hazards to satellite communications, navigation systems, electrical power and other aspects of a technology-dependent society."