Embry-Riddle Helps Chief of German Air Force Keep "Learning for Life"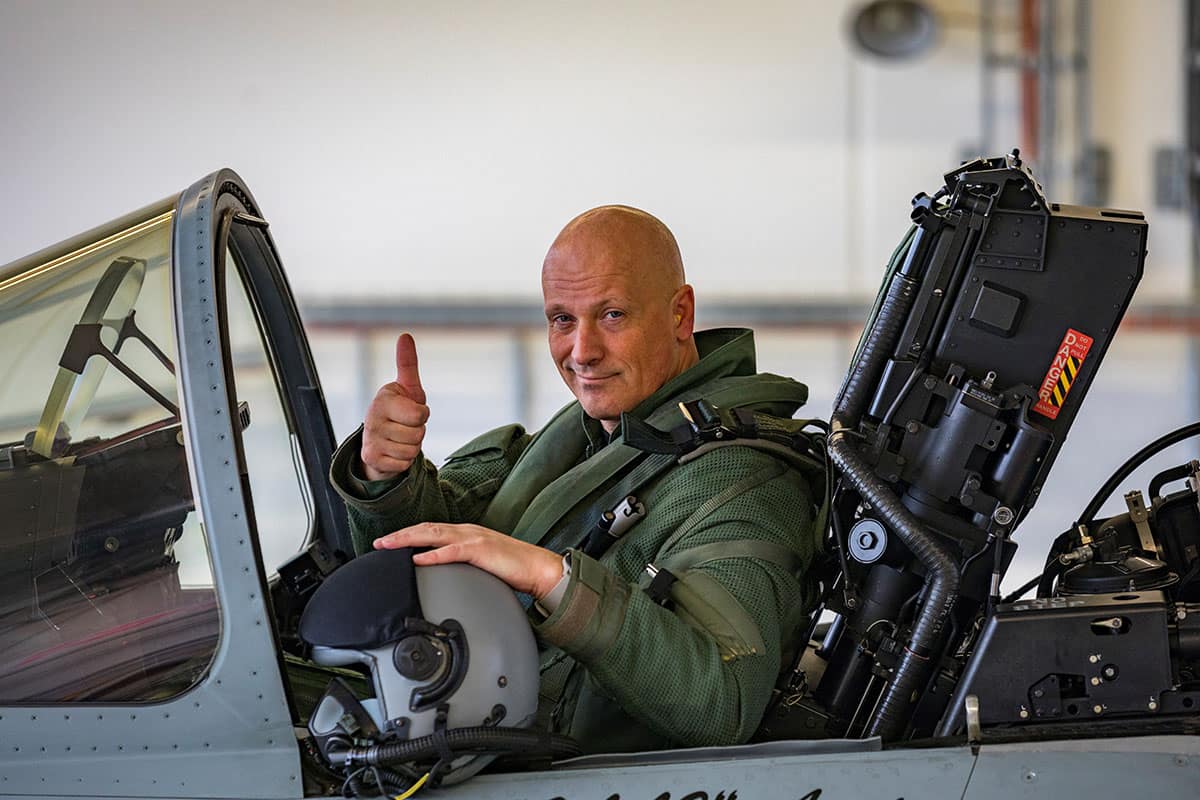 After Lieutenant General Ingo Gerhartz ('21) was put in charge of the command of the Luftwaffe (German Air Force), it would have been easy to rest on his laurels as an accomplished fighter pilot and military leader.
But the passion, drive and determination that propelled him through the ranks of the Air Force he joined at age 19 would not allow that.
Instead, Gerhartz lives by the saying that "anyone who stops improving has stopped being good" and decided in 2019 to continue "learning for life" by pursuing a master's degree in Aeronautics at Embry-Riddle's Worldwide Europe Campus – a goal he achieved in June.
"For me, the chance to face new challenges was as crucial as my friendship with some of my fellow pilots who either already had successfully completed a master's degree program or were waiting for me to come aboard and jointly face the challenges with them," said Gerhartz, 55.
He grew up dreaming of becoming a fighter pilot and has built an enviable military career that includes combat missions in Afghanistan and service with Germany's Federal Ministry of Defense. Gerhartz has over 2,500 flying hours as a pilot of F-4F, MIG-29, Tornado, and Eurofighter.
When he was chosen to command the Luftwaffe, in 2018, "even my highest expectations were exceeded," he said.
Since then, Gerhartz has committed to being a positive role model to his service men and women, emphasizing teamwork that builds trust on both sides as the surest formula for success. Earning a master's degree became part of that commitment.
"The privilege of leading the team at the top of the Luftwaffe obligates me to meet the demands and to contribute all of my talents with all my strength," Gerhartz said.
In addition to Embry-Riddle's "excellent reputation in Germany" and within the Luftwaffe, Gerhartz highlighted three key aspects that led him to choose the world's leading aviation and aerospace university for his course work:
"Embry-Riddle is a pioneer in the field of digital learning. Students are able to decide on their own where and when to study – an ideal approach when it comes to compatibility with working commitments and private life.
The second aspect is the high qualification and the supportive commitment of all university staff. Embry-Riddle allows students to network with fellow students, to take advantage of the means available with such a world-class faculty, to interact with leading experts, and to rely on the support of a highly professional staff.
The final and most important aspect is that the program provides space for ideas, encounters and new perspectives, which turned out to be a perfect addition to the knowledge I already had obtained."
Gerhartz was able to apply his studies to real-life scenarios.
When he took over as Air Chief in May 2018, he was faced with previously existing issues within the Air Force that had brought its efficiency and combat readiness into question.
"The situation required decisive and strong action, forward-looking decisions and a new, adapted strategic approach," Gerhartz said.
The flexibility of the program at Embry-Riddle Worldwide allowed him to study the organizational culture of the Luftwaffe as part of his final research project. He deployed a questionnaire to his wing commanders. Their responses brought forth "three thematic clusters, including clear objectives and directions, dialog and communication, and ways to reduce bureaucracy and introduce lean management structures."
"The evaluation of the data has made clear that organizational culture and climate directly influence the performance and effectiveness of the Luftwaffe," he said.
Gerhartz also said the foundation laid by his academic work has led to real world success that is noticeable. "The operational readiness has increased significantly and some of the measures already implemented can be traced back to my studies."
Overall, Gerhartz believes his Embry-Riddle experience, like his stellar military career, has exceeded expectations.
"Pursuing my master's degree enabled me to develop new constructive approaches that could be directly integrated into my professional practice," he said. "The Embry-Riddle master's program perfectly fits a military leadership lifestyle."