Embry-Riddle Flight Teams Finish Strong at National Competition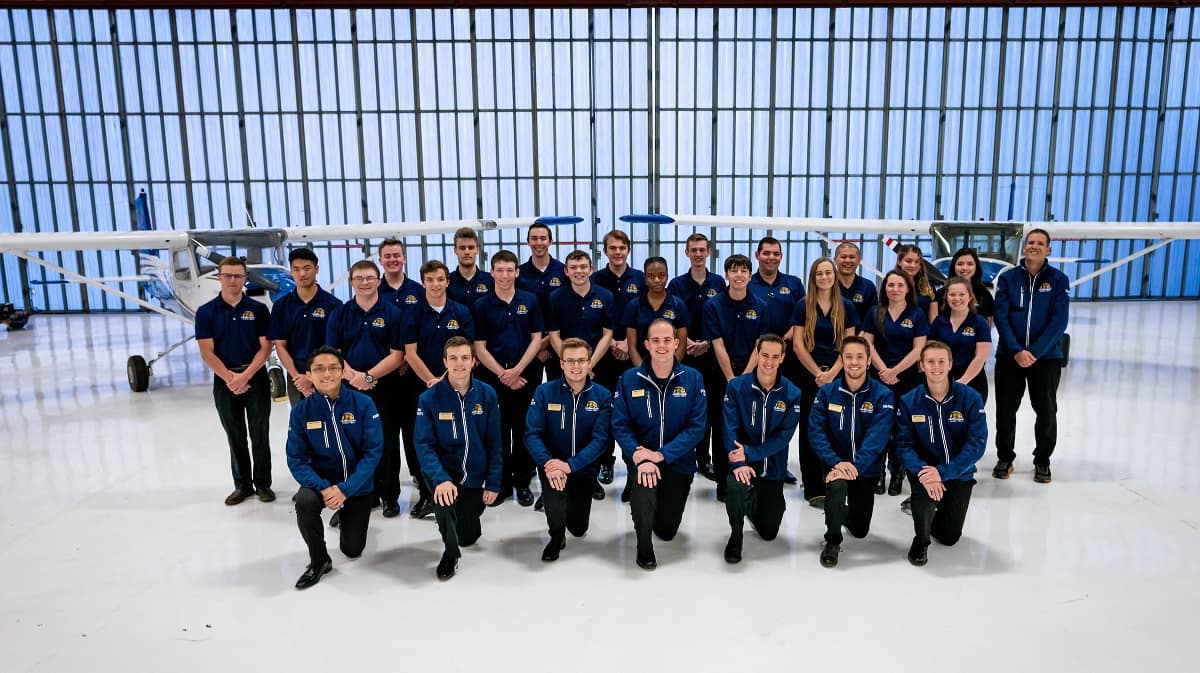 DAYTONA BEACH, Fla. – In the most important annual contest for college aviators – the Safety and Flight Evaluation Conference (SAFECON) competition – Embry-Riddle's Prescott, Ariz. and Daytona Beach Fla. flight teams placed third and seventh respectively, excelling in many of the nearly two dozen individual flight and ground events.
SAFECON, presented by the National Intercollegiate Flying Association (NIFA), included 350+ contestants from 30 elite collegiate flight teams from across the country. These students participated in 23 different flight and ground events, including ground-based activities and flying tests for individuals and teams. Contestants were judged on their expertise in flight planning, simulator flights, navigation, interviewing, preflighting, precision landing contests, power-off landings and other aviation-related challenges.
The 2019 SAFECON was hosted by the University of Wisconsin and held at the Southern Wisconsin Regional Airport (JVL).
Prescott's Golden Eagles Flight Team
For more information on the Golden Eagles Flight Team, go to flygoldeneagles.com or check out the team's Facebook page.
Winners of 12 national championships, the Golden Eagles had notable team and individual accomplishments to complement their third place SAFECON Championship finish.
The team took first place in the Ground Events Championship. In the Aircraft Recognition competition Golden Eagles took the top four rankings – Brian La Fetra, first; Colin Ho-Tseung III, second; Jason Fung, third; and Anthony Platt, fourth.
Team captain Ryan O'Connor tied for first in the Power-Off Landings competition and placed second in the Simulated Comprehensive Aircraft Navigation event with teammates Joshua Wiese and Benjamin Lamer finishing in the top five. O'Connor was also recognized as Regional Top Pilot.
Karl Neserke took first in Computer Accuracy, with teammate Colin Kennedy placing second. Trevor White was named Outstanding Team Member.
The Prescott Golden Eagles were assisted by coach Bob Moser, assistant coach Shaun Shephard, coach and team mechanic Farrell Harris, volunteer coach/photographer Stephen Anderson and faculty advisor Dr. Juan Merkt. Team officers include Chief Pilot Ben Klinkman-Sinatra, Captain Ryan O'Connor and Co-captain Spencer Thomas.

The Daytona Beach Eagle Flight Team (Photo: Embry-Riddle)
The Daytona Beach Eagles Flight Team
Learn more about the Eagles Flight Team at http://www.eaglesflightteam.com/and visit the Eagles Flight Team Facebook page.
The Eagles placed seventh in the SAFECON Championship. The team also finished sixth in the Flight Events Championship and ninth in the Ground Events Championship.
The top scoring Eagle was also the team's top pilot, Nicholas Carbone, who finished seventh overall. Carbone also place third in Simulated Flight, fourth in Short Field Landings and sixth in the Certified Flight Instructor category.
In the Message Drop competition, pilot Saiful Jihad and dropmaster Jason Vo finished third, pilot Daniel Byrnes and dropmaster Nicholas Carbone placed fourth and pilot Manuel Escobar and dropmaster Scott Rudkin finished sixth. Tyler Rispoli was named as Outstanding Team Member.
The Daytona Beach Eagles were assisted by Coach Richard Garner, assistant coach Michael Benson and mechanic Tim McDonald. Team officers include Captain Patrick Mackinlay, Chief Pilot Nick Carbone and First Officer Danny Byrnes.
Complete results of this year's NIFA SAFECON can be abound at https://nifa.aero/wp-content/uploads/SAFECON-2019-Official-Results.pdf.
The National Intercollegiate Flying Association was formed for the purposes of developing and advancing aviation education; to promote, encourage and foster safety in aviation; to promote and foster communications and cooperation between aviation students, educators, educational institutions and the aviation industry; and to provide an arena for collegiate aviation competition. NIFA also serves as a forum for collegiate aviators to expand their studies and further their careers by participating in competitive and non-competitive events, networking with industry and contemporaries, and applying themselves to go above-and-beyond their ordinary curriculum.
Written by Jason Kadah and James Roddey
Posted In: Aviation | Security Intelligence and Safety