Embry-Riddle Flight Team Wins Regional Competition for 32nd Consecutive Year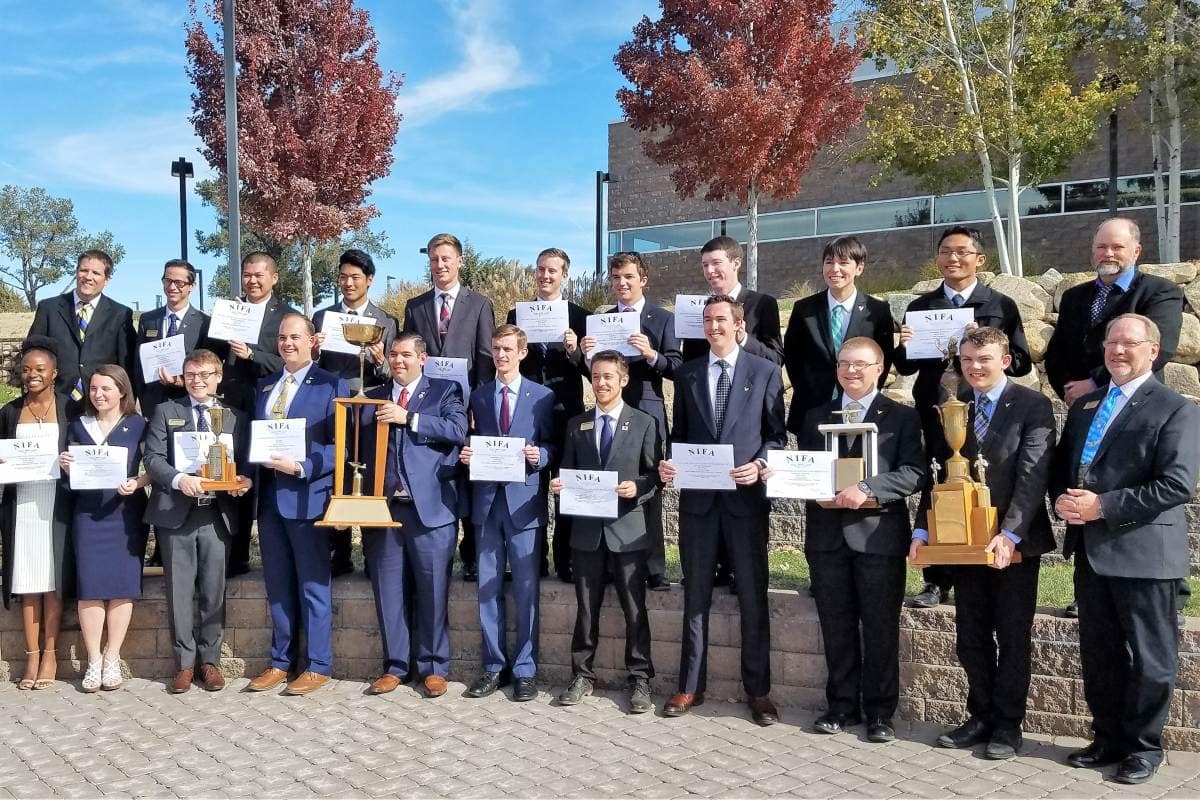 Prescott, Ariz. – For the 32nd year in a row, Embry-Riddle Prescott's 12-Time National Champion Golden Eagles Flight Team won the National Intercollegiate Flying Association's Safety and Flight Elevation Conference (NIFA SAFECON) regional competition with 13 overall first-place victories, including Top Scoring Contestant and a two-way tie for Top Pilot.
The Golden Eagles participated in the Region II competition, which included a total of seven teams from Arizona and California. Eight students won individual first-place awards, and the team finished first overall with 367 total points. San Jose State University finished second with 102 points.
"The team continues to amaze me with their hard work, dedication, and drive for excellence," said Team Captain Ryan O'Connor. "I couldn't be more proud of this competition team for the tireless work they put into this Regional Championship. Carrying on the traditions of excellence set forth by the generations of Golden Eagles before us is something that we strive to do at all times, as competitors, as pilots, and as people."
NIFA was established to develop and advance aviation education; to promote, encourage and foster safety in aviation; to promote and foster communications and cooperation between aviation students, educations, educational institutions and the aviation industry; and to provide an arena for collegiate aviation competition.
"We could not be more proud of this team of young aviators. As a group, they continuously drive one another to great heights and achievement," said Robert Moser, head coach for the Golden Eagles Flight Team. "We are also proud of the cooperation and effort of the Embry-Riddle family, our Flight Department, the airport management group at Ernest Love Field, the FAA Air Traffic Control team and Legend Aviation. Without their support, hosting an event of this magnitude would not be possible."
The conference championship grants The Golden Eagles with a spot to compete in May at the national NIFA event in Janesville, Wisc. The team won their 12th national championship, and third consecutive title, at last year's competition, after induction into the International Air & Space Hall of Fame last November.
"The team is already gearing up for Nationals," added O'Connor. "The days get longer, the practices get harder, the stakes get higher, and the drive to win a National Championship only gets stronger. By the time we depart for competition in May, I'm confident we will be sending the most capable and confident competitors within our team to represent the University at the National level. A 'three-peat' was a tall order, but for a team that thrives off of pushing our limits and constantly raising the bar, we're coining the term 'four-peat' and going after it with all we've got."
Top finishes for individual Embry-Riddle Prescott team members include:
Top Pilot:
T1 – Ryan O'Connor
T1 – Spencer Thomas
Top Scoring Contestant:
1st Place: Ryan O'Connor
Outstanding Team Member:
Kevin Peace
Power-On Landings:
1st Place: Spencer Thomas
Power-Off Landings:
1st Place: Spencer Thomas
Crew Resource Management/Line Oriented Flight Training (CRM/LOFT):
1st Place: Anthony Platt (Pilot Flying) Ryan O'Connor (Pilot Monitoring)
Navigation:
1st Place: Colin Ho-Tseung (Pilot) Anthony Platt (Safety Observer)
Preflight:
1st Place: Anthony Platt
Aircraft Identification:
1st Place: Karl Neserke
Ground Trainer:
1st Place: Kevin Peace
Computer Accuracy:
1st Place: Colin Kennedy
Simulated Comprehensive Aircraft Navigation:
1st Place: Ben Lamer
The 2018-2019 Golden Eagles Flight Team are: Captain Ryan O'Connor, Co-Captain Spencer Thomas, Chief Pilot Ben Klinkman-Sinatra, Kevin Peace, Colin Ho-Tseung, Richard Santi, Matthew Masangcay, Matthew Arnovick, Joseph Bryant, Jason Fung, Ethan Hill, Sabrina Johnson, Joseph Kao, Colin Kennedy, Gurvinder Kochhar, Brian La Fetra, Benjamin Lamer, Ray Lin, Carol Martin, Karl Neserke, Sammy Ngo, Douglas Niemela, Arin Ojehomon, Hayden Owen, Anthony Platt, John Ritter, Emalie Snyder, Erin Teal, Jonathan Van Schooten, Trevor White, Josh Wiese, Head Coach Robert "Bob" Moser, Assistant Coach Shaun Shephard and Coach / Team Mechanic Russell Harris.
For the entire list of results from the 2018 Region II Safecon, visit https://nifa.aero/wp-content/uploads/2018-Region-2-SAFECON-Official-Results.pdf
For more information on the Golden Eagles Flight Team, go to www.flygoldeneagles.com