Embry-Riddle Female Pilots Sweep Top Spots in Historic Air Race Classic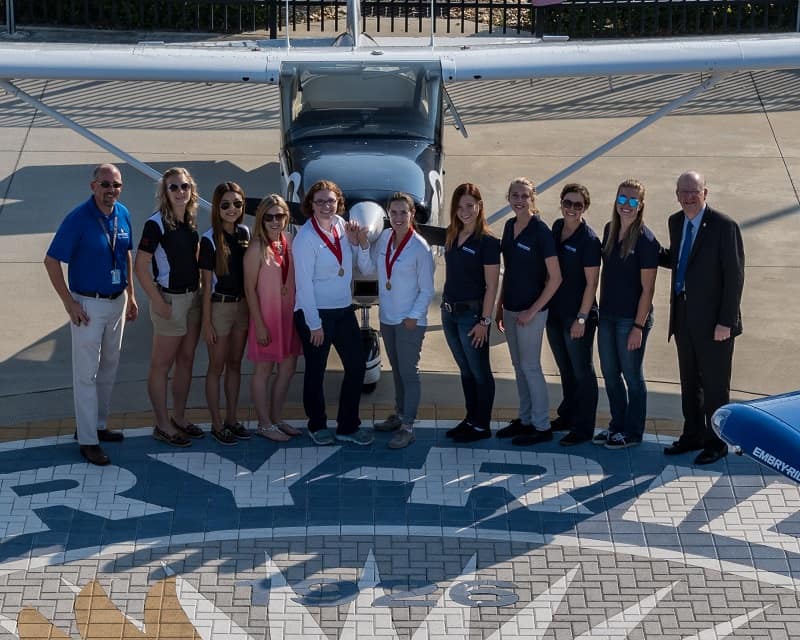 Daytona Beach Team Earns First Place in Collegiate Division and Overall in Cross-Country Flight Competition; First-Time Faculty Racers Finish 3rd

Embry-Riddle Aeronautical University Daytona Beach Campus pilots Emmy Dillon and Abbie Pasmore were named winners not only in the collegiate division of this year's Air Race Classic (ARC) but also secured first place overall, besting 50 teams for the first time in the school's history participating in the cross-country, all-female air trek.
Four teams consisting of female student pilots and flight instructors represented Embry-Riddle's residential campuses in the flight competition that kicked off June 21 at the university's Prescott, Ariz., campus and ended June 24 in Daytona Beach. Winners of the 2,716-mile race featuring more than 100 women were announced Sunday during an awards banquet in Daytona Beach.
Another first in the university's history included an independent team (Team Bernoulli) featuring two Daytona Beach Campus College of Engineering faculty Naiara Petralanda and Virginie Rollin who finished third overall in their first attempt at the race.
Embry-Riddle Prescott's team of Hannah Rooney and Rachel Hutzell finished in seventh place in collegiate competition and 16th overall, and the team of Shelby King and Hannah Burright were ninth in collegiate and 23rd overall.
Embry-Riddle Daytona Beach pilot Sarah Wendt and co-pilot Sojung An as the Riddle Racer Blue Team received numerous nods in the leg/stop competition and finished 16th in collegiate and 42nd overall after having to make a safety stop for maintenance issues.
Check Out Photos from the Race on Facebook.
"We're incredibly proud of our pilots," said Dr. Karen A. Holbrook, Interim President of Embry-Riddle, which was the start and terminus host sponsor of this year's race. "To be part of an event such as this that empowers and inspires women is an honor, and it exemplifies the core values of our university – that there are no limits to what you can achieve."
With a theme of "Collegiate Cross Country," the annual race was a salute to aviation programs at universities across the country. Other universities that finished in the top 10 in the collegiate division were Indiana State University, University of North Dakota and Liberty University. As Embry-Riddle celebrates its 90th anniversary this year, it also marks 20 years since a similar route for ARC was run between the two campuses in 1996. One of this year's stops along the route was in Albuquerque, N.M., where Embry-Riddle Worldwide offers courses at Kirtland Air Force Base.
The women were selected for this prestigious competition by Embry-Riddle College of Aviation administrators from each campus on the basis of their piloting skills, their competitive spirit and their knowledge of aviation, safety, navigation, meteorology and crew resource management. All Embry-Riddle teams flew Cessna 172 aircraft from the university's fleet.
Nearly two dozen female pilots with connections to Embry-Riddle as former faculty, graduates of all campuses including Embry-Riddle Worldwide and current students participated in this year's race. Current sophomore and aeronautical science major at the Daytona Beach Campus, Cara Baldwin also competed for the fifth time as part of team Baldwin Family Flyers with her grandmother and aunt. The three generations of women pilots received numerous awards at Sunday's banquet.
In previous races, Embry-Riddle racers have delivered impressive results. A Daytona Beach team has participated every year since 2007, finishing four times previously as the No. 1 team in the collegiate division, and until this year, had finished as high as No. 2 in the overall competition twice. Prescott has taken part every year since 2009, ranking as high as No. 2 in the collegiate division and No. 4 last year in the overall competition.
---
About The Air Race Classic
Air Race Classic Inc. is an all-volunteer, nonprofit 501(c)3 organization with a mission of encouraging and educating current and future female pilots, increasing public awareness of general aviation, demonstrating women's roles in aviation, and preserving and promoting the tradition of pioneering women in aviation. For more information, go to airraceclassic.org. Follow Air Race Classic on Facebook. On Twitter: @2016ARC.