Facing Record Enrollments, Embry-Riddle Enhances Flight Training through Virtual Reality
With 2,500 students currently enrolled in Aeronautical Science programs between Embry-Riddle Aeronautical University's two residential campuses — marking the highest figure of the past 20 years — instructors are looking to virtual reality to make flight instruction more efficient and effective.
Here's how it works: Incoming flight students work exclusively in virtual environments for the first four weeks of their instruction. Through simulators, they get to know the flight deck, the controls, get a feel for takeoffs and landings. After those four weeks, they transition to hands-on work with real aircraft.
"By the time they get to the airplane, they already know procedures," said Chief Flight Instructor Ivan Grau, during last week's Aviation Outlook webinar event. "They are already fully developed, and now they're just practicing."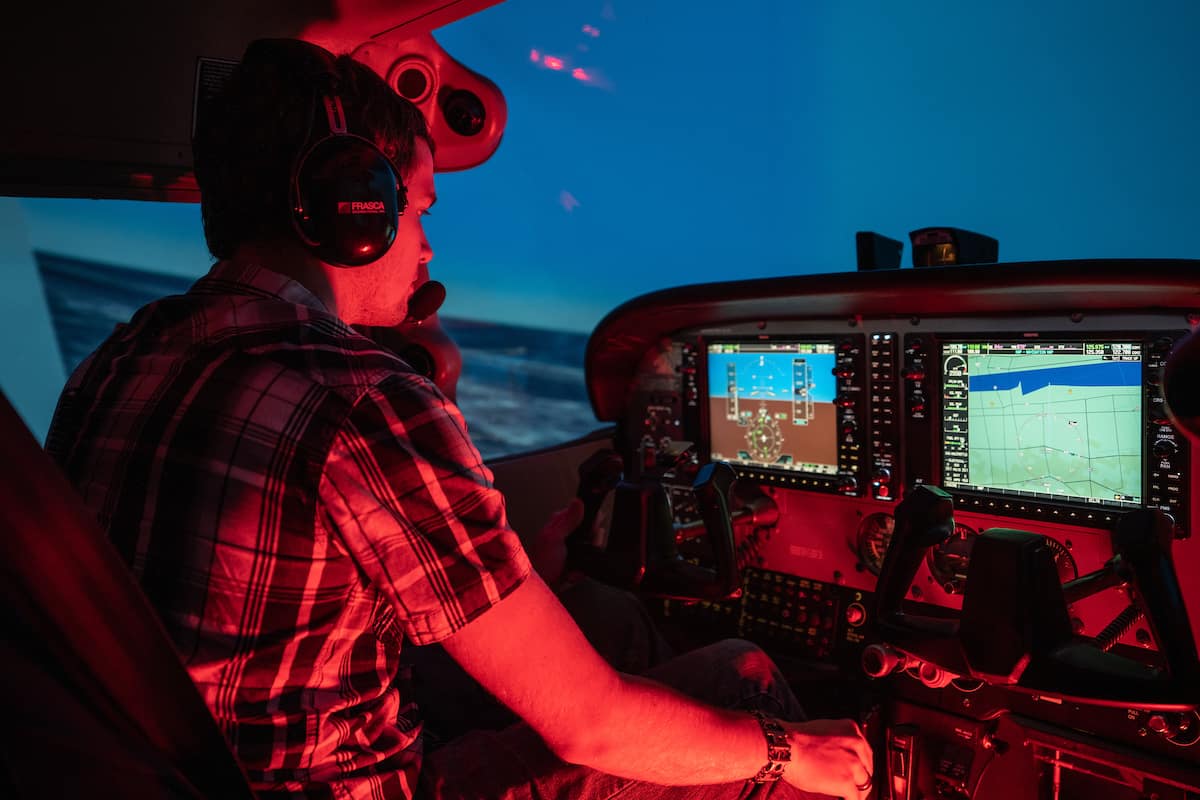 Students hone their skills in a Frasca Cessna 172 flight simulator on Embry-Riddle's Daytona Beach Campus. (Photo: Embry-Riddle/Daryl LaBello)
Eventually, Grau believes, this training method should even lead to reduced flight time and costs for students.
"A lot of people don't realize that flight instruction is probably one of the last bastions of one-on-one training that you're going to get," added Mike Wiggins, professor of Aeronautical Science. "The wonderful thing is, as a professor, you walk away knowing you had a chance to make a difference in their lives."
Two longtime instructors at Embry-Riddle — Wiggins has trained generations of pilots over his 44 years at the university, as has Grau, for the past 31 years — the two alumni reflected on their careers, the aviation industry and the future of flight training.
"One of the things I never take for granted is the resiliency of the aviation industry," said moderator Dr. Alan Stolzer, dean of the College of Aviation, citing the Covid-19 pandemic as one of the major events of the past few decades that fundamentally changed the way airlines do business.
Grau and Wiggins agreed.
"As pilots, we always mitigate circumstances," Grau said, citing the many health and safety protocols that Embry-Riddle implemented early in the pandemic, allowing students to continue their flight training.
"The future is bright," Wiggins added. "There's not a better time to enter the industry than right now."
Exceptionally high demand for Embry-Riddle's flight training relates to the quality of the program as well as the global shortage of pilots and aviation maintenance technicians. The Boeing Company's Pilot & Technician Outlook 2020-2039projects that 763,000 new civil aviation pilots and 739,000 new maintenance technicians will be needed to fly and maintain the world fleet within about the next 20 years.
The key to success, according to Wiggins, for both staff members and aspiring aviators alike: Give them the tools and knowledge to succeed, set expectations, and then "get out of their way."
A two-time former chair of the Aeronautical Science Department, Wiggins would know. He has also led the Faculty Senate and the Center for Teaching and Learning Excellence on the Daytona Beach Campus, published various research and held other leadership positions during his tenure.
"I can look back and smile," he said. "When a student comes back and says, 'Thanks for helping me' — that makes it all worthwhile, all worthwhile."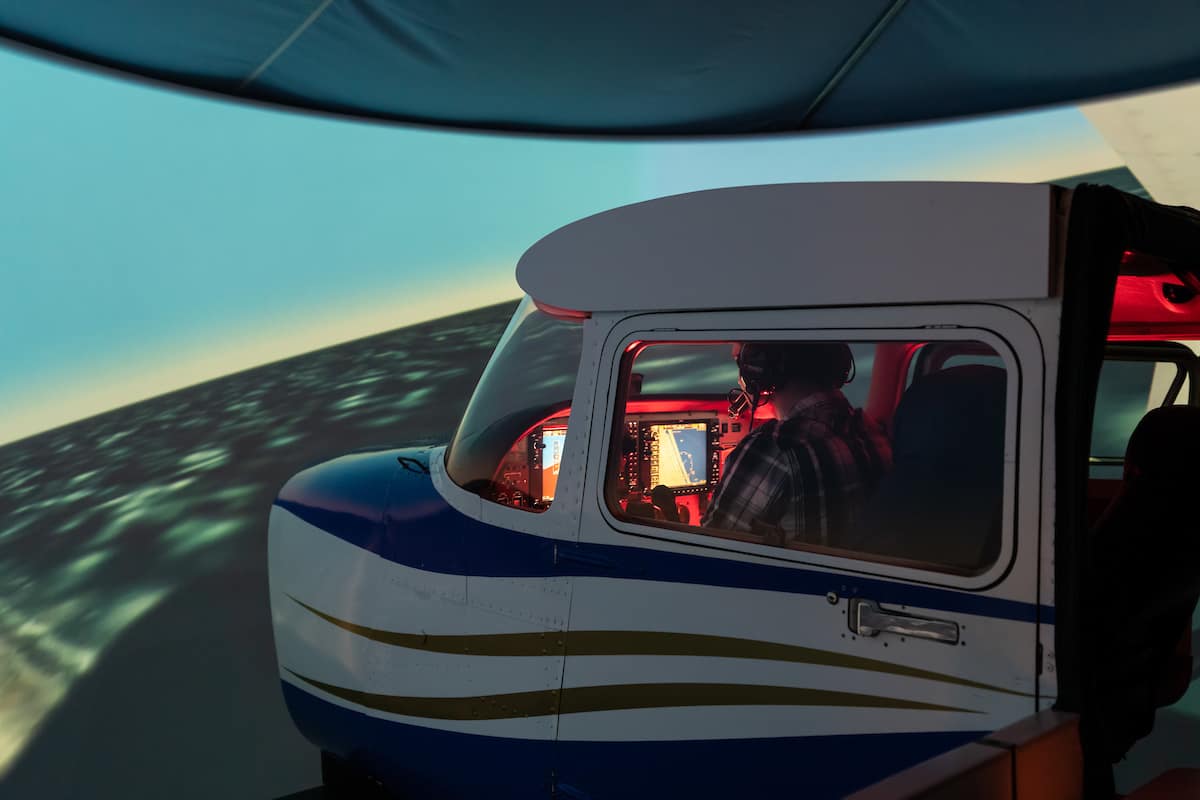 Incoming students spend the first four weeks of instruction in simulated flight environments, before moving onto physical aircraft. (Photo: Embry-Riddle/Daryl LaBello)
Grau flew solo for the first time when he was 16 years old, after only nine hours of flying lessons. His parents then sent him from their home in Puerto Rico to Indiana, for greater access to opportunity.
"I imagine the sacrifice that (my parents) felt when they sent me away to the states," he said. "They always said to me, 'Do whatever you want to do, just try to be the best that you can.'"
After he graduated from Embry-Riddle, he transitioning into teaching, first at another institution before returning to Embry-Riddle in 1990. He has been chief flight instructor now for 17 years.
"I always wanted to work here," Grau said. "If I wanted to be the best, I had to be at the best place. There was no other option for me."
Aviation Outlook
is an interactive webinar series presented by Embry-Riddle's deans of Aviation, featuring key aviation and aerospace leaders who offer their insights on the current state of aviation and what the future holds for these most dynamic and technical of industries.
Posted In: Aviation