Embry-Riddle Engineering Degree Programs Among Best in U.S.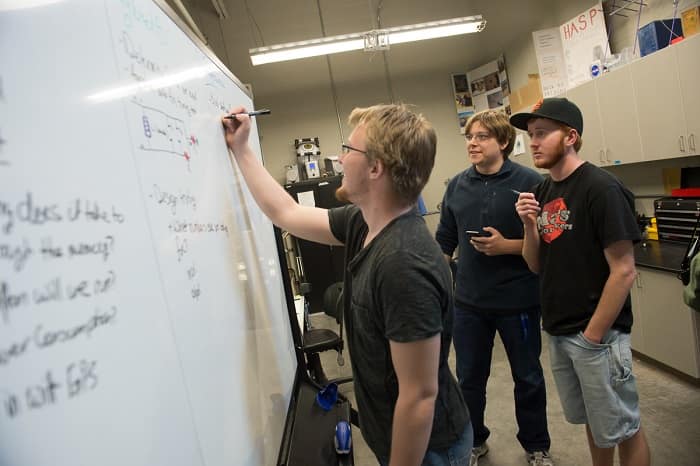 Embry-Riddle Aeronautical University recently was named as one of the nation's Best Bachelor's in Engineering Degree Programs for 2016 by CollegeChoice.net, an independent online service for prospective college students and their families.

Embry-Riddle, which offers multiple engineering degrees at the bachelor's, master's and doctoral level at its two residential campuses in Daytona Beach, Fla., and Prescott, Ariz., as well as through its online and classroom locations at Embry-Riddle Worldwide, was ranked 11th in the annual list.
The 90-year-old university bested such world-renowned colleges as the University of Michigan, Purdue University and the Air Force Academy, and was just shy of making the top 10 which includes: Rose-Hulman Institute of Technology, Stanford University, Massachusetts Institute of Technology, University of California-Berkeley, Harvey Mudd College, California Polytechnic State University-San Luis Obispo, University of Illinois at Urbana-Champaign, Georgia Institute of Technology, Olin College of Engineering (Massachusetts) and California Institute of Technology.
"As Embry-Riddle's reputation continues to grow, the university's highly ranked programs already find themselves in good company with esteemed schools," Embry-Riddle Interim President Dr. Karen A. Holbrook said. "We lay the groundwork for great rankings every day as we continue to strengthen the tools for student success and follow our vision to be a source for innovation and excellence in aerospace education and research."
The rankings, composed of national universities offering engineering degree programs, uses cost of tuition verified by individual schools as well as CNN Money and reputation in the field as reported by U.S. News & World Report, Forbes and TES Global. The entire list can be viewed at collegechoice.net/rankings/best-bachelors-degrees-in-engineering-2016/.
CollegeChoice.Net also declared Embry-Riddle third best as part of its 2016 Best Southern Regional Universities, based exclusively on factors actual college freshmen said were most important to their college decision (academic reputation, financial aid offerings, overall cost and success of graduates in the post-college job market). According to CollegeChoice.Net, each of these factors were weighted equally in the ranking, and data was derived from a variety of publicly available sources, including U.S. News & World Report, the National Center for Education Statistics and PayScale.
Embry-Riddle's Engineering Programs have received multiple nods including 16 consecutive years as No. 1 in U.S. News & World Report's "Best Undergraduate Aerospace/Aeronautical/Astronautical Engineering Programs" for the Daytona Beach Campus, and No. 3 for the Prescott Campus for 13 years in a row.
Media Contact:
- Melanie Hanns, Director of Media Relations, Embry-Riddle Aeronautical University, Daytona Beach, Fla.; Office: (386) 226-7538; melanie.hanns@erau.edu.