Embry-Riddle "Eagle3" Team Ranks Third in Nation in IEEE Coding Competition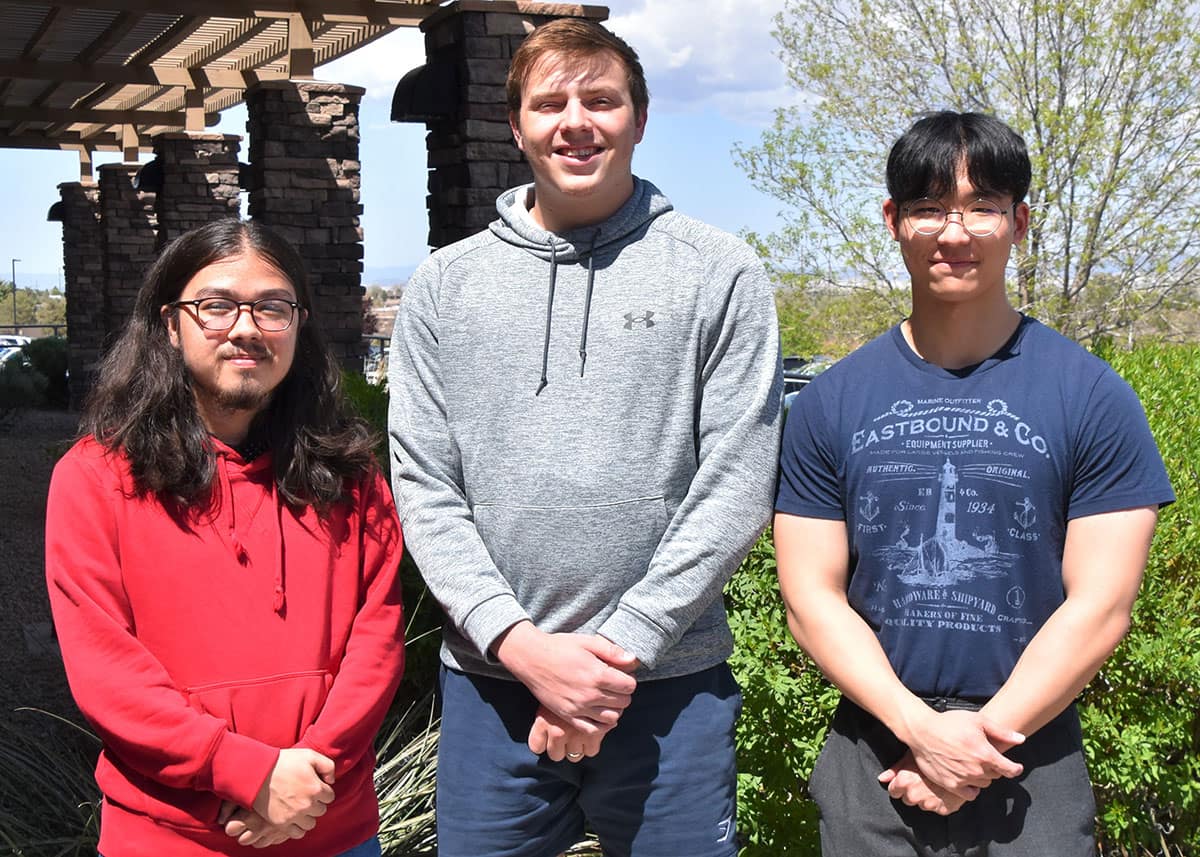 IEEExtreme — the Super Bowl of software engineering — is a 24-hour global challenge in which teams compete to solve programming problems.
Endurance, knowledge and speed are all key elements for capturing top honors. Winners can be determined by mere seconds, with points given for speed and the complexity of solutions.
Ultimately, perseverance paid off for software engineering students Eric Babcock, Cody Park and David Close. Representing Embry-Riddle Aeronautical University's Prescott Campus, their team "Eagle3" placed third in the nation and 135th globally.
"The most exciting part of the competition was waiting for the new problems to be released and watching our team's score change in real-time," said Park. "We were all scraping for every point we got, and I enjoyed discussing potential solutions with my teammates whenever we had ideas."
This year's competition involved 6,376 teams from 65 countries. Members of Embry-Riddle's Institute of Electrical and Electronics Engineers (IEEE) Student Branch have participated in this event for many years. This is the highest they have placed.
"The results these students achieved demonstrate both the quality of the students in our engineering programs as well as the superb technical preparation they receive in the classroom," said Dr. Ed Post, chair of the Electrical, Computer and Software Engineering Department.
The students agreed that the problems were tough, but they felt ready for the competition. "The problems are released at a regular cadence, and the team must write code to solve the problems quickly and efficiently," said Babcock. "It can be difficult dealing with such large amounts of data in a short amount of time."
He added, "The 24-hour timeframe is the most challenging part. It is mentally taxing and takes a lot of endurance. We did take a break to sleep for a few hours." The team used a combination of Python and C++ to tackle the problems.
"The types of problems throughout the competition were similar to those given in software engineering interviews, and practicing them can be helpful for those wanting to get into those positions," said Park.
For Eagle3, the competition was about more than winning: It was about camaraderie.
"The best part of the competition was being there on campus with my friends and teammates. We were allocated a room in the King Engineering building on campus and stayed there for most of the night," said Park. "I had some other friends in the competition as well, and they were a few rooms away from us. It was fun to hang out and have pizza between problems."
"It was exciting to see we were doing well and continuing to keep up with top teams," Babcock agreed. "It takes a lot of endurance, but it's fun to go through it together."
It will be up to the junior member of the team, David Close, to defend their title next year. Both Babcock and Park recently graduated. Babcock will be going to Redmond, Washington, to join Space X, and Park is currently interning at Honeywell, with plans to get a master's degree in software engineering.
Posted In: Engineering