Embry-Riddle Becomes First University to Achieve Rigorous Safety Registration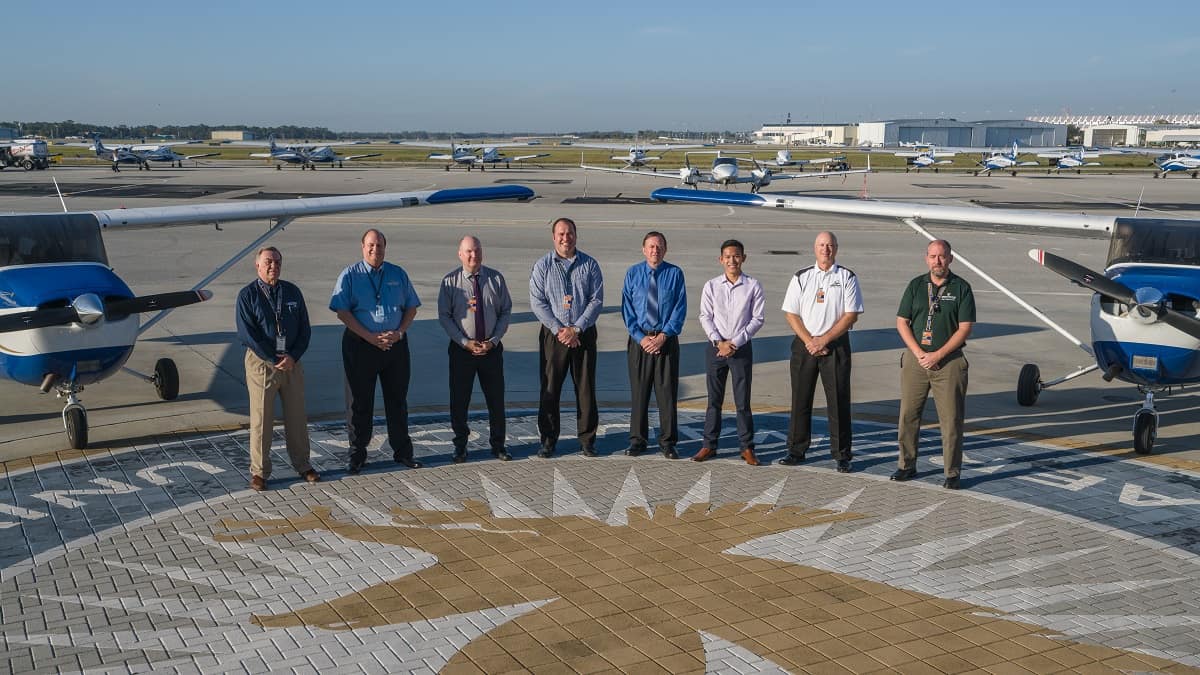 The world's oldest, largest and most comprehensive aviation-focused institution, Embry-Riddle Aeronautical University has done something no other university flight operation has done: passing the second stage of a famously intense international safety registration process.
Already known for its exemplary safety record, Embry-Riddle's Daytona Beach, Fla., flight operation, including a fleet of 69 aircraft, achieved Stage II International Standard Business Aircraft Operations (IS-BAO) registration on Nov. 14.
Awarded by the International Aviation Business Council of Montréal, Canada, IS-BAO registration means Embry-Riddle has put in place yet another layer of accountability for its flight operation – above and beyond U.S. Federal Aviation Administration (FAA) requirements.
"Safety remains our top priority, and we've set a very high bar for ourselves," said Ken Byrnes, chair of Embry-Riddle's Daytona Beach Flight Department and an associate professor of aeronautical science. "Although our safety culture is exceptional, we're always looking for ways to keep improving. This new registration requirement will make us even stronger."
The IS-BAO audit was "extremely robust," evaluating the flight operation's entire safety management system, explained Jeremy Mammen, Embry-Riddle's Daytona Beach-based director of aviation safety, who led the university's large team effort to achieve Stage II registration.
"Of course, Embry-Riddle complies with all FAA requirements, and we maintain our FAA airworthy registration and conduct annual audits, but there is currently no objective way to evaluate a flight operation's safety management system in the United States," Mammen explained. "We went with IS-BAO because they come into your organization and review significant amounts of data as well as policies and procedures to pinpoint exactly how you can achieve the highest possible standards."
The IS-BAO review process looked at Embry-Riddle's safety reporting, safety management system, emergency response plan, safety reporting culture, fleet maintenance, safety protocol checklists and many other aspects of safety, Mammen said.
More than 700 U.S. and international operators are IS-BAO certified, but Embry-Riddle's Daytona Beach flight operation is believed to be the only university with Stage II registration, he added.
Over the past 15 years, Embry-Riddle's Daytona Beach flight operation has seen more than 1 million flight hours and nearly 1.8 million aircraft takeoffs and landings. With 22,000 pilot certificates and ratings issued during that time, the department's accident rate stands at 0.0008% with no injuries.
"Our graduates leave Embry-Riddle with a profound respect for the importance of aviation safety," Byrnes said.
The department's fleet currently includes 47 Cessna 172/S aircraft; three Cessna 150s; 10 Diamond DA42; and one Decathlon.
Embry-Riddle's Daytona Beach Flight Department earned Stage I IS-BAO registration in May 2015. In May 2019, the university will set its sights on an even higher goal: Stage III.
Mammen commended the entire Embry-Riddle team that worked to achieve Stage II registration, particularly graduate student Giri Pratomo.