Embry-Riddle and Florida Tech Collaborate on Spaceflight Research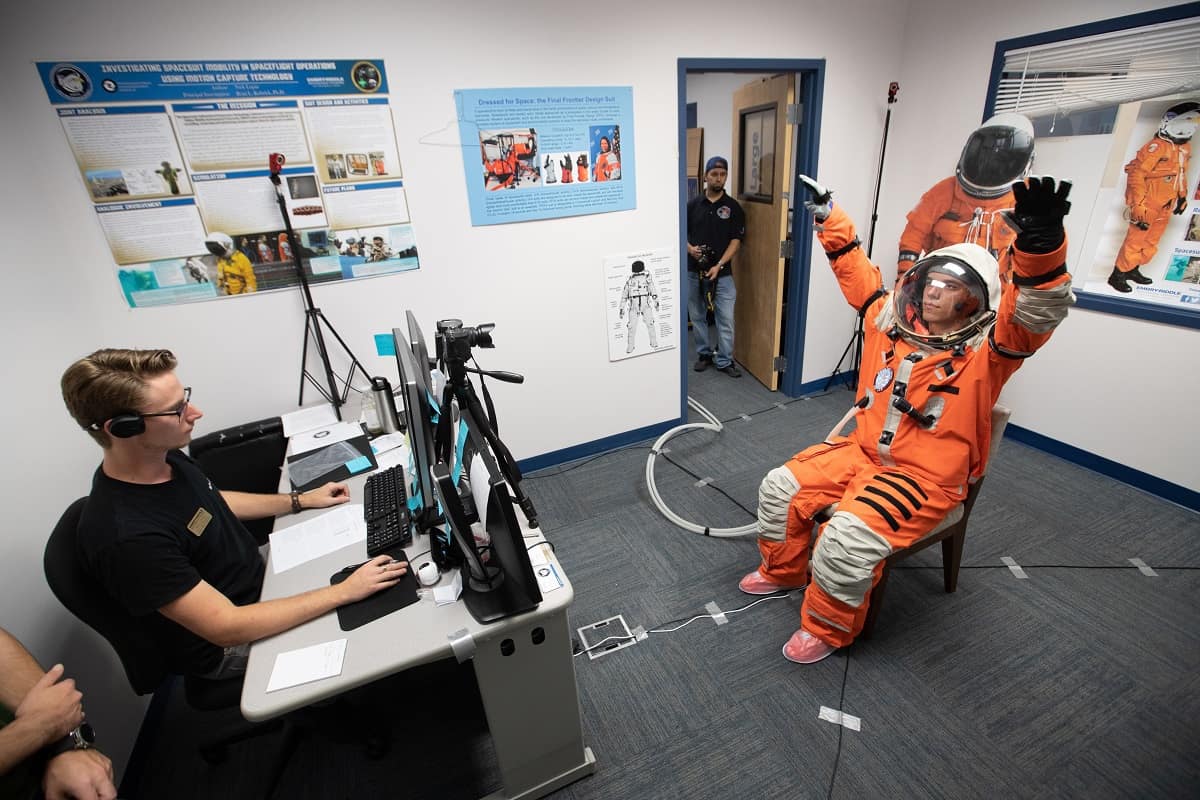 The joint effort involves Embry-Riddle's S.U.I.T. (Spacesuit Utilization of Innovative Technology) Lab at Embry-Riddle's Daytona Beach Campus and principal investigator Dr. Ryan Kobrick, assistant professor of Spaceflight Operations, along with Florida Tech's Human Spaceflight or HSF Lab, directed by Assistant Professor Dr. Ondrej Doule.
Both labs were founded in 2017 to support their human spaceflight programs and both are directly involved in the rapidly evolving space industry. Embry-Riddle's S.U.I.T. Lab is geared toward spacesuit development, performance assessment, human physiology, spacesuit systems design and related operations, while Florida Tech's HSF Lab is focused on spaceship cabin and flight deck system architecture, human system integration, planetary outpost architecture and related simulators design.
"I think it's great we have two universities that bookend the Space Coast region working on human spaceflight together," Kobrick said. "This is just the beginning of more collaborations with companies and universities, with the S.U.I.T. Lab helping to further research on spacesuits while giving students hands-on experience."
Embry-Riddle's S.U.I.T. Lab is equipped with an infrared motion tracking system, while the Florida Tech's HSF Lab includes a high-fidelity spacesuit trainer and related operational equipment. Because both labs perform research on spacesuit operations, usability and safety, Kobrick and Doule realized a collaboration would be beneficial to both programs.
"With the commercial space industry at the beginning stages of operation, we believe this collaborative effort allows for faster research and development of many components critical to the success of human spaceflight," Doule said.
The shared research is being developed around Doule's focus on understanding human performance inside a spaceship's cabin and flight deck, and a need for definition of motion and performance boundary conditions, known as envelopes, using the Florida Tech-owned Final Frontier Design spacesuit.
The spacesuit environment presents a number of physical ergonomic constraints that the researchers are trying to identify. Because Florida Tech's spacesuit is size adjustable, both labs can study how suit performance changes with regards to different size configurations.
Once all data has been gathered that relates to the spacesuit's unpressurized and pressurized configurations and motion patterns, it will be shared with industry designers so they can determine the best placement of critical control and display systems.
Since every suit as well as various body sizes have different possible ranges of motion, testing an array of suits allows Embry-Riddle's S.U.I.T. Lab to build a database of information that can be used by the industry, Kobrick said.
The work students are performing in the S.U.I.T Lab will also aid the industry in developing more efficient suits, including allowing astronauts more mobility in performing various tasks in space.
"By having these sets of experiences on top of their normal classroom education makes our students better prepared when it comes to working in a real test environment," Kobrick said.
Spaceflight operations majors Nicholas Lopac, lead technician for the S.U.I.T. Lab, and Chase Covello, research lab technician, said they are earning valuable experience to help secure jobs in the space industry.
"If we help bridge these spacesuit mobility gaps, I think the industry will get a little closer to a perfect spacesuit," Lopac said.