Eagles Use Drones to Track Invasive Pythons in the Everglades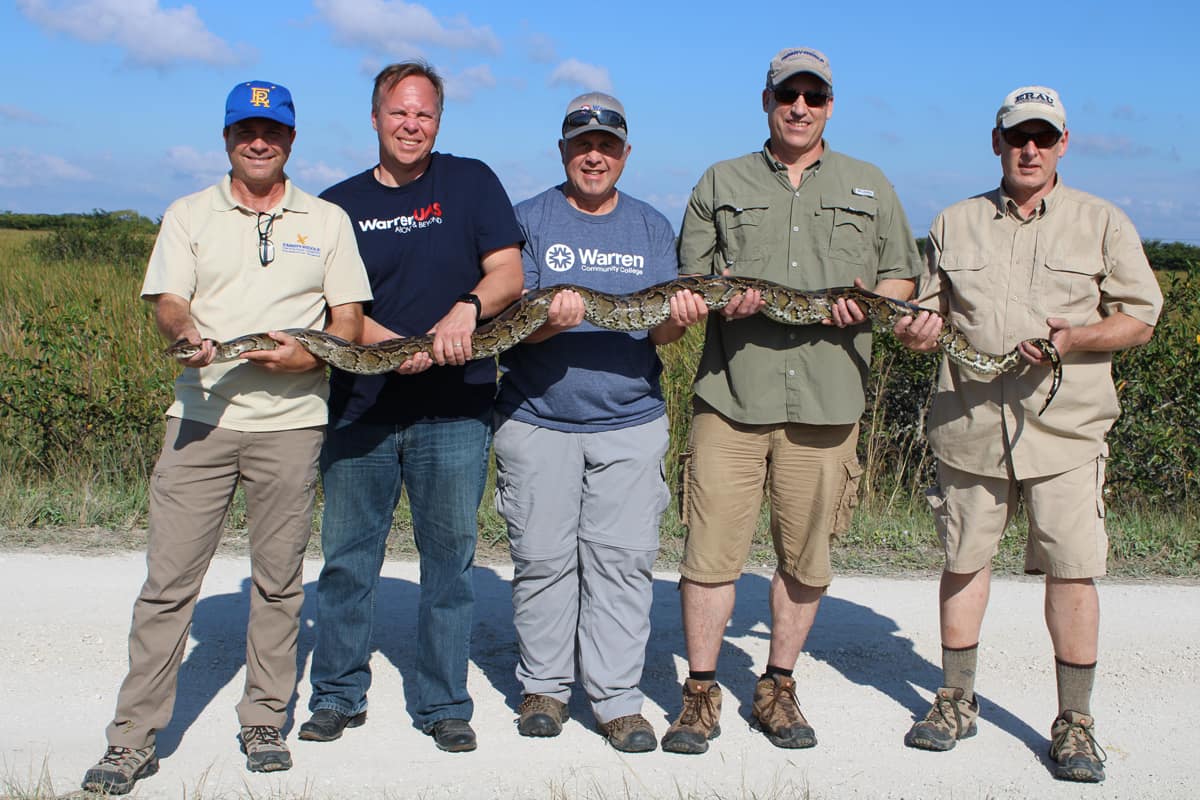 An unknown number of invasive Burmese pythons, some measuring up to 18 feet long, slither throughout Florida's Everglades, eluding wildlife workers who seek to manage their population. Thanks to a research partnership between Embry-Riddle Aeronautical University and Warren County Community College, however, a new tool to help identify and track the snakes is under development.
The researchers' tool of choice: drones.
"We identified the invasive species of Burmese pythons in South Florida as a big problem," said Dr. Joe Cerreta, associate professor in Embry-Riddle's College of Aeronautics, as well as the principal investigator on the research. "The agencies responsible for finding these species are really looking for novel detection methods."
The pythons have damaged local populations of native wildlife. Together with the Florida Fish and Wildlife Conservation Commission, the South Florida Wildlife Management District and the Conservancy of Southwest Florida, the research team is using unmanned aircraft systems (UAS) equipped with various technologies to monitor the snakes from the sky.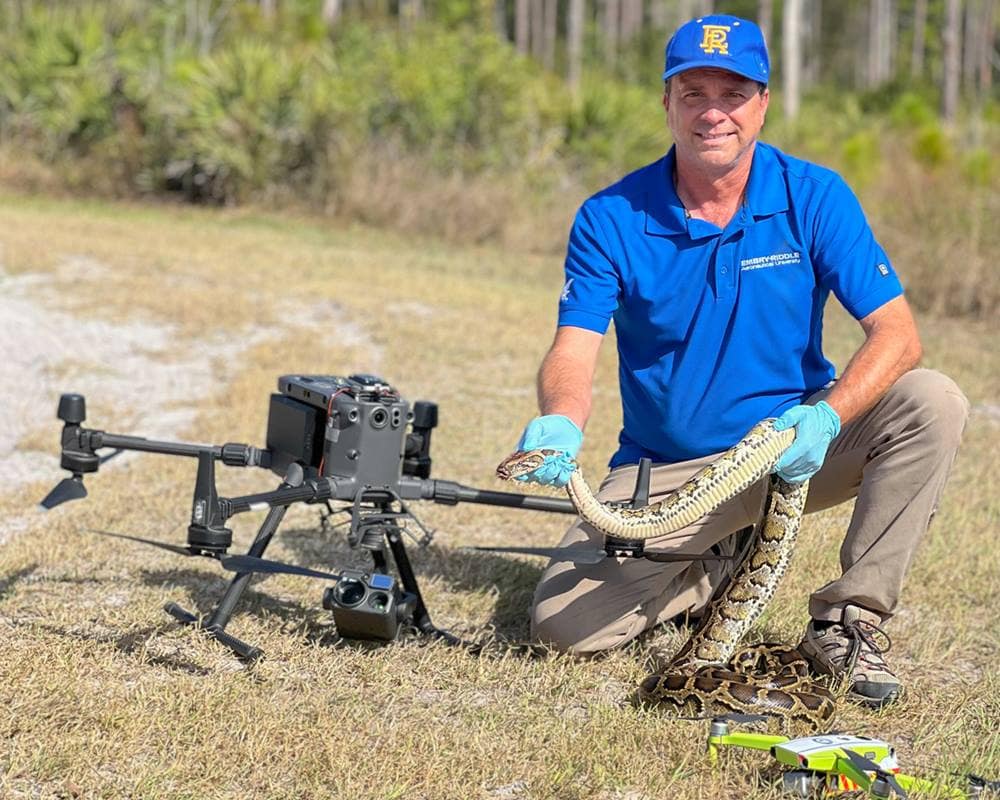 Dr. Joe Cerreta, associate professor in Embry-Riddle's College of Aeronautics, recently participated in preliminary work to detect Burmese pythons using unmanned aircraft systems.
First, the team started with cameras. Backed by a faculty seed grant, they equipped drones with a series of camera sensors to determine if snakes can be detected visually by UAS flying overhead at different altitudes. Imagery taken by near-infrared cameras was then compared to imagery captured by traditional RGB cameras.
"We learned a lot about how difficult it is to detect pythons that are not exposed," Cerreta said. "Exposed snakes are detectable with a UAS; however, non-exposed snakes, especially those that are hidden in tall grass, are very difficult to detect."
The findings of the expedition — the first undertaken by the researchers — were promising, however, especially considering that biologists' current detection rate without the use of drones is estimated at less than .05%. Currently, their only method for detection is radio tags, ground-based camera systems and trackers.
"We learned that we can equip a UAS with a radio receiver to more quickly move to areas where radio-tracked snakes are located, and then use our camera sensors," Cerreta said. "There is so much learning to be done that we've barely scratched the surface in understanding how to address this problem."
Biologists onsite for the work brought along two python carcasses and one live python, a 10-foot female, to place at various locations and use for collecting field data. Future grant funding will be used to add more drones to the fleet and increase their research capabilities — such as, advancing camera systems, equipping the UAS with radio receivers and incorporating artificial intelligence (AI) capabilities to automate the detection process.
With increased reliability, the technology could be used to detect various types of wildlife in other locations, as well, Cerreta said.
"We were looking for an opportunity to do applied research with UAS, so that we could expand our faculty knowledge to, later, bring it into the classroom to present students with real-world problems," he added. "A student project focused on python detection is definitely possible."
Learning opportunities are not exclusive to students in the Bachelor of Science in Unmanned Systems Applications, or the Master of Science in Unmanned Systems, programs, at Embry-Riddle's Worldwide Campus, though. Computer and Technology students can also get involved in the development of the AI system.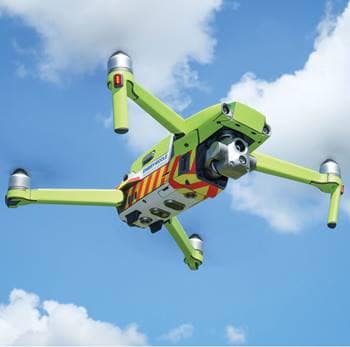 Multiple drones equipped with camera sensors, infrared capabilities and radio transmitters, were used by researchers for python-detection.
Teamwork Makes the Dream Work
In addition to serving as president of Warren College, in New Jersey, Dr. Will Austin ('21) is also an Embry-Riddle alumnus. He holds his M.S. in Unmanned Systems and, next, plans to start the Graduate Certificate in Space Operations program, in March.
"Attending Embry-Riddle was one of the most rewarding experiences in my professional life," Austin said. "To expose my own students to such an education is a highpoint of my career."
Faculty from both institutions are working closely to share knowledge, equipment and training procedures. The collaboration is primed to benefit the research as much as the student experience.
"This partnership is the best I have even ever heard of between a community college and a university," Austin added. "For many community college students, the next step to a university can be intimidating, but meeting future instructors early — especially when some of those instructors also taught their current college president — makes students very comfortable and excited to transfer to a university that will value them as much as Warren."
The work will also eventually extend to Embry-Riddle's residential campuses
"This project is important not only for what it can accomplish in wildlife ecosystems, but also for what it means for university-community college partnerships as a whole," said Dr. David Thirtyacre, chair of the Department of Flight at Embry-Riddle's Worldwide Campus. "The emerging UAS field is the perfect place to foster these sorts of mutually beneficial relationships, and this project is only the beginning."
Posted In: Applied Science | Aviation | Computers and Technology | Research | Uncrewed Systems