Eagles Travel to Zambia for 'Absolutely Unique' Learning Experience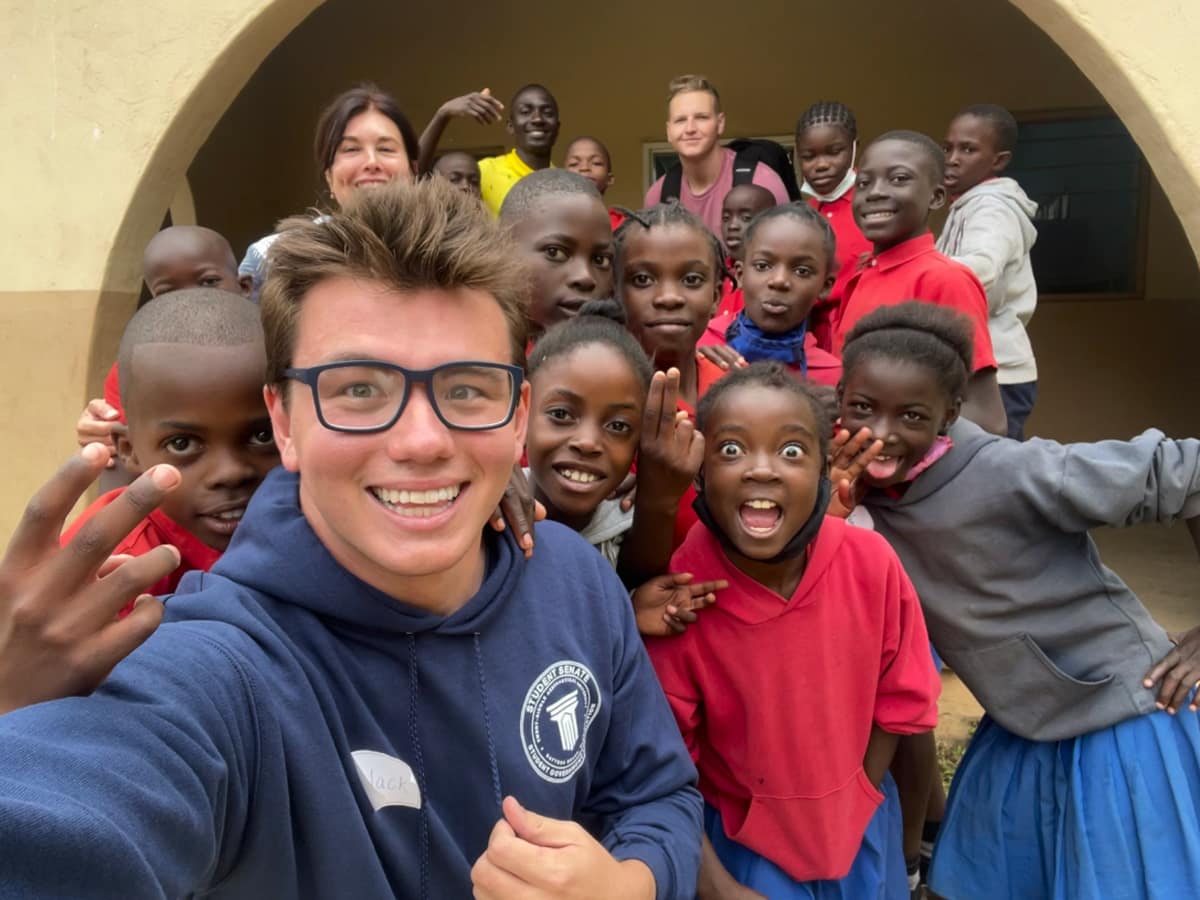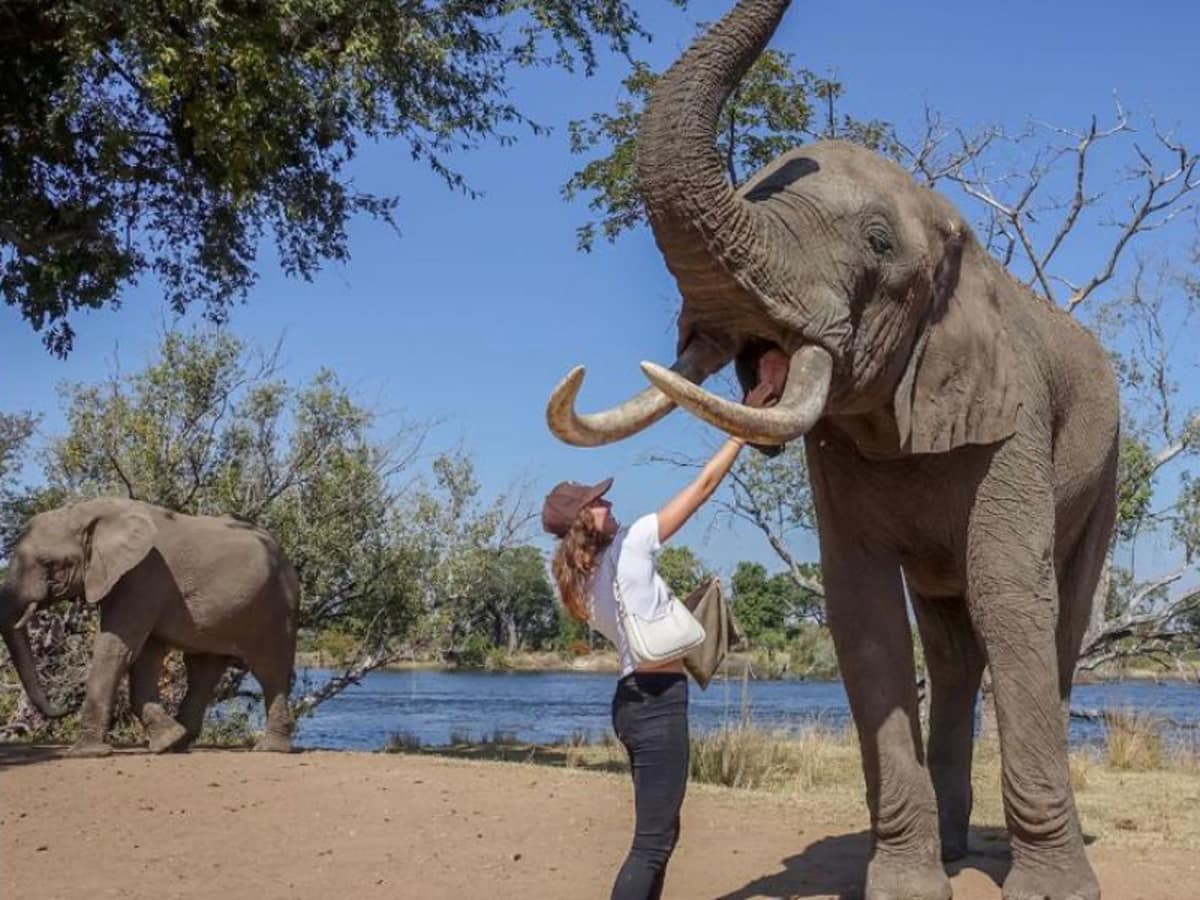 Research shows that Study Abroad opportunities can help improve a student's grade point average, retention and graduation success. Increasingly, students are seeking out opportunities related to social and environmental sustainability and giving back. Recently at Embry-Riddle, for instance, students took a three-week trip to Zambia, marking a first-of-its kind opportunity for the university, as well as a life experience students will never forget.
"The most rewarding part was to see how students changed their perception about Africa and especially about kids from disadvantaged communities," said Dr. Tamilla Curtis, associate professor of Management in Embry-Riddle's David B. O'Maley College of Business. "That personal growth for our students, for me, was very, very important."
Curtis, along with John Ledgerwood, associate professor of Accounting, led the trip and the seven students who participated. Together, they have led Summer Study Abroad trips to Great Britain for over 10 years. This was Embry-Riddle's first time expanding the program to Africa.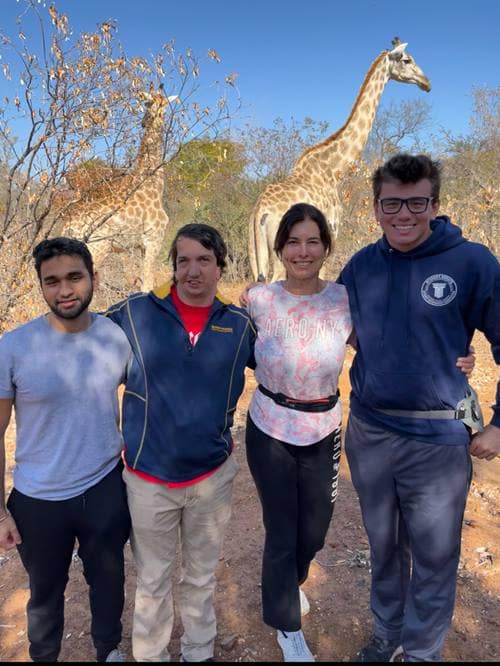 Vinay Pabbathi, Walter Gould, Dr. Tamilla Curtis and John Frankie meet giraffes during an Embry-Riddle Summer Study Abroad trip to Zambia.
"It was an absolutely unique experience," said Ledgerwood, who is originally from England; Curtis is from Russia. "The students will remember it for the rest of their lives."
During the trip, which offered students the option to take up to three courses for nine credit hours, participants volunteered at a mission called the Kafakumba Training Center. The students spent their days helping teach children basic math, reading and writing, as well as visiting local businesses — such as a honey manufacturer, berry farm, safari camp and more — to learn about how companies operate in a vastly different business landscape than that of the United States.
"The concepts are the same but the (operations) are very different," Ledgerwood said.
"They also learned about social responsibility," Curtis added. "The low-income communities (in Zambia) don't compare to low-income in the U.S."
Even for a well-seasoned traveler like Aviation Business Administration senior Walter Gould, who has visited over 25 countries and will visit three more during this upcoming summer's Study Abroad slate, Zambia was different.
"Zambia was definitely one of the most memorable and unique trips out of all the trips I have been on and is one I would highly recommend everyone do at least once in their life," he said. "You will be humbled by the trip and experience things you can't experience anywhere else in the world."
Among the most rewarding aspects of the trip, Gould cited interacting with locals, playing soccer with African children and going on a real safari.
"Getting to experience life in Africa really opens your mind," he added. "It also makes me feel thankful and appreciative of the life I have here in America and how lucky I am to be able to experience the things that I am able to experience. I believe I will have the memories of this experience for as long as I live, and I think I have become a more humble and better person as a result of my experience in Africa.
After graduation, Gould plans on becoming a flight attendant, blending his two favorite things: aviation and travel. Eventually, he'd like to move into management: either airport operations or network planning.
"You can't get this experience anywhere else," Curtis said. "Some of our students, especially from private institutions, might have never been exposed to this before."
Some funding for the school was provided by an Interfaith Education Curriculum Development Grant, and Embry-Riddle Athletics donated soccer and volleyball balls to the Kafakumba Training Center. The next trip to Zambia will take place this coming summer. Ledgerwood and colleagues will visit business classes throughout this semester to present the option to students and recruit participants.
"Studying abroad is one of the most transformative and enriching experiences any student can participate in while in college," said Sue Macchiarella, director of the Office of Global Engagement. "Statistics we have done with our Embry-Riddle population run parallel to larger national studies on the benefits of study abroad: including higher retention rates, higher graduation rates, improved GPAs and students who are more excited about what they are learning. It truly is a win-win opportunity."
Posted In: Business