Eagles Take Ride of a Lifetime Aboard NASA's Flying Observatory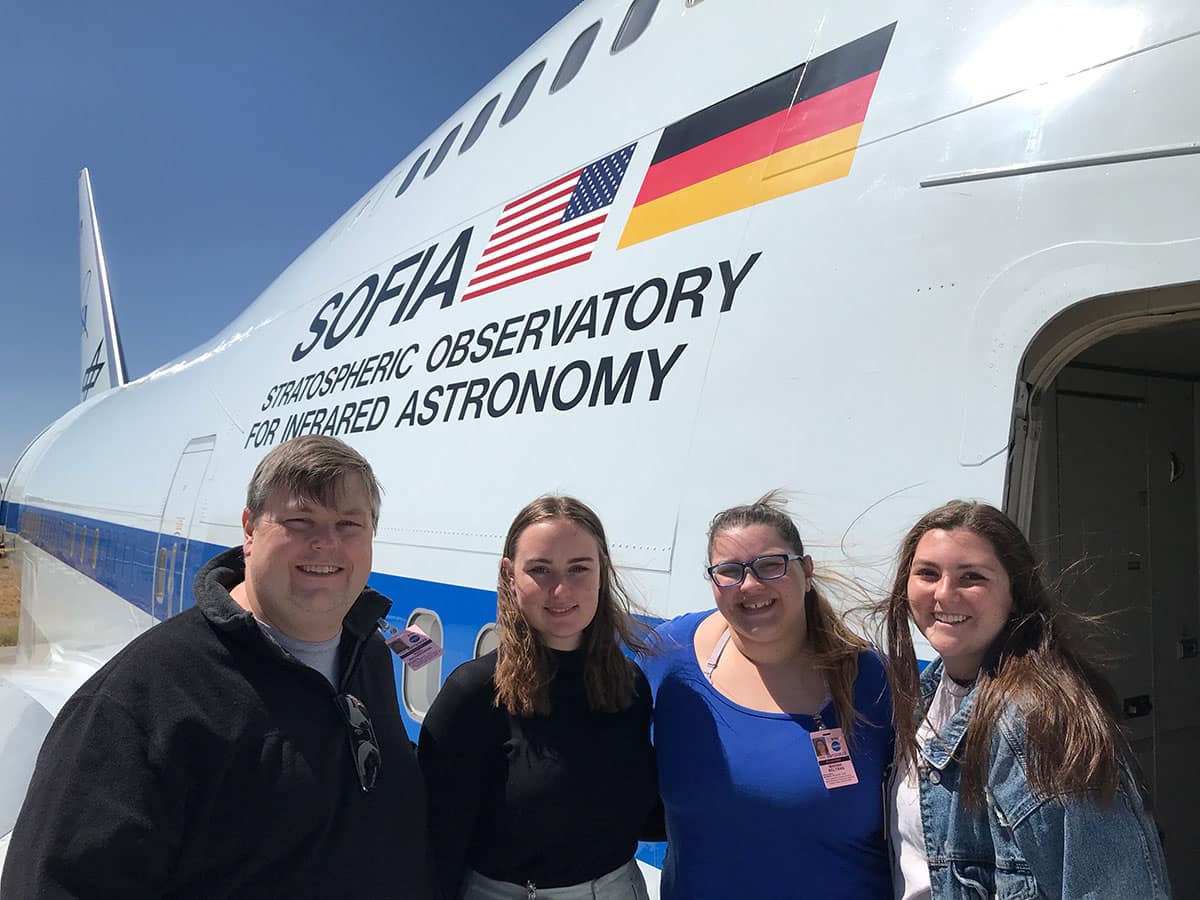 Students from Embry-Riddle Aeronautical University recently had the rare opportunity to travel aboard the world's largest flying observatory, NASA's Stratospheric Observatory for Infrared Astronomy (SOFIA). They conducted hands-on research, glimpsed the aurora borealis and got front-row seats to their dream careers.
"There's nothing better than the thrill of trying to unlock the secrets of the universe," said incoming senior Marina Beltran, who's majoring in Astronomy and minoring in Mathematics and Meteorology.
Beltran was one of three Prescott Campus students who flew aboard SOFIA along with Dr. Noel Richardson, assistant professor of Physics and Astronomy, to study unusual dust-forming objects called Wolf-Rayet binary systems. The group joined a team of scientists to fly north over British Columbia to observe and map water on the moon.
Generally, Richardson relies on scientists at SOFIA and other observatories to provide measurements, which he and his students then analyze to better understand how stars and planets first developed. He recently received two grants from SOFIA totaling $67,000 that helped fund student research and the unique experience of flying on two 10-hour flights aboard SOFIA, currently based in Palmdale, California.
"SOFIA houses a large reflecting telescope in a modified 747 special performance plane that can fly up to almost 45,000 feet of elevation," Richardson said. "By going so high up into the stratosphere, you are above the water vapor in our own atmosphere, which blocks infrared light from reaching the ground. So, the telescope aboard SOFIA can capture and analyze infrared light better than anything we have on the ground."
Richardson's infrared observations are being used to study the origins and properties of the universe's first specks of dust, which could have helped form planets and stars.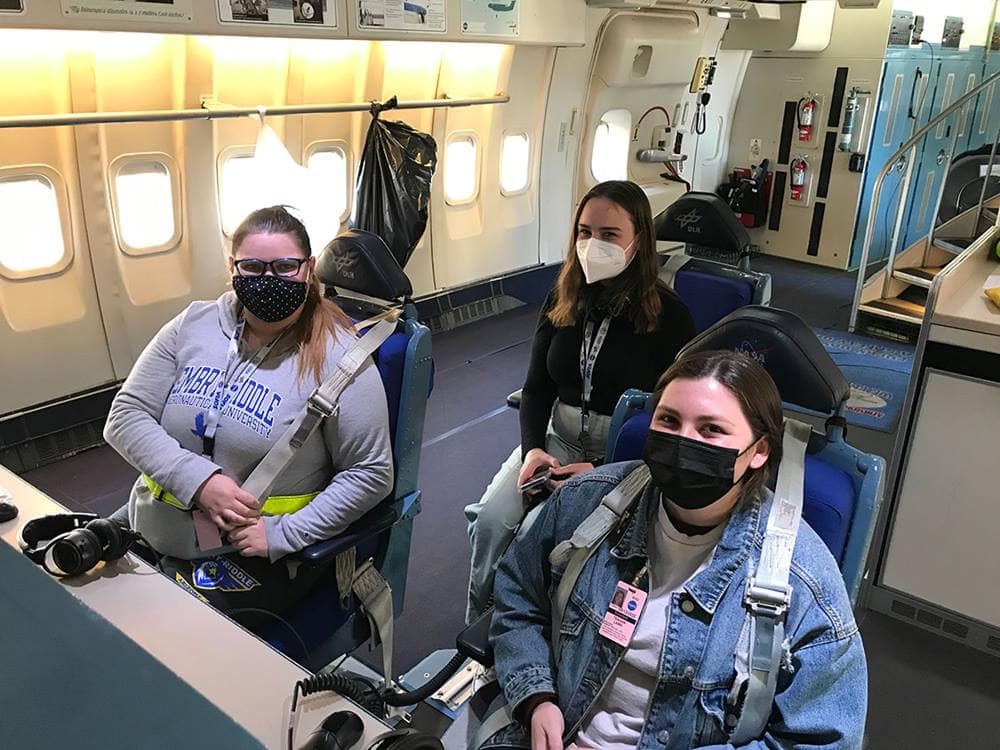 Marina Beltran, Alexis Lane and Teagan Laws. (Photo: Embry-Riddle/Dr. Noel Richardson)
Richardson said, "Being on a 747 with only 13 people on board, including the pilots, was so different than any commercial airline flight I've ever been on … It's very much a flying laboratory."
Additionally, he noted, SOFIA does not fly in straight lines like normal aircraft.
"The flight pattern is constantly curving in different ways," he said. "We got to meet scientists who were searching for places where water might be located on the moon. They were observing the moon for a long chunk of the flight, and that took us far north over the northern part of British Columbia in Canada, where we saw the auroras going on outside the window."
The students also got the opportunity to interact with the scientists, who offered career advice along the way.
"Being able to talk to experts in a position I have been thinking about pursuing was the most memorable," said Beltran, a Renton, Washington, native. "I was able to have multiple conversations with the scientists on board and ask them about how the telescope works, different aspects of the data and what it means and, most importantly, how they got to be on SOFIA … Everyone was so open, approachable and wanted to share their experience and teach us. I think the excitement of getting to talk to them and seeing what they were doing was how I stayed up all 10 hours on both trips."
The awe-inspiring sights didn't hurt, either.
"We got to see the northern lights, and we also got to see big thunderstorms from above," she added. "On the first takeoff and last landing, I even got to be in the cockpit with the pilots and ask them questions. For the landing, I got to see four planets at sunrise. It was beautiful."
Beltran is currently working on discovering the internal driving mechanism of Luminous Blue Variable Stars with Richardson and another student. After completing the SOFIA flights, the Embry-Riddle team visited the nearby Mount Wilson, California, observatory and got a tour of the telescope that Edwin Hubble used to discover the expanding universe in the early 1900s.
Richardson said, "One of the most useful things is when you can visit a telescope or observatory, you understand so much more about the intricacies of the details in your data. When you're trying to look at very faint things that are very far away and extract as much as you can, it tells you a little bit more about what you can or can't do. So, for me, it was really inspirational."
Other fellow Eagles who participated in the trip include alumna Alexis Lane ('22) and junior Teagan Laws. Junior Megan Peatt and alumna Andrea Daly ('22) also assisted with data analysis, although they were not able to go on the flight.