Eagles Study Abroad with Aegean Airlines in Greece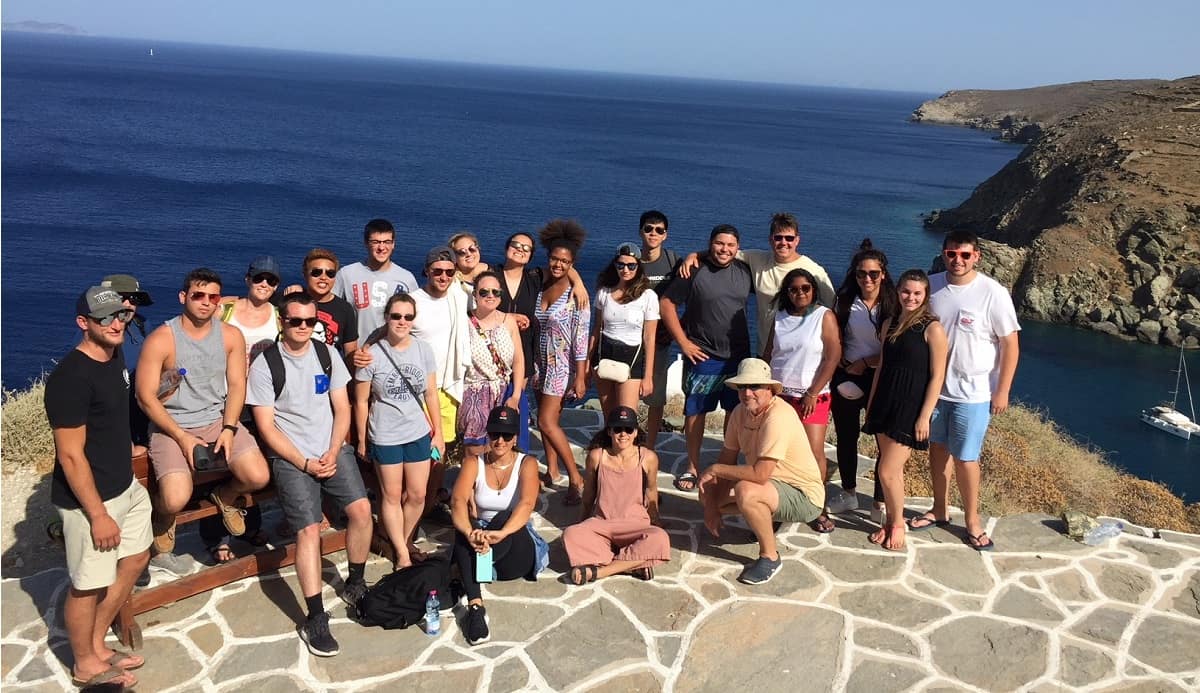 Amid stunning natural beauty, Embry-Riddle students and faculty convened on May 22 in the mountainous, picturesque Zagorohoria region of Greece. Their goal was to take part in a unique university-industry partnership with Aegean Airlines.
The award-winning program in Greece is one of 16 study abroad offerings directed by 24 Embry-Riddle faculty members for 220 students this summer, said Sue Macchiarella, director of the office of global engagement on the Daytona Beach, Fla., campus. Her office offers study abroad opportunities in regions ranging from Australia and Austria, to Germany, Greece, Ireland, Kosovo and Spain.
Because little English is spoken in Zagorohoria, students quickly became immersed in the culture of Greece as they took part in adventures such as hiking and white-water rafting while also preparing for a business embedment opportunity with Aegean Airlines, explained Charles "Les" Westbrooks, associate professor of aeronautical science. He was one of four faulty members who brought expertise related to aviation, business, communications and aviation maintenance to this summer's study abroad program in Greece.
After five nights in Zagorohoria, Westbrooks reported, Embry-Riddle students boarded a flight to Athens, Greece, where they received briefings from key Aegean Airlines employees in charge of planning and alliances, revenue management, international brand promotion, operations and maintenance.
Next, the students "began working on projects developed through collaboration between the Aegean Airlines practitioners and our faculty," Westbrooks said. "For example, the business students worked with revenue management staff to evaluate new routes and schedules, while maintenance students worked with the maintenance director to solve mechanical problems. Flight operations students worked with the director of flight dispatch to solve an inflight diversion caused by a mechanical failure exacerbated by geopolitical conflicts."
Embry-Riddle students also toured facilities at Aegean Airlines as well as Athens International Airport, and they flew on the flight deck of an Aegean A-320. That experience let them learn first-hand about a modern airline's approach to flight operations and customer service. Finally, the students heard a presentation by none other than Aegean's CEO Dimitrios Gerogiannis.
Embry-Riddle was introduced to Aegean Airlines through its travel-service partner in Greece, Get Lost, Inc., Macchiarella explained. However, thanks to Embry-Riddle alumni Tassos Raftopoulos, Aegean's network planning manager, the airline already knew about the university's reputation as a global leader in aviation.
"Thanks to this partnership, our students get to go behind the scenes with a top regional airline in Europe, and they get to work with Aegean professionals, using their academic knowledge to help solve real problems presented by Aegean Airlines," Macchiarella said. "The culture at Aegean is phenomenal. I'm so glad our students get to see and experience it."
Wrapping up their experience, students toured the Aegean Sea.
"The beauty of this method of study has been a synergistic blend of classroom theories with real-world application and the accessibility of the professors," Westbrooks said. "Our embedded faculty are accessible to the students 24 hours a day."
The Greek Ministry of Tourism previously gave a bronze award to Embry-Riddle and its partner in Greece, Get Lost LLC, for the study abroad program there.
Along with Westbrooks, faculty leading this summer's program in Greece were Michael Williams, dean of Embry-Riddle's College of Business on the Daytona Beach, Fla., campus; Rachel Silverman, assistant professor of communication; and Mitchell Geraci, associate professor of aviation maintenance.
Study abroad programs are also available to students at Embry-Riddle's Prescott, Ariz., Campus as well as many enrolled with Embry-Riddle Worldwide.
Read about one student's experience studying abroad in "The New First Class: Flying Jump Seat."