Eagles Spring into Action to Help Save Local Pilot in Distress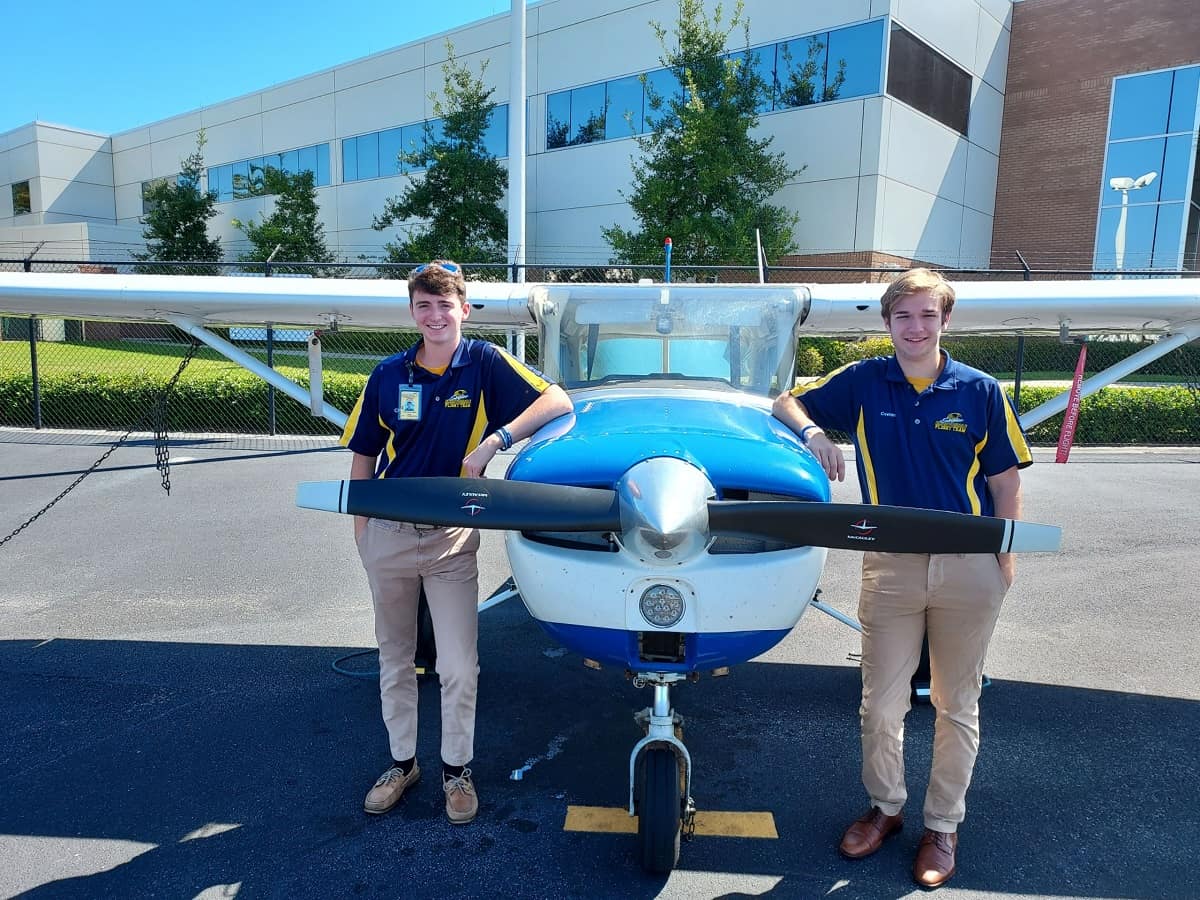 Two Embry-Riddle Aeronautical University Flight students were flying near Palatka, Florida, when they heard an emergency call over the radio that an 81-year-old pilot nearby had just experienced engine failure at 800 feet.
Immediately, they headed in the direction of the call.
"You never panic in an emergency, as panicking will only worsen the situation," said senior Flight instructor Chris Shields, who was flying along with Aeronautical Science junior Connor Cvetan. "I just kept calm and did what needed to be done to get the individual the help he needed."
First, Shields contacted the pilot in distress and tried to help with his landing. He pointed out an empty field directly below the aircraft as a possible landing site, told him the wind was blowing east and suggested flying against it to reduce speed.
The pilot — later identified as retired airline captain Jim Goolsby — tried for the fields, then a nearby road. "But I couldn't make it," he said. "I was out of altitude."
Then it was too late.
"When I saw the plane touch down into the water, my heart sank," said Cvetan. "Our first thought was to try to contact the pilot. No luck. That's when we determined that calling Jacksonville [air traffic control] was the best option."
The students determined the exact coordinates of the crash and relayed them to emergency services. Then they began circling the area, offering updates and information about the aircraft — which, by then, was floating in the pond below, its canopy open — to the U.S. Navy and Coast Guard over the radio. It would be another few minutes before ground vehicles arrived to the crash site. By then, Goolsby could be seen standing on top of his plane, which was slowly sinking.
But he was stuck.
Alligator Makes Matters Worse
"Swimming to the shore nearby was out of the question because of a large gator in the immediate area," Goolsby said.
At that point, Shields and Cvetan, who had been flying their Cessna 150 for nearly three hours, were running low on fuel. They made one last call to emergency services to offer updates before leaving the site. Soon after, a Navy helicopter arrived to retrieve Goolsby and transport him to safety.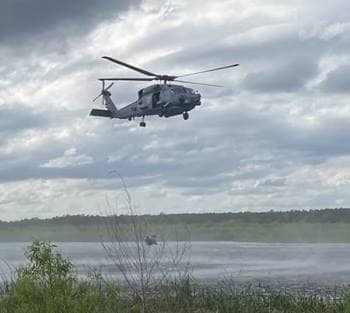 Thanks to assistance provided by two Embry-Riddle Flight students, a U.S. Navy MH-60 Seahawk rescued a pilot stranded in a pond in Palatka, Florida, following a crash. (Photo: Putnam County Sheriff's Office)
"From my first day of flight training at Embry-Riddle, the main focus has always been safety," Shields said. "Embry-Riddle teaches students checklists [and] emergency procedures, and exposes students to as many simulated emergency situations as possible in preparation for the day that a real one inevitably occurs. This situation was one that there was no checklist for, but I still understood how to effectively handle it all due to the safety-focused training that Embry-Riddle provided me."
He added that, although in-flight emergencies are rare, the experience gained from them can often make one a better pilot.
"I have experienced emergencies in the past and, as with all emergency situations, the experience you gain from them is invaluable," said the Butler, Pennsylvania, native. "Every emergency situation forces you to make split-second decisions that could have catastrophic consequences. The experience I gained from this situation will definitely help prepare me for my airline career when I leave Embry-Riddle this upcoming summer and, in fact, it'll help me to make split-second decisions for as long as I fly."
As for Cvetan, the incident served as a reminder of the realities of flight training.
"Sometimes, I feel as if a lot of us pilots get desensitized to flying," the Bremen, Ohio, native said. "It was a surreal moment and, fortunately, the pilot was safe. The rest of the day didn't quite feel the same. I'm sure this situation will come up in an interview with a company in the future, and it feels nice to know we helped another pilot who was in danger."
Enter a Third Eagle
Aeronautical Science senior Steven Lange also assisted in the search-and-rescue operation. The three students were practicing precision landings with the Eagles Flight Team, on which Shields serves as chief pilot and Lange as captain, in preparation for an upcoming national competition, in May, when they heard the mayday call. Lange stepped in to assist emergency services once Shields and Cvetan had shut down their plane to refuel.
Aside from being soaked in pond water, Goolsby sustained no injuries. When asked if he would fly again soon, he responded, "Oh yeah!"
"But I have advice," he added. "Always, always, always wear shoulder harnesses."
A pilot since he was 15 years old, a former instructor, commercial airline captain and aerobatics performer, Goolsby speaks from 66 years of flight experience.
"I've always been an avid aviator," he said. "Aviation is a great career. But it takes a lot of passion."
Embry-Riddle's Aviation Safety Department will soon award Shields and Cvetan its monthly Aviation Safety Award for their efforts in assisting a pilot in need.
"The reason this incident had a happy ending is because of Chris and Connor," said Rich Garner, flight training manager and coach of the Eagles Flight Team. "No one else responded, and the crashed pilot might not have had that easy of a rescue had they not been in the right location and done the right thing."
Posted In: Aviation | Institutional News