Eagles Selected to Construct New Space Tool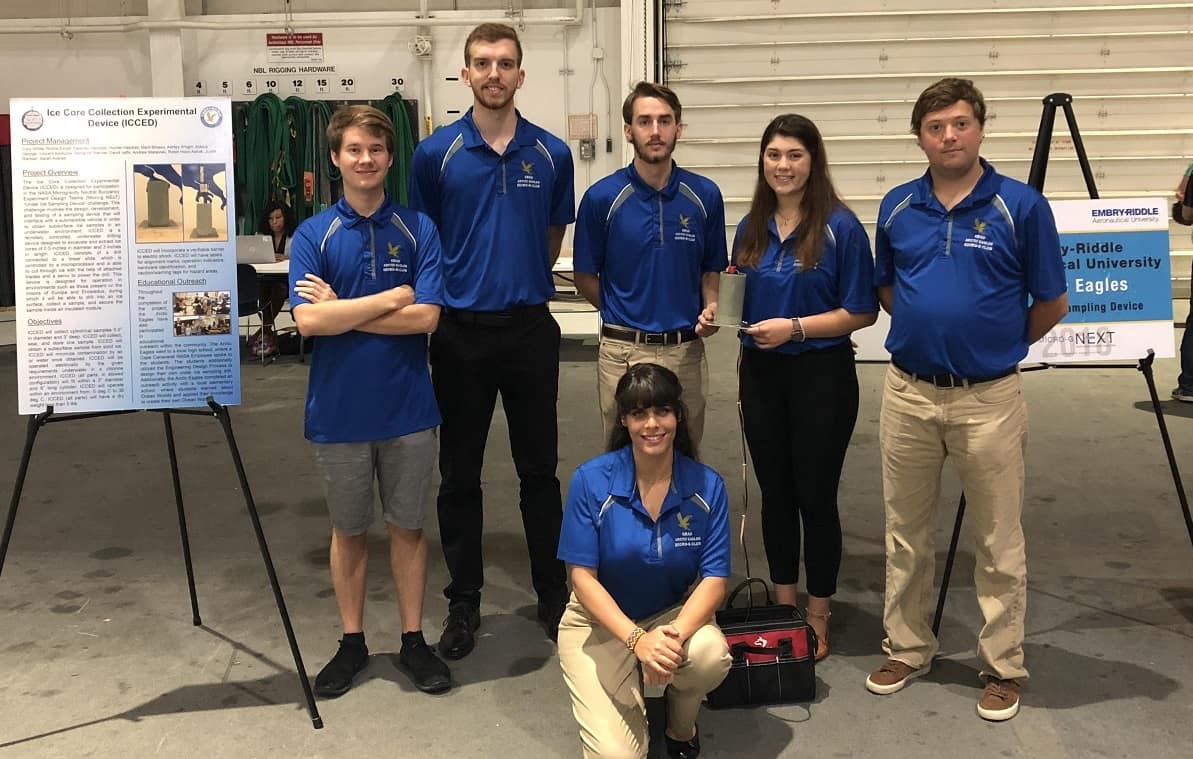 Using 3D printing, fiberglass and stainless steel, a team from Embry-Riddle Aeronautical University developed a tool that could help NASA explore underneath ice-covered surfaces in space.
Embry-Riddle was one of 25 teams across the U.S. selected to participate in a simulated microgravity challenge at NASA's Johnson Space Center in Houston.
As part of the Micro-g Neutral Buoyancy Experiment Design Teams (Micro-g NExT) challenge, undergraduate students designed, built and tested various tools that address an authentic, current space exploration challenge.
The space tools were tested this week at Johnson's Neutral Buoyancy Laboratory (NBL), which includes a 6.2-million-gallon indoor pool used to train NASA astronauts for spacewalks.
Micro-g NExT, which is sponsored by NASA's Human Exploration and Operations Mission Directorate, is designed to encourage research and development in new technologies and engage students in real-world engineering and problem-solving concepts that may be needed on future exploration missions.
"NASA Microgravity Project provides a unique out-of-class learning experience for our students dealing with the aerospace environment," said Sathya Gangadharan, Ph.D. professor of Mechanical Engineering and co-advisor on the project with Pedro Llanos, Ph.D., assistant professor of Spaceflight Operations and Payload and Integration Lab Supervisor.
Gangadharan said the team had to develop a successful proposal and design, fabricate, integrate, and test their innovative idea, while working closely since the fall with a NASA mentor and Embry-Riddle advisors. In addition to conducting the experiment, the team had to write a professional report to NASA with the results of their project, participate in a successful fund-raising campaign and work closely with K-12 students to raise awareness of STEM education as it applies to the aerospace industry.
The Embry-Riddle Microgravity Club chose to construct an Under Ice Sampling Device, which was one of the four design challenges. NASA is currently working on ways to explore underneath the ice-covered surface of so-called "Ocean Worlds" such as Jupiter's Europa and Saturn's Enceladus. According to NASA, these ice-structures may potentially be places where microbial life could thrive.
The challenge required the sampling device, which has to collect, seal and store at least one core sample, to interface with a NASA engineered submersible vehicle to obtain a subsurface ice sample in an underwater environment.
Constructed on campus, the 3D Printing Club helped with the inner support structure and the Embry-Riddle Future Space Explorers and Developers Society constructed the fiberglass cylinder, which holds the stainless steel drill bit.
"The device was required to be stored in a 3"x 6" cylinder, not including the aluminum mounting plate," said Cory White, Microgravity Club president and Aerospace Engineering major. "The purpose of the device is to extend the drill bit 5 inches from its stored configuration to the surface of the ice and then another 3 inches into the ice to collect a half inch core sample."
An electrical short during testing, prevented the Embry-Riddle device from collecting a core sample.
But White said the challenge was valuable for giving the team a chance to gain real-world experience by working on an actual challenge faced by NASA.
"The opportunity to use these skills outside of the classroom is supplemental and incredibly beneficial to our learning here at Embry-Riddle," White said. "I hope that our contributions to the challenge also proved to be beneficial to NASA in providing them with a student perspective."
Llanos, who helped the students with the writing proposal phase and other aspects of the project, said the hope is that one day NASA will utilize similar technology as designed by the students.
"Knowing our students were able to test their experiment in the Neutral Buoyancy Laboratory at NASA's Johnson Space Center was a great satisfaction," Llanos said.
The aerospace engineering students who participated in the challenge in addition to White were Merit Bibawy, Richard Excell, Delaney Hancock, Hunter Hatchell and Justin Randall.
Other Embry-Riddle students who were involved in the project, but did not go to Houston, included Vincent Adelizzio, Robinhood Ashok, Sarah Averett, Benjamin Banner, Aldous George, David Jefts, Brittney Marzen, Andrew Matievski and Ashley Wright.
The team also benefited from the guidance of former Micro-g club officer Christina Kor, a graduate student in the Mechanical Engineering department at Embry-Riddle. Gangadharan said Kor provided advice for the current team by sharing knowledge from her previous experiences in the Micro-g NExT program.