Eagles Selected by NASA to Fly Weather Balloons During Solar Eclipses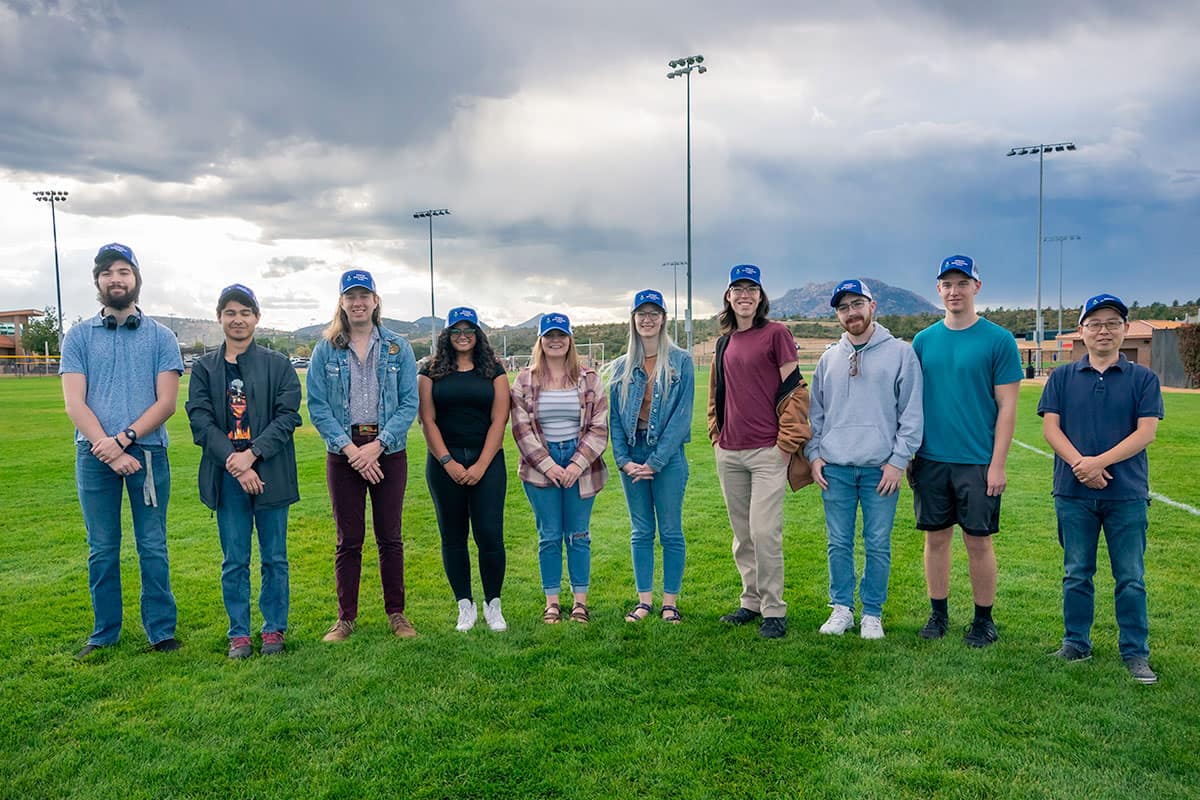 Using weather balloons, undergraduate students at Embry‑Riddle Aeronautical University's Prescott, Arizona, campus will capture real-time data during the partial solar eclipse on Oct. 14, as well as during the upcoming total eclipse on April 8 next year.
The Embry-Riddle students were selected to take part in the Nationwide Eclipse Ballooning Project (NEBP), which is supported by NASA and led by Montana State University. Across the country, payloads on the NEBP weather balloons will focus on either engineering or atmospheric science, conducting what NASA describes as "small experiments to accomplish big science."
Embry-Riddle's Prescott Campus will conduct an engineering project, along with five other Arizona institutions (Arizona State University, Casa Grande High School, Glendale Community College, Phoenix College and the University of Arizona).
Specifically, the Eagles, directed by Dr. Yabin Liao, assistant professor of Aerospace Engineering, plan to complete stratospheric ballooning campaigns during the annular eclipse. On Thursday, Oct. 12, nine Prescott Campus students will travel with Liao to Roswell, New Mexico. Then, on Oct. 14, using payloads that they designed and tested, the students will deploy a balloon equipped with a camera and meteorological sensors.
"Our number one goal is to live stream the eclipse, so we will have a live link to the camera on the payload," Liao explained. "It will be wonderful to see the moon as it moves between the sun and the Earth." Students will also capture temperature and pressure measurements to learn more about how an eclipse affects conditions in the atmosphere, Liao said.
To transport scientific instruments aboard their balloon, Liao's students developed five payloads and named them after characters in a popular cartoon series. A payload named "Fred" will carry a live-streaming camera. A "Shaggy" payload will be capable of live streaming temperature, pressure, humidity and orientation data. "Velma" will capture a local recording of temperature, pressure, humidity and GPS coordinates. "Cotton Candy" will carry a VLF radio receiver, and "Scooby-Doo" will provide Iridium satellite-based tracking.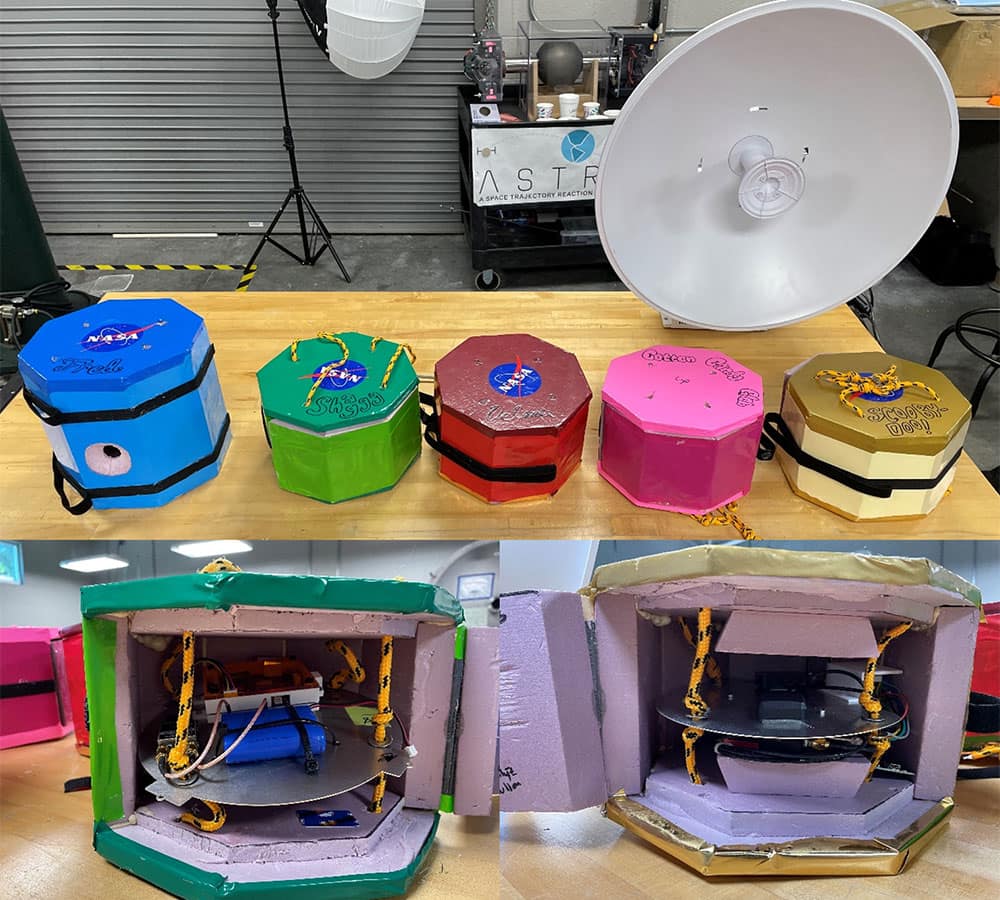 Embry-Riddle students plan to launch a balloon carrying five specially designed payloads (L-R): Fred, Shaggy, Velma, Cotton Candy and Scooby-Doo, equipped with live-streaming cameras and a variety of sensors. (Photo: Dr. Yabin Liao)
"The NEBP ballooning campaign is a fantastic experience for our students because it's a real-world space mission," Liao added. "They need to design the payload, do all kinds of testing, replicate everything and then launch it, and after we get all of the data, they will perform analysis."
The initiative is one of many hands-on learning activities tackled by Embry-Riddle students in the ASCEND (Aerospace Scholarships to Challenge and Educate New Discoverers) club. Funded by the Arizona/NASA Space grant program, the ASCEND club is part of a network of teams across the state that design and build small payloads to gather scientific data.
Student Somaralyz Grullon, a Mechanical Engineering major on the robotics track, is a team co-lead for ASCEND. She credits the club with teaching her how to code and handle the engineering design process from start to finish. "It's pretty cool, as an undergraduate, to have these opportunities and to excel forward," she said. "Now, when I get into the working field, I will have a leg up over those at some other universities where undergraduates might have to go to extreme lengths to do research."
Dr. Dietmar Rempfer, dean of the College of Engineering at Embry-Riddle's Prescott Campus, noted that personal attention and experiential learning opportunities are key to student success. "When students are engaged and passionate about a project, they learn more effectively and remember what they learn," he said. "Congratulations to our students and to Dr. Liao on being selected to take part in this exciting national research initiative."
Viewing the Solar Eclipse
In Prescott, the partial eclipse will begin at 8:10 a.m. MST, peak at 9:30 a.m. MST and end at 11 a.m. MST on Saturday, Oct. 14. Liao's group also will deploy a balloon in Texas during the total solar eclipse on April 8, 2024.
To view the upcoming solar eclipse safely, use solar-filtering glasses that comply with the ISO 12312-2 international standard, or make your own eclipse projector. Alternatively, the eclipse can be watched via NASA's live feed from within the main eclipse path.
Tickets are sold out for a solar eclipse-viewing event, to be live streamed via the Lowell Observatory, in the Jim and Linda Lee Planetarium at the Prescott Campus, but pre-registered attendees will receive solar-filtering glasses.
From Embry-Riddle's Daytona Beach, Florida, campus, a team led by Dr. Aroh Barjatya will also conduct research during the annular eclipse.
Barjatya, professor of Engineering Physics and director of the Space and Atmospheric Instrumentation Lab (SAIL) at Embry‑Riddle, will launch three rockets during the eclipse to learn more about changes in the Earth's upper atmosphere that can affect communication in the air and on the ground. Read more about Barjatya's project online.
Like Embry-Riddle's Prescott-based team, all NEBP groups will participate in both upcoming eclipses. The resulting data will be analyzed and made publicly available, NASA reported.
*This article includes reporting by Sandra May of NASA.
Posted In: Engineering | Research | Space