Eagles Score Dozens of Job, Internship Offers at Female Engineering Conference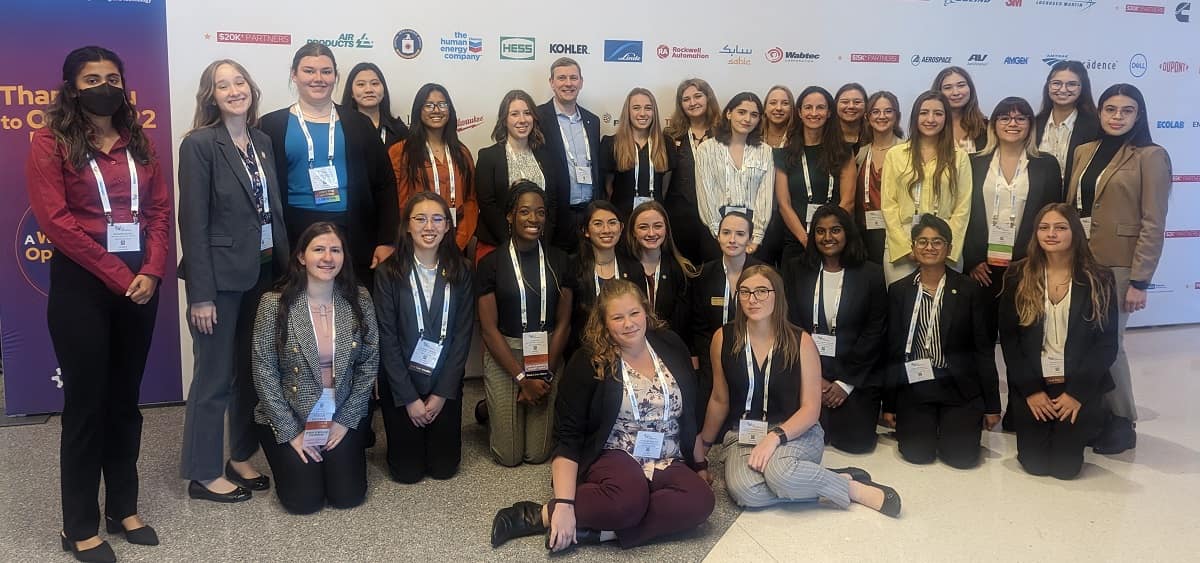 Embry-Riddle senior Laurel Dodson was struggling with her career search — that is, until she recently attended the Society of Women Engineers (SWE) annual conference, where she was able to interview with five different companies. As a result, she received offers for four different full-time, salaried positions. Now, she's working on finishing up her degree before starting her career as a software engineer.
"This latest conference and the resources offered to prepare for its career fair played a big role in helping me get job offers," said Dodson, a Computer Engineering major. "The preparation events and resume review let me refine my job-seeking strategy before the conference, and it seems like it paid off."
Dodson was one of 31 Embry-Riddle students who attended this year's conference, which was held in Houston. The young women participated in 55 interviews, receiving a total of 31 job or internship offers among them.
"The sheer number of students who were provided offers was quite high, and I am very proud of everyone who was able to secure positions via this conference, including freshman engineering students," said Claudia Ehringer Lucas, assistant professor of Engineering Fundamentals and SWE faculty adviser.
For Rachel Harpin, a freshman in Aerospace Engineering, the SWE conference was her connection to a position as a systems engineering intern at Northrop Grumman. It was also the continuation of a relationship with SWE that began as soon as Harpin arrived at Embry-Riddle — and that has been hugely helpful, she said.
"Being able to go to the SWE meetings each week, take a break from all of the pressure and talk to other girls in the exact same position helped me transition into college life much more smoothly," she said. "All of the girls in SWE have so much experience at Embry-Riddle and in finding internships and careers. Being able to seek advice and ask questions — from which food is the best to eat on campus to how to present yourself when talking to recruiters — will be something that I will be forever grateful for."
Elena Djudaric, an Aerospace Engineering senior with a concentration in Astronautics and a minor in Human Factors, said she has been involved with SWE since her freshman year and has held a number of leadership positions within the organization, including as a section president. "This role taught me the most important lessons for running an organization alongside other empowering women," she said. Djudaric also found an internship at the SWE conference that she didn't know she was looking for, she said.
Standing in line at the conference to speak to a recruiter, Djudaric was approached by another recruiter who, in casual conversation, told her about a quality engineering internship at Lockheed Martin Space. "I discovered that it was more of what I was interested in and wanted to do, given my experience with systems engineering and manufacturing," Djudaric said. "The power of networking!"
Dodson agreed that the connections SWE fosters are invaluable.
"SWE's bringing women together gives us the chance to find others with similar interests, maybe in the same major, and even women with the same goals as you — and also gives the opportunity to work together toward those aims," she said. "It's been an excellent way to make connections and get to know other women better, especially in a field that doesn't have a ton of other women."
Ehringer Lucas encouraged other students to attend similar conferences.
"I highly encourage all students at Embry-Riddle to attend a professional conference with an organization they feel the most comfortable with at least once in their academic career," she said. "It improves their communication and presentation skills, and helps them to learn about the latest research in their area."
Posted In: Engineering