Eagles Make University History with Top Finish at AIAA DBF Aircraft-Design Competition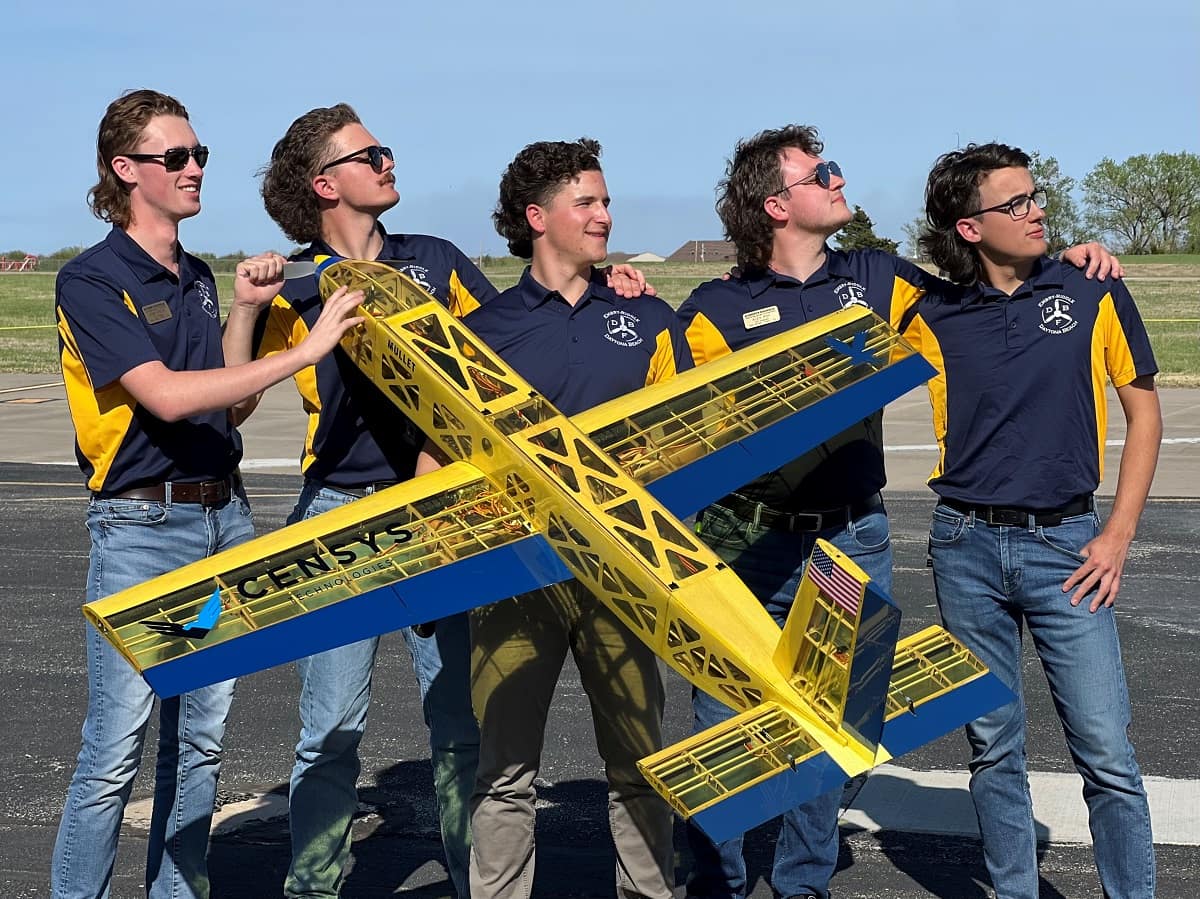 A team of Embry-Riddle Aeronautical University students recently made school history by placing second in this year's Design, Build, Fly aircraft competition hosted by the American Institute of Aeronautics and Astronautics (AIAA).
"This is a highly competitive event, and this year is our best-ever finish," said Dr. James Gregory, dean of the College of Engineering at Embry-Riddle's Daytona Beach Campus.
The team's aircraft is named MULLET, which stands for Medical Unmanned Low-Level Electric Transport. For good luck, several members of the 40-person team even grew their hair out long in the back and rocked mullet haircuts at the competition.
"When we started designing the aircraft, we needed to come up with an interesting name. This acronym kind of fit perfectly," said Joseph Ayd, the senior Aerospace Engineering student who led the Daytona Beach team. "Our senior design team all grew mullets, and a few underclassmen joined us. We just got them cut for graduation pictures."
This year's competition, which 69 teams attended, required students to design and produce a medical support aircraft that could transport syringes and deliver vaccine vial packages. Entries were scored based on how many syringes and packages could be carried, plus the aircraft's speed and performance.
Watch the team's year-in-review video, which outlines the aircraft's construction and recaps Team MULLET's performance at the competition.
"The annual AIAA competition teaches our students about the essential engineering trade-offs in aircraft design to meet specific flight performance and mission requirements, similar to the actual design problems faced by industry," said Dr. J. Gordon Leishman, distinguished professor of Aerospace Engineering and the team's faculty advisor. "Design, Build, Fly provides a real-world competitive environment focused on education, practical problem-solving, innovation and teamwork."
Students must develop an extensive range of skills to succeed in this competition, fully demonstrating that their aircraft can fly and efficiently perform the required missions, said Leishman. This year, with the advantages of a growing knowledge base and lessons learned from previous years, Embry-Riddle ranked first place in the fly-off part of this competition, he said.
Ayd, who is from Baltimore, Maryland, has been a member of the team since he was a freshman. During that time, he said he has learned everything from engineering to leadership skills.
"I have contributed to building 10 Embry-Riddle aircraft and was on the engineering design team for this one, so the technical knowledge has been exceptionally rich," he said. "Being the leader of a 40-person engineering team, I have learned so much."
Additionally, the team worked briskly to accelerate their schedule early in the year, flying their first prototype just nine weeks after the requirements were released in September.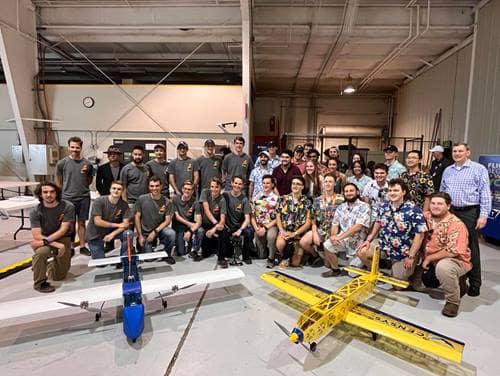 The Prescott Campus team (left) competed alongside the Daytona Beach Campus team (right), which won second place overall, at the Design, Build, Fly competition, marking Embry-Riddle's best-ever finish. (Photos: Johann Dorfling)
"My team put in about 9,000 hours of work on this project," Ayd said. "We failed early and often, crashing our first aircraft and redesigning structures throughout the year. We did some aerodynamic tests in the wind tunnel to ensure we could meet critical requirements even before first flight. Getting in the wind tunnel was extremely important for us to have that data early on in the design process."
About half of the team members were able to attend the April 21-24 competition, held in Wichita, Kansas.
"It was a lot of pressure, very fast-paced," said Ayd. "It was so much fun, though."
One big point of pride for the team is that more than 50% of its members currently have a full-time job, internship or summer research opportunity, he added. After graduating May 9, Ayd was hired by The Boeing Company to work as an aerodynamic test engineer in St. Louis, Missouri.
"We're really proud of that," he said. "It affirms that what we are doing in this club is developing skills that are critical to working in the industry. "
Embry-Riddle students from the Prescott, Arizona, campus also competed, with their team placing 8th at the competition.
"The experience the students gain from being involved in this club is invaluable: report writing, presentations, teamwork, communication, project management, hands-on engineering and a lot of applied technical engineering work," said Dr. Johann Dorfling, assistant professor of Aerospace Engineering and the Prescott team's faculty advisor. "Employers really value this type of experience."
Students and faculty from both campuses noted the camaraderie the two Embry-Riddle teams shared.
"The Prescott team was in the space right next to ours for all four days of the competition," said Camdyn Doucette, a Daytona Beach team member. "We were exchanging information with them and we were happy to help any teams who needed it during competition. I'm proud of how both Embry-Riddle teams were able to share and conduct themselves."
The Daytona Beach Campus team was comprised of the following students: John-David Adams; Joseph Alnabr; Joseph Ayd; Brandon Babey; Isaiah Barak; Joseph Borrelli; Andrew Bunn; Ariana Cardines; Victor Chang; Daniel Chen; Riley Cox-Gross; Nahuel Damoudt; Dikko Dikko; Camdyn Doucette; Caroline Dougherty; Fuping Duan; Danielle Gabel; Daniel Garlock; Ariel Goya; Zachary Herman; Brock Jorgensen; Frederick Kennedy; Jonathan Kumm; Cody Kuskie; Zachary Leonard; Nicholas Marshall; Alex McConkie; Joe McDonald; Marissa Murphy; Joseph Nicolich; Harshil Patel; Vikas Patel; Noah Pecor; Alexander Roy; Kat Ternus; Pony Tom; and Evan Zielke.
The Prescott Campus team was comprised of the following individuals: Michael Fingian; David Fryer; Kyle Abbas; Kyle Bartholomew; William Ryan; Jacob Kaufmann; Adam Witusik; Tyler Kwapniowsk; Murad Rahimov; Max Welliver; Jackson Karlik; Conner Thomas; Ethan Switzer; Jacob McMillin; Kate Shriki; Nicholas Barrick; Joshua Filby; Derek Scandrett; Keenan Millikan; Cody VandenBosch; Salvador Jose Calizo; Jaron Sherwood; Luke Rondeau; Andrew Onato; Dylan Tomita; Aidan Ivers; Alexee Providence; and Rasheed Adamu.