Eagles' Lunar Rover Design Published by National Journal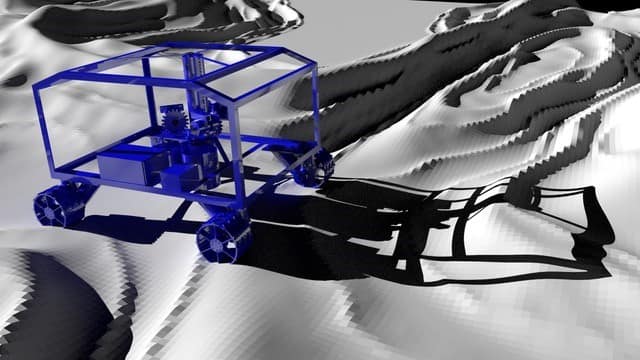 Because the moon spins almost perpendicular to the sun, craters at its polar regions receive no sunlight. Within these dark depressions may be enough water to help sustain manned lunar missions. The challenge, however, is access. The darkness coupled with some of the coldest temperatures in the solar system make exploring these areas extremely difficult.
The difficulty of exploring that inhospitable terrain with equipment compact enough to be sent to the moon is what attracted a team of undergraduates from Embry-Riddle Aeronautical University to embark on a project.
"Exploring and studying the lunar South Pole presented interesting and difficult challenges, such as the temperatures and terrain we had to work in, as well as drilling and taking samples with a rover that is less than 25 kilograms," said Andrew Fichou, Aerospace Engineering senior and one of two lead authors of a paper about the project published by the American Institute of Aeronautics and Astronautics.
Fichou worked on the project with senior Bryan Kitsu -- the other lead author, who is also majoring in Aerospace Engineering -- and 18 other Embry-Riddle undergraduates.
The student team originally embarked on the project as part of a NASA BIG Idea Challenge competition.
The project entailed overcoming two huge problems presented by the craters: unavailability of solar energy, which would normally be used to power a rover, and electronics failures, which can occur at such low temperatures. Those problems were obviated with the students' design. Their rover would be connected to an anchor system to allow the vehicle to descend into the crater but be recalled out of it every 13 hours for a solar recharge. To stave off low-temperature electronics failure, heaters were designed that would be kept on during each descent. The rover would also be equipped with a LiDAR scanning system that would allow it to navigate in darkness.
Kitsu, who is now the chief engineer on a Boeing-sponsored capstone project, said working on the lunar rover taught him about leadership.
"This project has had a huge impact on how I lead teams and how I approach new problems and obstacles," Kitsu said. "I learned how important it is to communicate clear intentions and tasks with every team member to ensure that the design process is done correctly."
Mechanical Engineering senior Emily Hay, whose academic focus is energy and sustainability, said the project "gave me firsthand experience in how to tackle new engineering challenges."
"The reason I got into Mechanical Engineering was because I enjoy innovating and pushing the limits on what is possible," Hay said.
Anne Boettcher, director of the Undergraduate Research Institute and Honors Program on Embry-Riddle's Prescott Campus, said being published will be a big boost to all students involved.
"Publishing in a journal, including conference proceedings, is a major accomplishment and a big plus for our students as they move forward," said Boettcher. "Not only does it look great on a resume and provide the students with experience in publishing, but it can often lead to questions during job and graduate school interviews that help the interviewer appreciate the work done."
Posted In: Space