Eagles Gain Real-World Experience Pitching Space Innovation to NASA Pros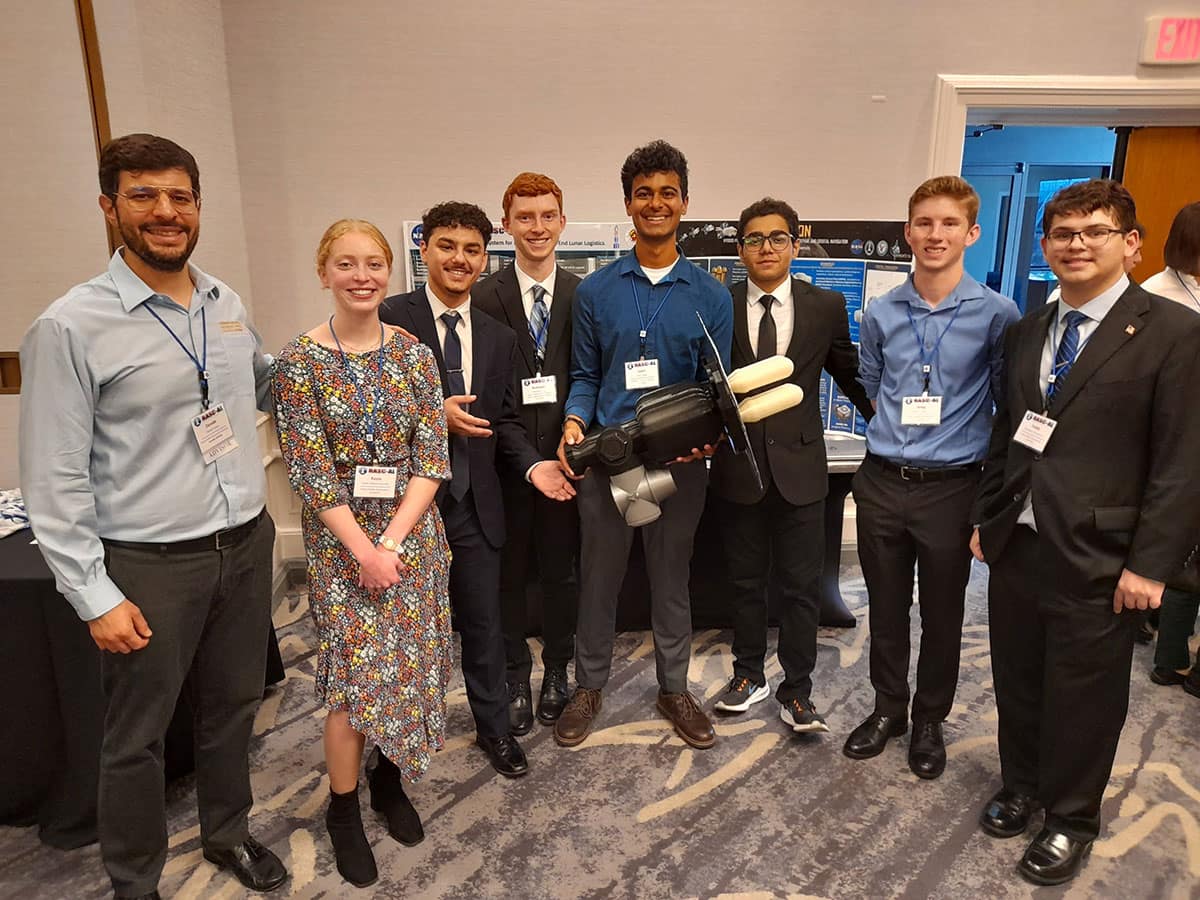 A group of students from across Embry-Riddle Aeronautical University's three campuses was recently chosen as one of only 15 teams from around the world to present space innovations at NASA's annual Revolutionary Aerospace Systems Concepts – Academic Linkage (RASC-AL) competition. There, they presented a design for a spacecraft that can perform repair-related tasks, such as refueling, as well as provide short-term space habitats.
"Such a versatile platform will be instrumental to further infrastructure construction and advanced exploration in outer space," said student team leader Jomar Lee, an Aerospace Engineering major from the Prescott Campus.
The team — which was led by Dr. Davide Conte, assistant professor of Aerospace Engineering, and Claudia Ehringer Lucas, assistant professor of Engineering Fundamentals — presented in the Multi-Use Platform at L1 Theme category.
But first, they had to learn how to work together, virtually and across time zones.
"Even the judges were surprised to hear that most of our team had barely met each other in person," Lee said. "The challenges we encountered along the way made presenting our ideas much more rewarding. This competition not only helped each one of us by strengthening our skills in communication and research but allowed us to catch a glimpse into our future as professionals in the industry."
"The experience reinforced my passion for space exploration and deepened my commitment to making valuable contributions to the field," added fellow teammate Kayla Schijveschuurder, an Aerospace Engineering student from the Worldwide Campus. "Participating in experiences like NASA RASC-AL prepares students for their dream careers."
RASC-AL is one of NASA's longest-running higher education competitions. It encourages students to provide in-depth technical analysis and innovative solutions to some of the agency's toughest challenges. This year, the competition challenged university teams to develop new concepts to improve NASA's ability to operate on the moon, Mars and beyond. Finalist teams responded to one of four themes, ranging from supporting lunar operations and tourism at the South and North Poles to enabling long-term survival on the surface of Mars.
The competition also trained students to think on their feet.
"The most difficult yet rewarding experience was standing in front of the audience during the Q&A," said teammate Brendan King, another Prescott-based Aerospace Engineering major. "When the questions started rolling in, as a team, we had to quickly answer on the spot. It was nerve-wracking but gave me experience working under pressure."
See the team's full presentation online.
"As we expand humanity's presence further into the solar system, advancements in space travel and exploration become even more vital for successful missions," said Patrick Troutman, RASC-AL sponsor and lead for human exploration strategic assessments at NASA's Langley Research Center in Hampton, Virginia. "The concepts envisioned and analyzed by these young minds prove the necessity of these competitions and not only furthers the students' experience but also provides valuable insights for the Agency."
Two Aerospace Engineering majors — Kassandra Durst, who attends the Daytona Beach Campus, and Michaela Kirk, a Worldwide Campus student — served as sub-team leads. Additional team members, along with their chosen degree fields, are listed as follows:
Connor Adams, Mechanical Engineering (Prescott)
Eli Martin, Aerospace Engineering (Prescott)
Gregory Callaghan, Aerospace Engineering (Daytona Beach)
Henil Patel, Aerospace Engineering (Daytona Beach)
Sahil Singh, Aerospace Engineering (Daytona Beach)
Theodosis Tsengouras, Mechanical Engineering (Daytona Beach)
Posted In: Engineering | Space