Eagles Excel in Enabling Cross-Campus Effort in Aviation Cybersecurity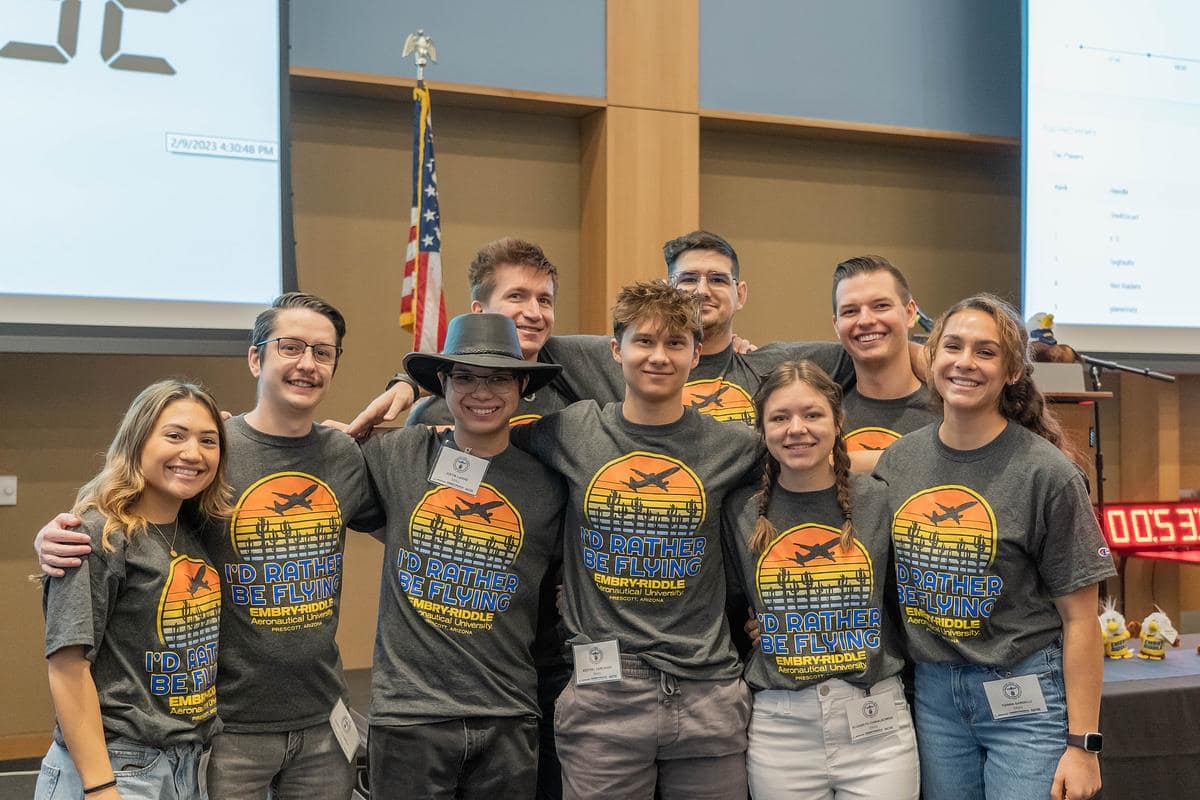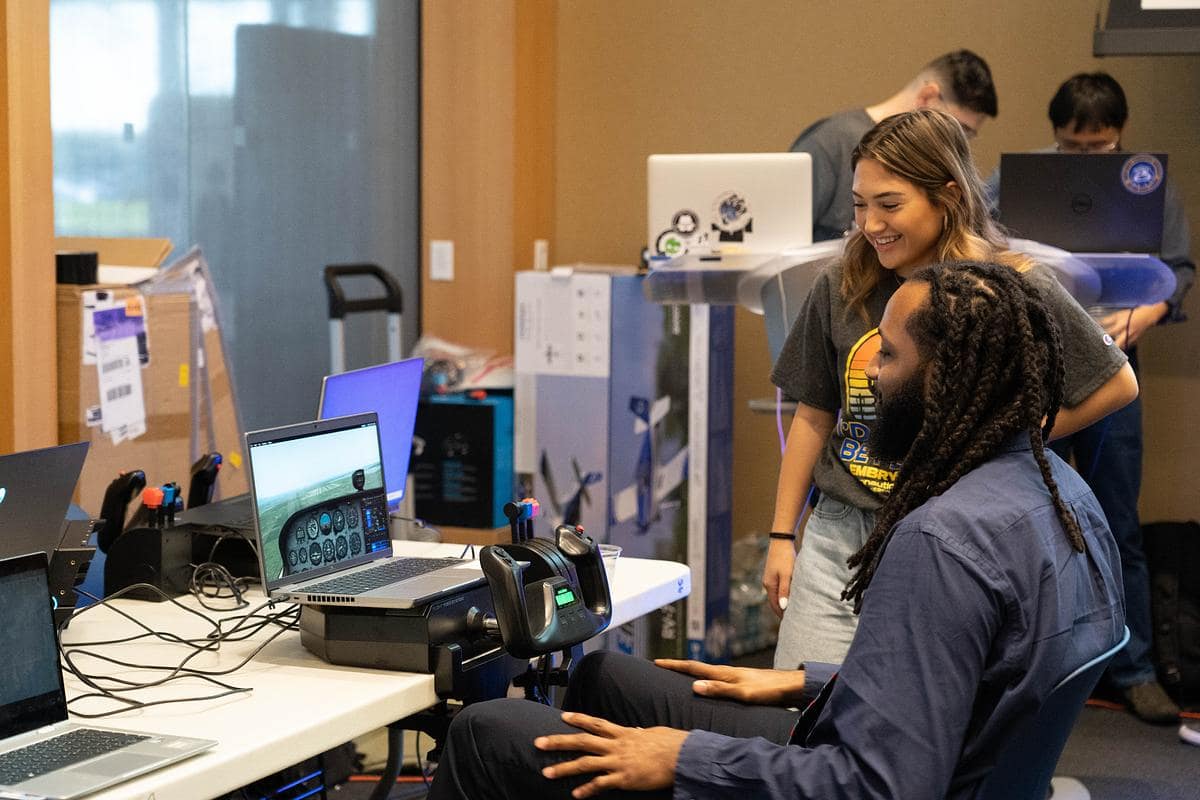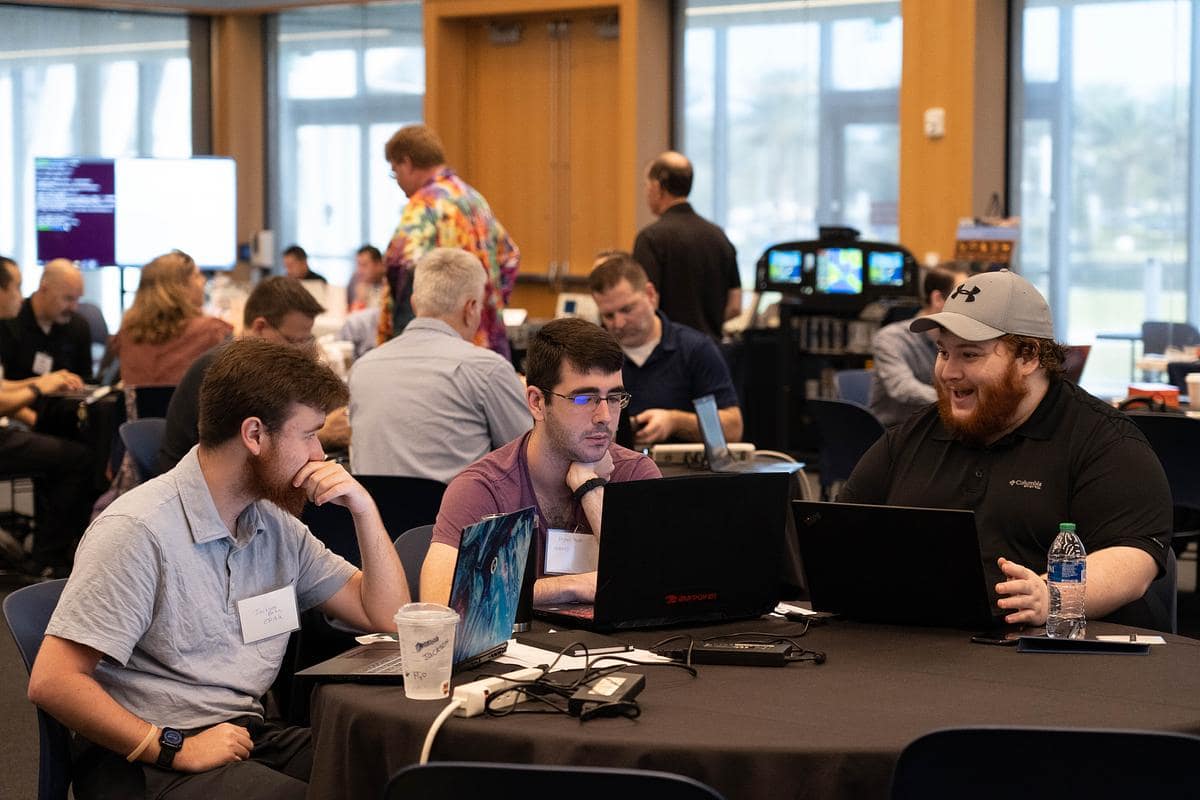 Over the past year, Embry-Riddle Aeronautical University's Center for Aerospace Resilience worked with faculty and students across the Prescott and Daytona Beach campuses, as well as the Aviation Cybersecurity Initiative (ACI) and industry partners, to develop and host the ACI Cyber Rodeo event Feb. 8-9, at the Daytona Beach Campus. While the highlight of this multi-faceted event was a Capture the Flag (CTF) competition, the Cyber Rodeo also included technical briefings, demonstrations and a student-recruiting event supported by industry and government aviation cybersecurity leaders.
The development and integration of the CTF competition, in partnership with The Boeing Company and MITRE, was led by Cyber Intelligence and Security (CIS) Department students from Embry-Riddle's Prescott Campus, under the direction of CIS faculty Jesse Chiu and CIS Chair Dr. Krishna Sampigethaya. Aviation Maintenance Science professor Neill Fulbright also contributed by leading students from the Daytona Beach Campus College of Aviation in building the CTF flight deck, which was used throughout the competition. Even Ernie the Eagle showed up to motivate and encourage the participants.
The ACI is a tri-chaired effort involving the Department of Defense, the Department of Homeland Security (DHS) and the Federal Aviation Administration, with the mission of reducing cybersecurity risks and improving cyber resilience in support of safe, secure and efficient aviation operations nationwide.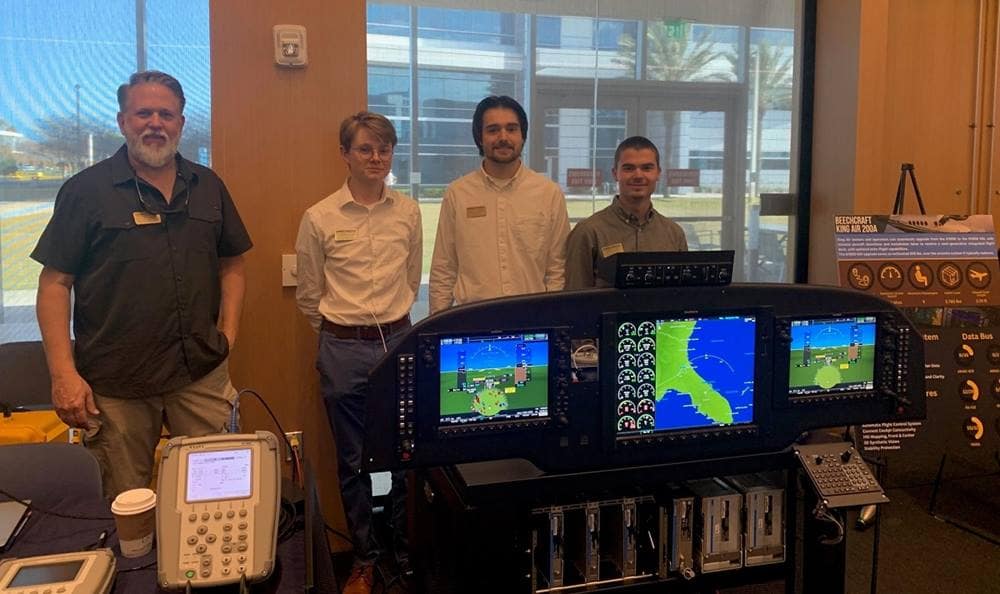 Aviation Maintenance Science professor Neill Fulbright poses with students Merritt Green, Elias Wiley and Tyler Mcqueen, who contributed to the Capture the Flag competition. (Photo: Neill Fulbright)
Dan Diessner, director of the Center for Aerospace Resilience, and Brian Connolly, Boeing's vice president and chief engineer of product security, opened the Cyber Rodeo by welcoming everyone to this first-of-its-kind event. "We designed this ACI Cyber Rodeo CTF event with a sports competition theme to enhance the fun," Diessner said, while donning a referee's jersey. "Now — let the games begin!"
"Unlike previous aviation cyber CTFs offered by Embry-Riddle student teams since 2018, this event required the students to raise awareness, knowledge and skills of professionals from the ACI community, including regulatory agencies, government and private industry partners. They did this with flying colors," Sampigethaya said. "While CTFs dare teams to immerse in a cyber scenario and compete with other teams to win, this event was more about educating a community of aviation, security and safety experts about critical aviation cybersecurity problems and opportunities."
"Capture the Flag events are a great learning experience," said Eagle alumnus Randy Talley ('87), who currently serves as DHS lead for ACI. "They provide hands-on experience and teamwork that is hard to replicate elsewhere. Teammates needn't all be experts because there are members with various skillsets that, when combined, can provide the team with the knowledge necessary to accomplish the mission. I am happy that we were able to partner with Embry-Riddle on this event."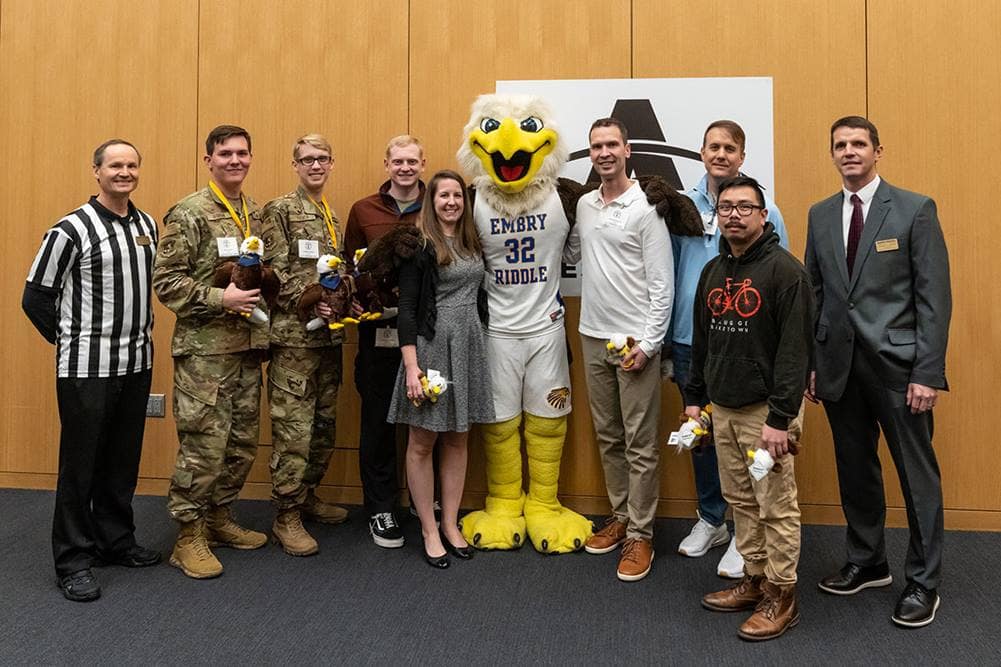 From left: Dan Diessner, Center for Aerospace Resilience director; the first-place Prescott Campus ROTC team, including Zachary Horax, Carson Tucker and Cameron Devaney; Katherine Rawls, of the FAA team; Ernie the Eagle; Hector Morales, FAA team; Sean Bowden, LS Technologies; Arvin Bada, U.S. Air Force; and Dr. Jeremy Ernst, Embry-Riddle's vice president for research and doctoral programs. (Photo: Embry-Riddle/Daryl Labello)
The Winners: Prescott's ROTC Team
After six hours of presentations, setup and workshops, followed by eight hours of competition with over 30 in-person and virtual teams of three at the ACI Cyber Rodeo, the Detachment 028 Cyber Team, sponsored by Dr. Zafer Hatahet, dean of the Prescott Campus College of Arts and Sciences, emerged victorious from the CTF.
The team was comprised of students/Air Force ROTC cadets Carson Tucker, Zackary Horak and Cameron Devaney, all of whom were also part of the winning team in the recent Tracer FIRE (Forensic and Incident Response Exercise) competition, hosted by Sandia National Laboratories and the CIS Department at the Prescott campus.
"This CTF challenged our team with spoofing airline boarding passes, performing financial fraud examination/analysis, landing airplanes in flight simulators, hacking into drones and managing Air Traffic Control while the tower was being attacked," Tucker said. "We learned and utilized new methods of aviation-related network communication to solve these challenges as a team."
The CIS students and faculty worked on designing and developing the CTF for several months under the sponsorship of the Department of Defense, the National Science Foundation and the Aviation Information Sharing and Analysis Center (A-ISAC).
The Prescott Campus student design team was led by Justin LaZare and included the following students: Garett Atkins, Kestrel Carlough, Elizabeth Chwialkowski, Isabella Cromwell, Samuel DeKemper, Stephen Levy, Tianna Sardelli and Maxwell Werner. The Daytona Beach Campus College of Aviation students who contributed to the CTF included Merritt Green, Elias Wiley and Tyler Mcqueen.
Posted In: Security Intelligence and Safety