Eagles Design Experimental Fuel System to Power Liquid-Propellant Rocket Engines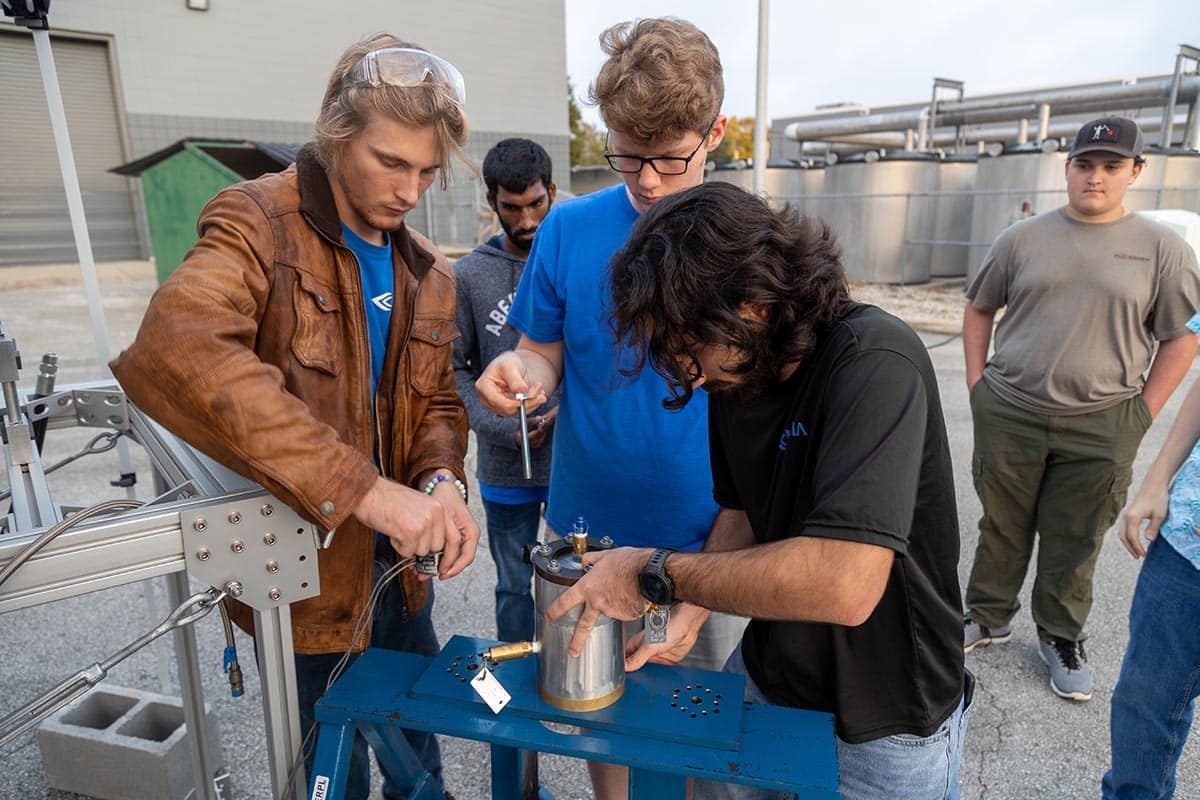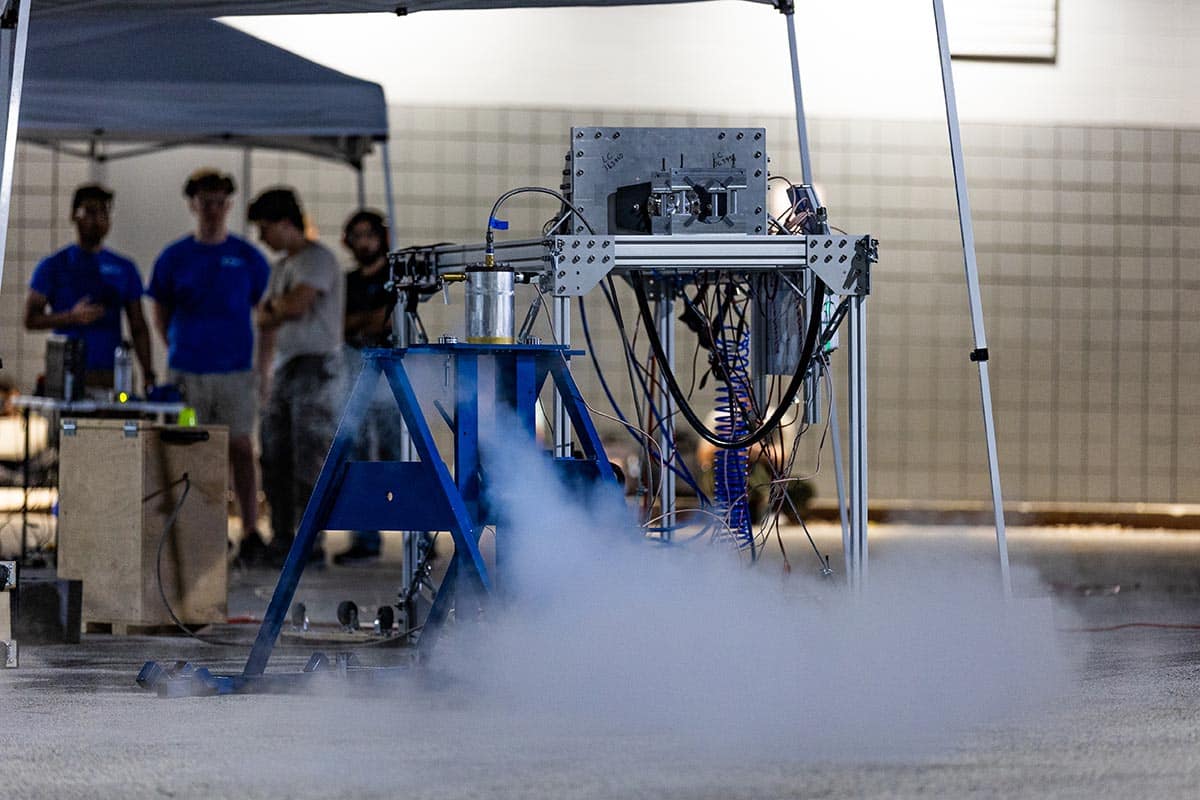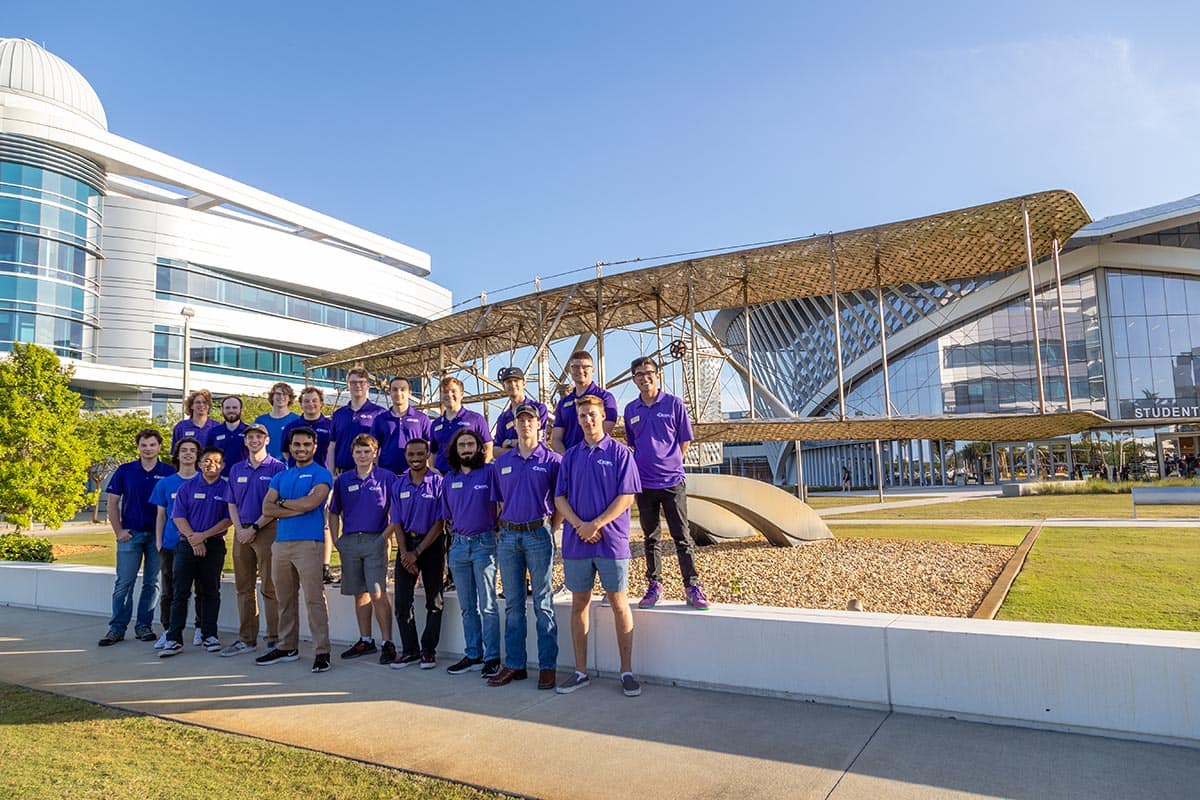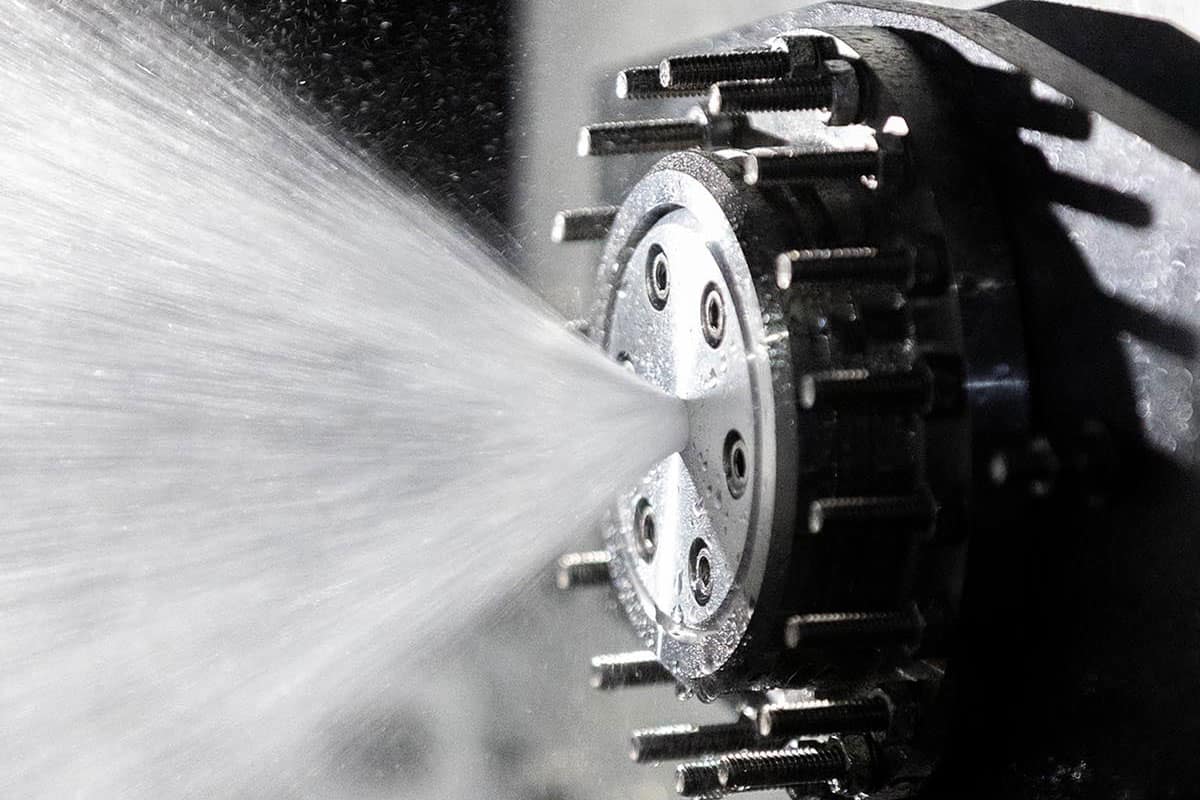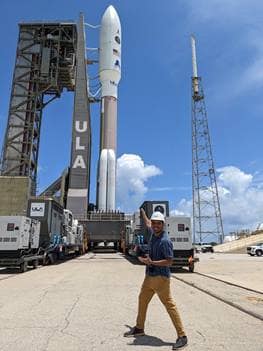 Samir Ahmed, a team leader on the liquid-propellant rocket project, recently interned with United Launch Alliance's test propulsion engineering group. (Photo: Samir Ahmed)
Aerospace Engineering students Alex Clay and Samir Ahmed have spent the past four years at Embry-Riddle Aeronautical University manufacturing complex liquid-propellant rocket engines. Now, as they near graduation, there is one last thing they'd like to do: Prepare for ignition.
Along with fellow members of the university's Experimental Rocket Propulsion Laboratory (ERPL), the two have built a state-of-the-art fuel-feed system in hopes of accomplishing that very goal. If successful, the hardware will offer future generations of rocketry students a safe and consistent way to field test their designs — which, according to sophomore Aerospace Engineering student Taylor Koehn, is currently the "most significant bottleneck" in the process of engine building.
"This project will alleviate that bottleneck by allowing us to test-fire our liquid rocket engines more frequently using our own propellant feed system," Koehn said.
The first test-fire is scheduled for spring 2024 from Cecil Spaceport in Jacksonville, Florida.
Here's How It Works
The team's liquid-propellant engine, or Daytona Beach Propellant Feed System, delivers two propellants at a rocket engine's desired pressure and flow rates. It can handle extremely cold cryogenic liquid oxygen and high pressures. The system is also capable of simultaneously processing one ambient propellant, like ethanol, and one cryogenic propellant, like liquid oxygen.
"After all our work, for us to see everything run as predicted — that is the most exciting part," said Ahmed, the team leader. He also recently interned with United Launch Alliance's test propulsion engineering group.
The Daytona Beach Propellant Feed System, estimated to cost $35,000, is comprised of multiple valves, regulators, pressure-relief devices, propellant tanks and plumbing, all of which are mounted onto a test stand. This stand will also be stress tested later this year at Cecil Spaceport.
"We wanted a project to give students operational experience," said Koehn, a Montezuma, Kansas, native with an internship at Gulfstream Aerospace Corporation under his belt.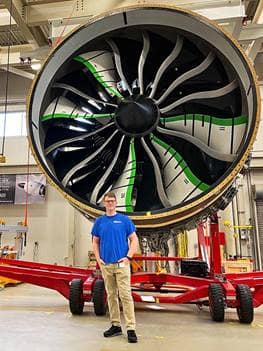 Alex Clay, who is president of the rocket propulsion team, interned at GE Aviation this past summer. (Photo: Alex Clay)
The hands-on experience gained in projects like this one helps countless Embry-Riddle students land internships at industry-leading firms. Designing complex systems and writing their corresponding safety guidelines, while also working with suppliers, develops a variety of valuable skills, said faculty advisor Dr. Eric Perrell, a professor in the Department of Aerospace Engineering.
"They do all the analyses and fluid flow calculations in class," said Perrell. "We run simulations, but we can't simulate everything, and the things that you can simulate are only so reliable, so they need to be validated through tests."
Additionally, the upcoming test-fire inspires students like Clay, who serves as president of the Experimental Rocket Propulsion Laboratory, to keep iterating.
"It's the coolness and teaching factor," said Clay, a native of Bryceville, Florida. He interned at GE Aviation this past summer and will be joining SpaceX as an associate engineer later this year. Clay also plans to pursue his master's degree in Aerospace Engineering.
Ahmed — who will graduate in May — may not be around next year to see the first test-fire of the Daytona Beach Propellant Feed System, but he credits the experience gained working on the project with helping him land a job at Blue Origin as a propulsion design engineer in combustion devices. He'll begin work there after commencement.
"Everything I've learned has come from being involved in the design and iteration of this project," said Ahmed, who is originally from West Palm Beach, Florida. "What got me my job is what we do in the lab. There is never an end to the learning."
Experimental Rocket Propulsion Laboratory students have received financial support for their propellant feed system from the College of Engineering Philanthropy Council, Blue Origin, the College of Engineering and the Student Government Association.
Posted In: Engineering | Research | Space