Eagles Collaborate Cross-Country to Enhance Homeland Security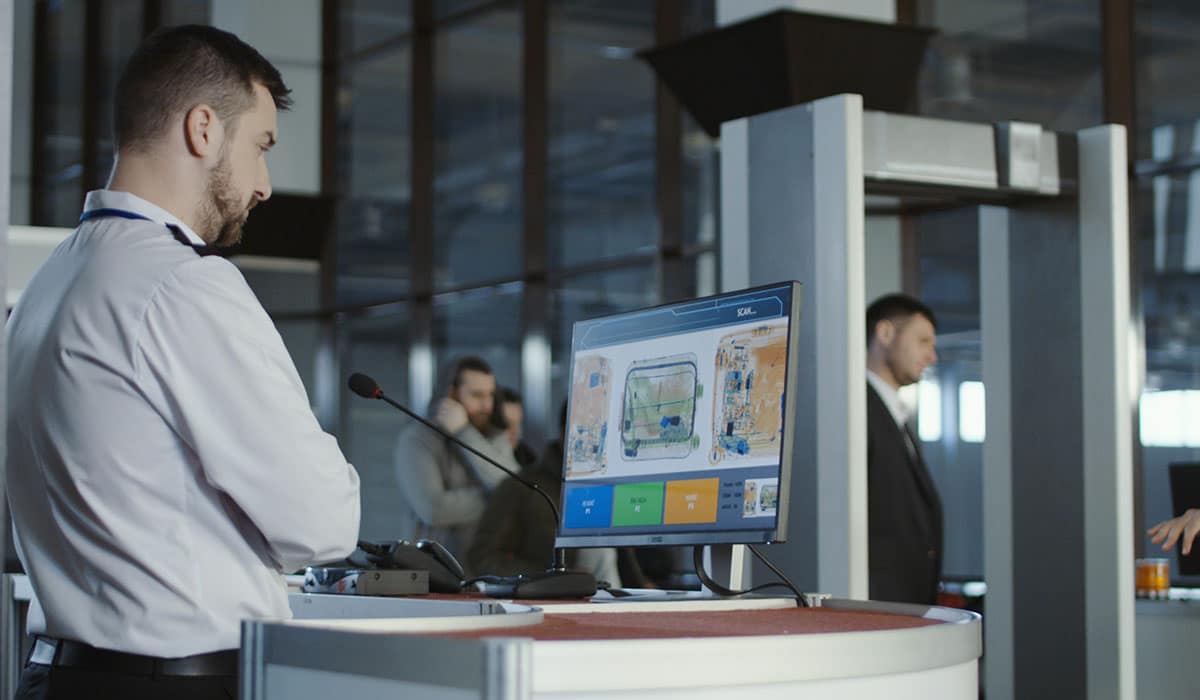 Optimizing human performance is the key to improving airport security — and, by extension, homeland security — according to researchers at Embry-Riddle Aeronautical University.
Students and faculty from the university's three campuses recently completed a collaborative project researching the various ways that human factors principles contribute to deterrence and detection tasks at airport security checkpoints. The teams collaborated virtually and then met in person to present their findings at the U.S. Capitol this summer.
"I looked at the effect of fatigue and shift work on air traffic controllers and agents in the TSA (Transportation Security Administration), in terms of their object-tracking tasks and visual-search tasks," said junior Maggie Colwell, who's studying Human Factors Psychology and minoring in Aviation Safety at Embry-Riddle's Prescott Campus.
Colwell, along with her faculty advisors Drs. Rose Danek and Andrea Irish, each a professor of Psychology, will continue their research into 2024. Next, they plan to study how current Embry-Riddle students who are training to become air traffic controllers respond to various levels of stimuli through a simulation that monitors their bodily reactions in real time.
"We are currently working on the next phase of this project, in which we will investigate the biological markers of stress to assess how Air Traffic Control students react in simulations of various traffic scenarios," said Danek. To measure these effects, the team will use monitoring technology to track physiological indicators of stress, such as brain wave activity, skin temperature, heart rate, etc.
Worldwide Campus students Teeunandra Forde and Hawk Schulmeisters, along with Dr. Cihan Aydiner, associate chair of the Department of Security & Emergency Services, contributed to the project by studying a different aspect of the security process — agents' critical thinking and communication skills.
"By allowing TSA agents to partake in real-world simulations and scenarios that emphasize critical thinking and effective communication, they can hone their skills in a controlled environment," Aydiner said. "This approach equips them with the hands-on experience necessary to discern threats, make timely and informed decisions, and effectively communicate in dynamic airport security situations."
The challenge, he added, is in ensuring that training remains comprehensive, consistent and adaptable to the ever-evolving security landscape. Having a team comprised of members from all over the world, though, helps.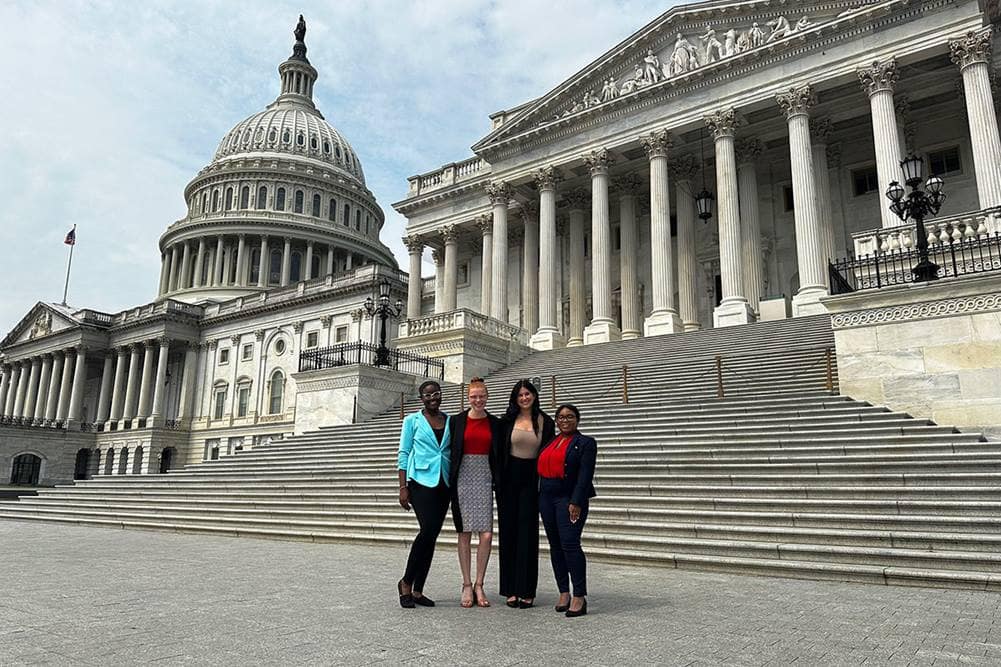 Students from all three Embry-Riddle campuses convened at the nation's capital earlier this year, where they presented their research. In attendance were Amore Hunter (Daytona Beach Campus), Margaret Colwell (Prescott Campus), Madison Werner (Daytona Beach) and Teeunandra Forde (Worldwide Campus). (Photo: Maggie Colwell)
"Cross-campus collaboration ensured a diverse pooling of ideas and resources," he said, noting the benefits to students as well as to the industry. "This collaboration offered practical research exposure, honed their analytical abilities, enriched them with multidisciplinary perspectives and provided invaluable mentorship."
Daytona Beach Campus students took yet another approach, focusing on behavioral indicators of deception.
"My team consisted of two students from different majors and different disciplines, and it was very rewarding to be able to bring all our personal areas of expertise to the project," said Dr. Christina Frederick, College of Arts & Sciences professor. "Not only can different campuses work together — interdisciplinary research can succeed also."
Frederick supervised students Madison Werner and Amore Hunter, who also presented at the U.S. Capitol. In their presentation, they noted a list of physical gestures and various qualities of speech that TSA agents should focus on when trying to identify signs of deceit. Next, the team hopes to share their insights with the industry through research publication.
"This industry is highly complex and critical, and it was eye-opening to discover how many professionals lack accessible and comprehensive resources to enhance their skills," said Werner, a Homeland Security and Intelligence senior. "The realization of this need emphasized the broader implications of ensuring safety in an industry where even the smallest oversight can have substantial consequences."
Werner also noted how her participation in the project will serve as an ongoing asset as she pursues her dream of working in federal law enforcement.
"These skills are highly transferable to a career in law enforcement, where I would need to analyze situations, assess risks and make important decisions," she said. "Furthermore, learning about the intricacies of aviation safety and deception detection has honed my ability to notice subtle discrepancies and anomalies, a skill crucial in FBI investigations."
The OPTIMIS project (which stands for "Optimizing Human Performance in the Air Transportation Sector by Integrating Human Factors Into Homeland Security Deterrence and Detection Procedures and Training: System Interfaces and Behavioral Screening at Security Checkpoints") was a cross-campus initiative supported by Embry-Riddle's Undergraduate Research Collaborative Grants Program.
Posted In: Applied Science | Human Factors | Research | Security Intelligence and Safety