Eagles Ace Global Aerospace Maintenance Competition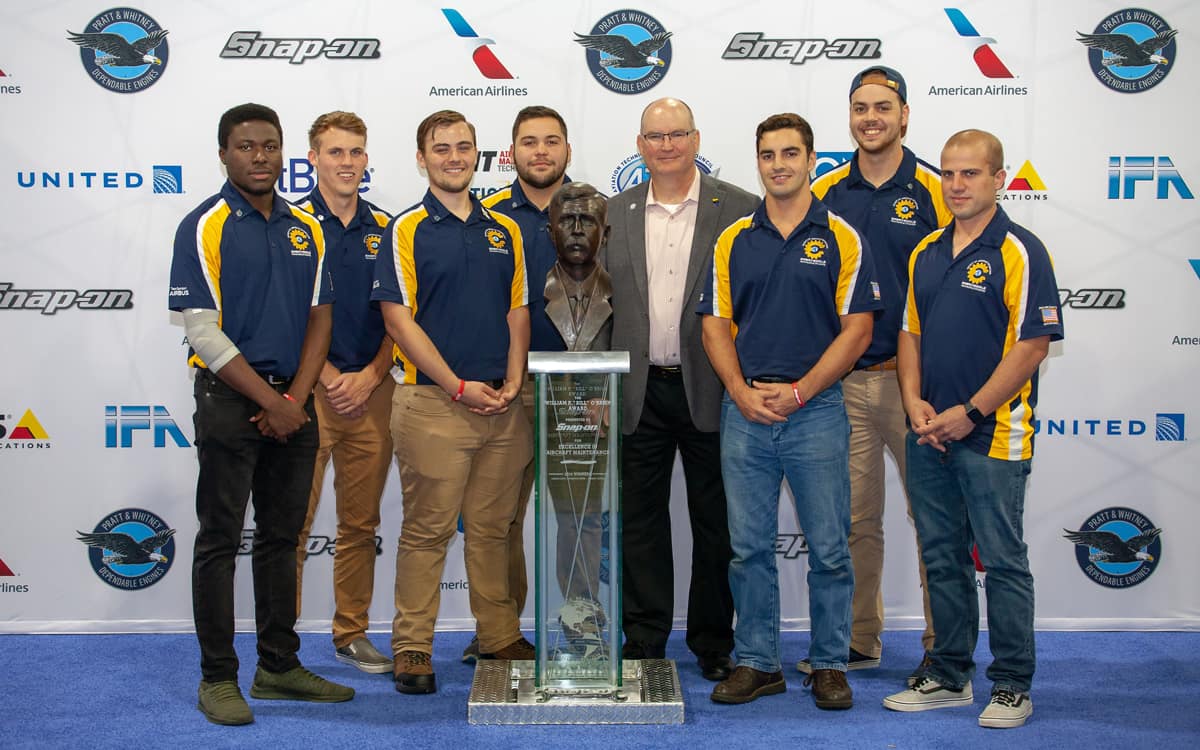 An Embry-Riddle Aerospace Maintenance Science (AMS) team claimed first place in an international competition, overtaking challengers from 27 other schools by more swiftly and accurately completing 30 timed tasks.
Six Embry-Riddle undergraduate students participated in the 2019 Aerospace Maintenance Competition, organized by the Aerospace Maintenance Council and presented by Snap-On, April 9-11 in Atlanta, Ga.
"We are proud of our students for their technical performance as well as their sportsmanship during a global competition with highly skilled challengers," said Embry-Riddle President P. Barry Butler. "Congratulations to the Embry-Riddle team and their dedicated mentors. In representing Embry-Riddle, they exemplified the Eagle spirit, demonstrating the highest standards of aviation safety and responsibility."
Dr. Alan Stolzer, dean of the College of Aviation on the university's Daytona Beach Campus said, "Embry-Riddle's Aviation Maintenance Science program is world-class and it keeps getting better. The performance of our students at the 2019 Aerospace Maintenance Competition shows that graduates of our program are well-prepared for bright futures."
Associate Professor Chuck Horning, chair of Embry-Riddle's AMS department, also commended the AMS team. "This is a huge accomplishment," he said. "The conference was the perfect venue for these young professionals to showcase their skills and knowledge. They did an amazing job of representing themselves and the university."
With Thanks to Airbus and JetBlue
Embry-Riddle's participation in the competition would not have been possible without generous travel support from Airbus as well as advance practice time in JetBlue's training facilities.
In addition to winning the No. 1 ranking in the schools category, two students on the Embry-Riddle team won individual awards.
Student competitor Ben Henriquez won an AMC Professionalism Award for his comportment during the competition. Teammate Immanuel Bankole secured a Future Maintenance Professional Award – a scholarship provided by PistonPower and the trade association PAMA.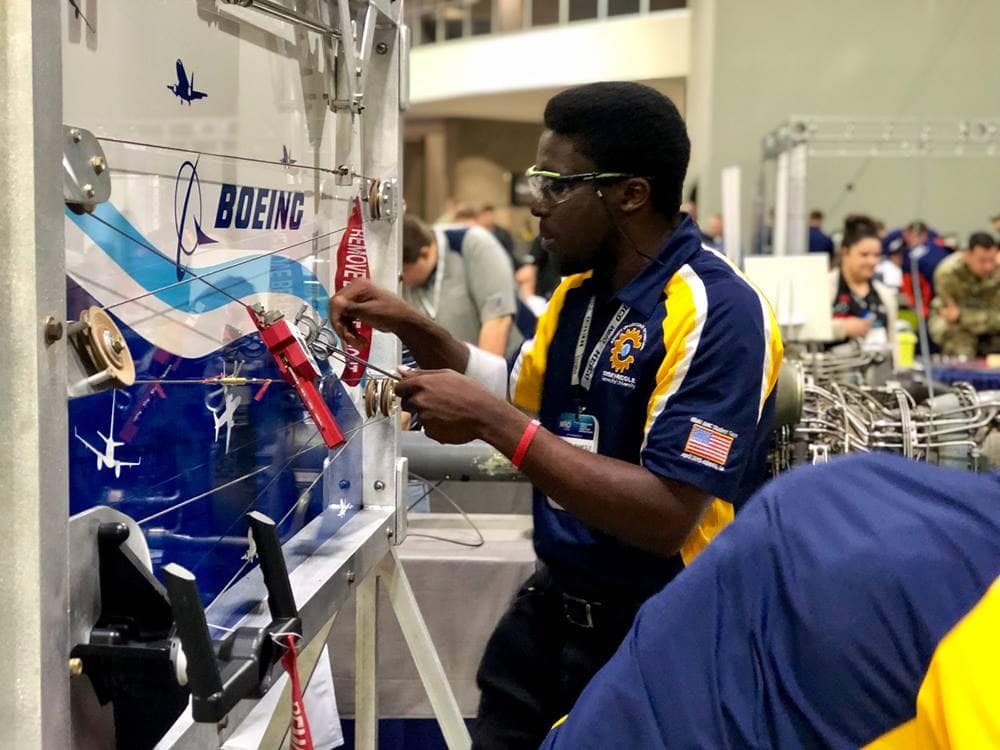 In addition to the team's first place win in the schools category, two students won individual awards: Immanuel Bankole secured a PAMA / PistonPower scholarship. Ben Henriquez (not shown) earned a Professionalism Award.
Other winning Embry-Riddle AMS team members were Tristan Anderson, Christopher Lambert and Chris Culver. Serving in a critical backup role was Greg Algarin. Chris Piccone, laboratory instructional specialist, managed the Embry-Riddle delegation, along with Earl Sault Jr., AMS training and supply specialist.
"We were very grateful for the support of Airbus as well as JetBlue's hospitality in allowing our students to practice with specialized equipment at their training facilities before the competition," Piccone said. "Without the generosity of these two corporate partners, our students would not have had this amazing opportunity."
A total of 85 teams, including 28 in the schools category that Embry-Riddle won, competed in the Aerospace Maintenance Conference. Competitors traveled to the event from across the United States as well as Japan, Australia, China and other parts of the world.
When Speed and Accuracy Count
During the competition, each student moved from one workstation to another as they completed 30 different tasks. They were given only 15 minutes to correctly complete each task, from applying aerospace sealants to removing and replacing critical engine components. Judges at each 15-minute heat evaluated the students' speed and skill.
At one point, Embry-Riddle students wowed the judges by forfeiting a few seconds of time in order to correct the placement of an essential engine part. When the part didn't seem to lock into place, the students removed it and tried again until they got it right.
"It was an outstanding learning experience for our students," Piccone said. "This year, they were exposed to advanced, modern tools and top-of-the-line diagnostic equipment. They worked with a virtual reality paint gun, electric sealant guns, electric tensiometers, a digital borescope with advanced measuring tools, surface scanning equipment with digital dent-analysis software, ultrasonic thickness analysis and more."
Also during their trip, the Embry-Riddle team visited a Pratt & Whitney forging facility north of Atlanta, where they had a tour and met with key contacts at the leading maker of jet engines.
Students on the Embry-Riddle team raked in various other rewards during their big week in Atlanta. The five competitors all received their own set of Snap-On tools as well as a first place trophy. In addition, they won free roundtrip airfare anywhere JetBlue flies, after winning a separate aircraft maintenance event. In another competition, they won an all-expenses paid training course on how to maintain a modern Pratt & Whitney engine. They won a digital cable-tension gauge for a second-place finish in a cable-rigging event.
Boeing has estimated a worldwide need for 754,000 aviation maintenance technicians over the next 20 years. Exhibitions such as the Aerospace Maintenance Competition – which put the Embry-Riddle team in touch with a journalist from Aviation Week – help raise awareness of the importance of aviation maintenance technicians, Piccone noted.
Offering associate's and bachelor's degrees, the
Aviation Maintenance Science
program on Embry-Riddle's Daytona Beach Campus focuses on the FAA Federal Aviation Regulation Part 147 A&P mechanic's certification program and encompasses 48 credit hours of technical courses.
Posted In: Aviation