Eagle Undergraduates to Showcase Space Debris Research on National Stage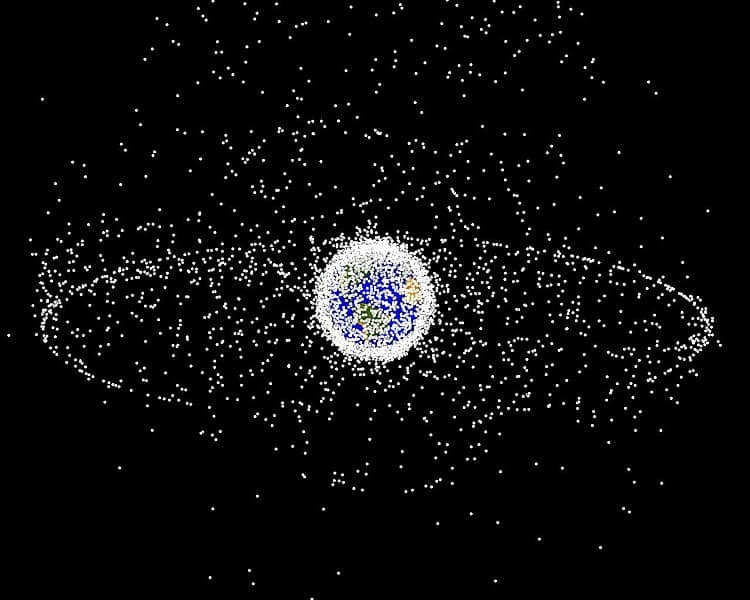 A three-student team from Embry-Riddle Aeronautical University has been selected to participate in a national undergraduate research showcase known as Posters on the Hill, in April. The team, which will present on the topic of space debris mitigation, was selected from among hundreds of applicants.
"Typically, only one or two students are selected per state to participate in Posters on the Hill, so we can't overstate what an accomplishment it is," said event organizers the Council on Undergraduate Research (CUR), in a letter.
The accumulation of space debris is rapidly increasing, especially in low Earth orbit (LEO). The students chose to investigate the problem from a business perspective — examining and proposing solutions that would motivate companies to reduce the space debris that they create. All three students — Sophia Gustely, Adriana Ordoñez and Ryan Kirby — are earning degrees from the David B. O'Maley College of Business at Embry-Riddle's Daytona Beach Campus.
"Our group looked at current and relevant topics within the aerospace industry and felt that space debris was the most important due to the current state of debris in LEO and the looming consequences of inaction," said Gustely, a senior majoring in Business Administration with a minor in Psychology who is the project's team lead.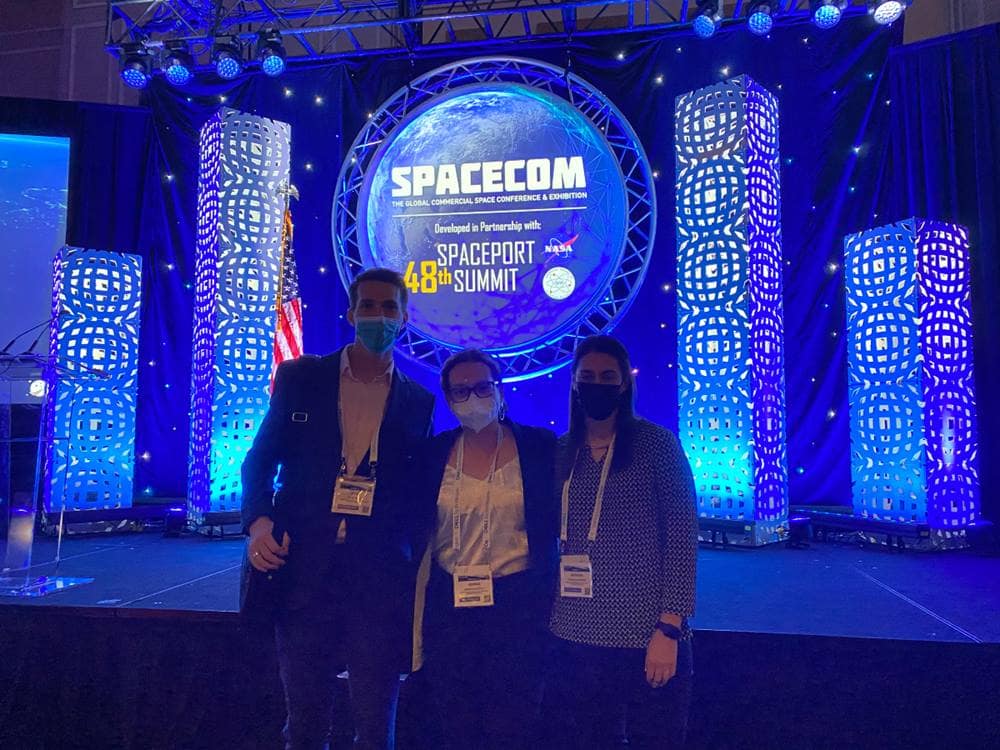 The research team selected for Posters on the Hill — including Ryan Kirby, Sophia Gustely and Adriana Ordoñez — attended SpaceCom in January (Photo: Courtesy of Janet Tinoco)
Dr. Janet Tinoco, professor in the Management, Marketing and Operations Department and faculty mentor on the project, agreed that the space debris problem is urgent.
"Launch frequency of satellites to LEO is increasing, yet removal of defunct satellites and related debris is not required. Launches to the International Space Station and beyond are also growing in number, leaving uncontrolled rocket bodies floating in traversable space," said Tinoco. "The benefits of these launches are not disputed, but the need to reduce debris and increase space safety is vital to the growing global space economy to benefit all."
Posters on the Hill will be held virtually on April 26-27. In total, 60 students will participate. The event will also include opportunities for students to speak with members of Congress. This year's selection of Embry-Riddle participants is the university's third such honor in five years, according to Dr. Wes Lewis, director of the Undergraduate Office of Research.
According to the project abstract, the U.S. Department of Defense is tracking more than 20,000 artificial satellites, of which 90% are nonoperational. The students' research included survey data-collection and led them to investigate two solutions: No. 1, a plan similar to the carbon tax, in which companies will be taxed according to the volume of debris they have left in space until it is removed; and No. 2, an insurance system through which companies will pay for collision coverage according to a rating representing how conducive the companies' practices are to space sustainability.
"While United Nations (UN) guidelines on space debris are in place, there is growing concern due to the minimal regulation at the national level, a lack of an international agreement and no business case to compel companies to comply to UN guidelines," said Tinoco. "This project is unique in that it highlights the business side of a highly global, political and technical problem. This is a tremendous accomplishment by the student team and is great visibility for Embry-Riddle and the O'Maley College of Business."
For Gustely, the project has been an extremely positive learning experience.
"This is my first time conducting research outside the classroom, and I have learned so much," she said. "First, simply expanding my knowledge on space debris itself and the commercialized boom of the aerospace industry. Also, learning the legal aspects of conducting research, the process of getting funded and the process for going to conferences to expand our research. It has been such a fun and rewarding experience, especially working with people like Adriana, Ryan and Dr. Tinoco."