Eagle Team Wins First Place in DOE's Solar Energy Competition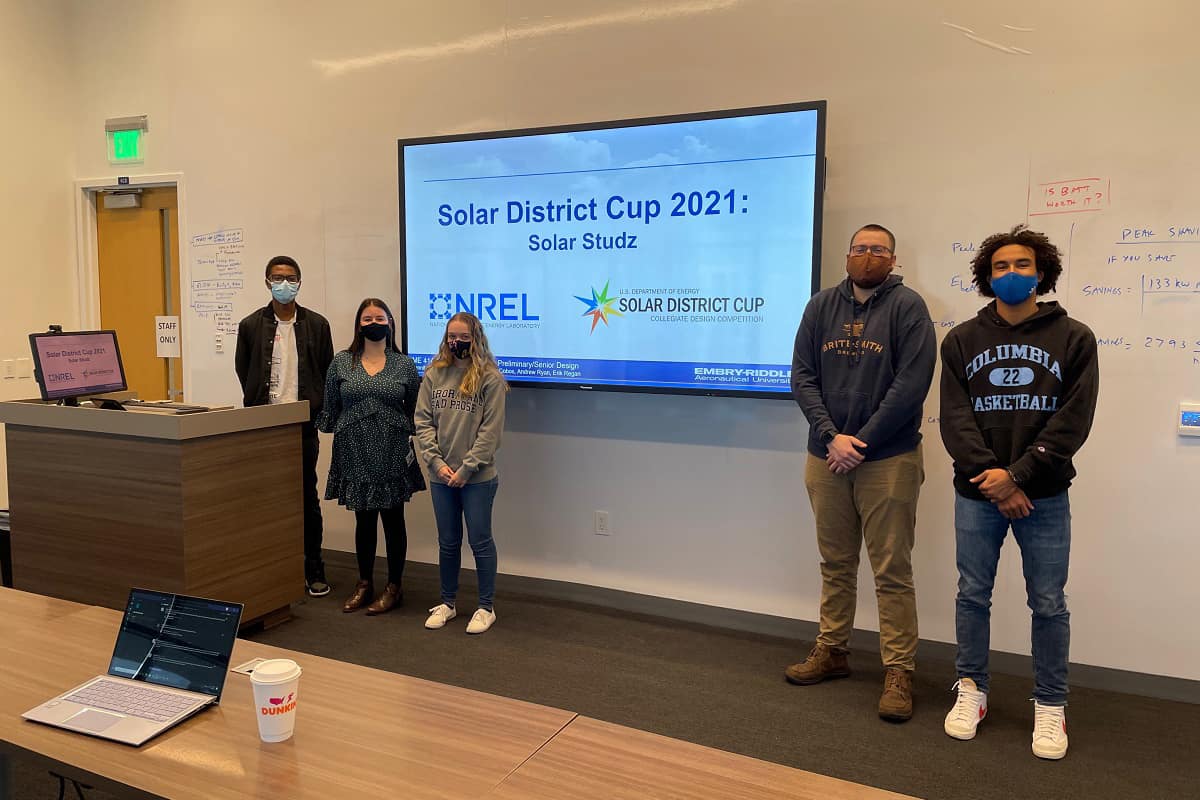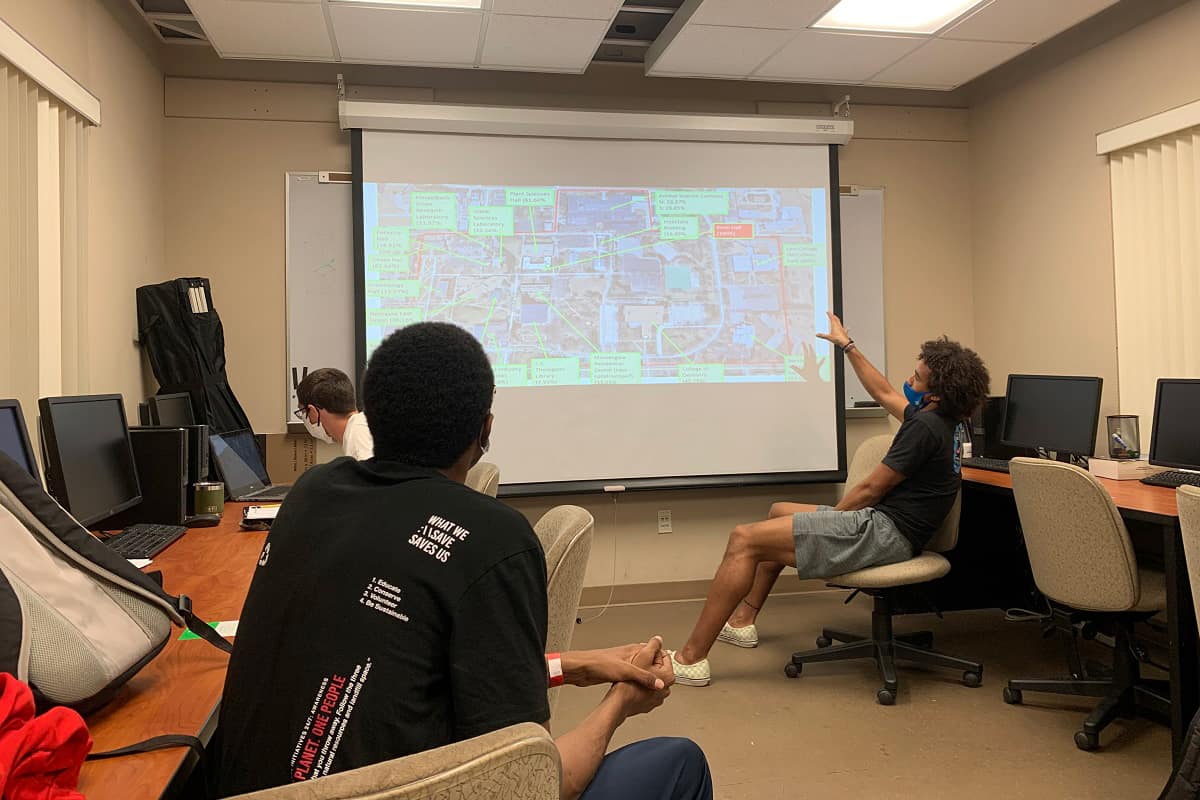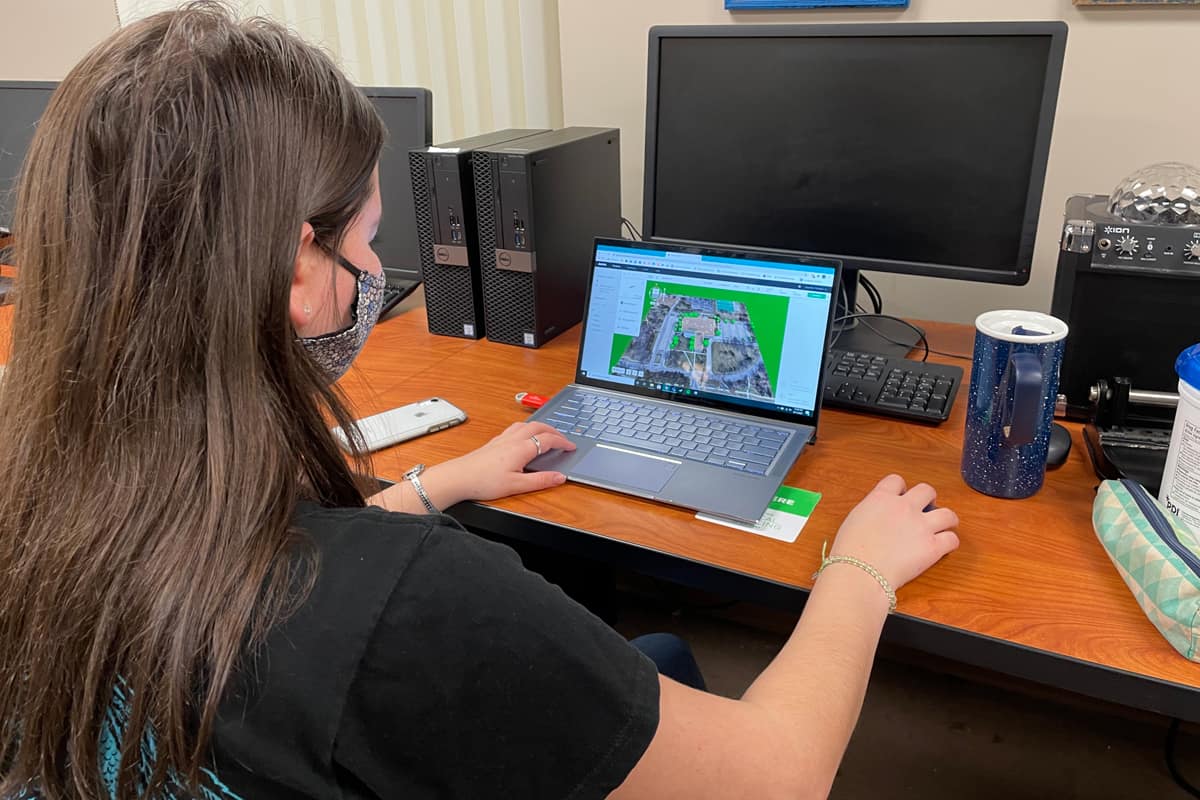 Update, April 27, 2021: Since publishing this story, The Solar Studz team from Embry-Riddle has been notified by the U.S. Department of Energy that it has won first place in the Solar District Cup.
While competing in a U.S. Department of Energy-sponsored solar energy design challenge, the team representing Embry-Riddle Aeronautical University was up against it. Their mission: to develop a plan to bring renewable solar energy to the University of Nebraska-Lincoln while saving the university money.
Unfortunately, not only is sunlight relatively scarce in heavy-wintered Lincoln, Nebraska, but the region's cost of energy from other sources is low. To further complicate the challenge, the team was not allowed to incorporate an energy-storage battery into their design for the competition's semifinals.
"Our team had to get creative," said Jennifer Perskin, a senior in Mechanical Engineering, who added that they first focused on lowering the daytime peak energy demand when energy costs were highest.
At the same time, the team did its best to "take student life into account," said Perskin. The plan the students came up with incorporates solar carports with integrated electrical vehicle charging stations and "solar art," which are sculptures incorporating solar panels, to be designed by University of Nebraska fine arts students.
"One of the design challenges is to make our proposed system visually represent the university's commitment to sustainability and renewables," Perskin said, adding that the University of Nebraska campus features a prominent walkway leading to the school's football stadium, where the solar art would work beautifully. "It's a great way to get the community involved, showcase student work and highlight the university's commitment to renewable energy."
We are all experiencing increased storm intensity, increased drought intensity (in the western United States) and increased precipitation as the slow, almost imperceptible effects of climate change show up. … This competition gives our students the training and design experience they need to launch into careers in the new clean, green economy.
The Solar District Cup was begun in 2019 by the U.S. Department of Energy's National Renewable Energy Laboratory. Challenging students to design and model optimized energy systems by integrating such technologies as solar energy and storage for a campus or urban district, the competition aims to inspire students to consider new career opportunities, develop skills relevant to industry, engage with the professional marketplace and become leaders in solar energy. It also encourages collaboration between academia and external partners.
According to Perskin, the planning and calculations she and her seven teammates from Embry-Riddle's College of Engineering and David B. O'Maley College of Business performed were more sophisticated than any experience she had previously.
"We were given the opportunity to work with software and programs that industry professionals would use," Perskin said. "Additionally, since the proposal must include a development and construction plan, our team had to go through Lincoln's zoning ordinances and jurisdiction documents, as well as other federal, state and local building codes."
At the end of April, Perskin and her teammates will enter the last round of the competition.
In the meantime, they have will have gained valuable hands-on, real-world experience in a growing technology.
"The project is much more than an engineering design challenge," said Elijah Jenkins, who is also a senior in Mechanical Engineering. "While working on this project, our team has had to branch out and take on tasks without much prior experience. This makes the project more challenging, but can also better prepare us for industry when we do graduate and become actual engineers."
As pointed out by Dr. Marc Compere, associate professor of Mechanical Engineering, the experience students gain in the contest is timely and essential.
"We are all experiencing increased storm intensity, increased drought intensity (in the western United States) and increased precipitation as the slow, almost imperceptible effects of climate change show up," Compere said. "Moving our society to a carbon-neutral, clean, green economy is extremely important for the United States and also the entire planet. This competition gives our students the training and design experience they need to launch into careers in the new clean, green economy."
Posted In: Engineering