Eagle Researchers Advance Drone Technology for Tracking Wildfires
Embry-Riddle Aeronautical University student Patrick Hunter has his career sights set on remote piloting drones to utilize uncrewed aircraft systems in exciting, new ways. Already, as a student in the Master of Science in Unmanned Systems program, he has been involved in a project using drones to track endangered turtles. Most recently, he worked on flying drones during a controlled fire, or prescribed burn, to experiment with improving tracking and predicting the movement of wildfires, and then integrating that information into the overall emergency fire response.
"The research is important because it will leverage the use of unmanned systems to collect atmospheric data at low altitudes around fires. With this data, we hope to better predict environmental conditions that affect the behavior of the fire," Hunter said. "This would help firefighters by reducing their risk on the ground and help to keep them from working in an area that could rapidly be engulfed in the fire."
The firefighting project, which involves Dr. Kevin Adkins, associate professor in the Aeronautical Science Department, and Dr. Marc Compere, associate professor in the Mechanical Engineering Department, was funded by NASA Small Business Innovation Research and is being led by Improving Aviation, a business founded by Embry-Riddle alumna Rocio Frej Vitalle ('12).
According to Adkins, Improving Aviation has proposed developing a system to provide situational awareness — for crewed and uncrewed aircraft, ground vehicles and emergency workers on the ground — as well as a weather transmission standard to communicate information crucial to modeling the spread of wildfires in real-time.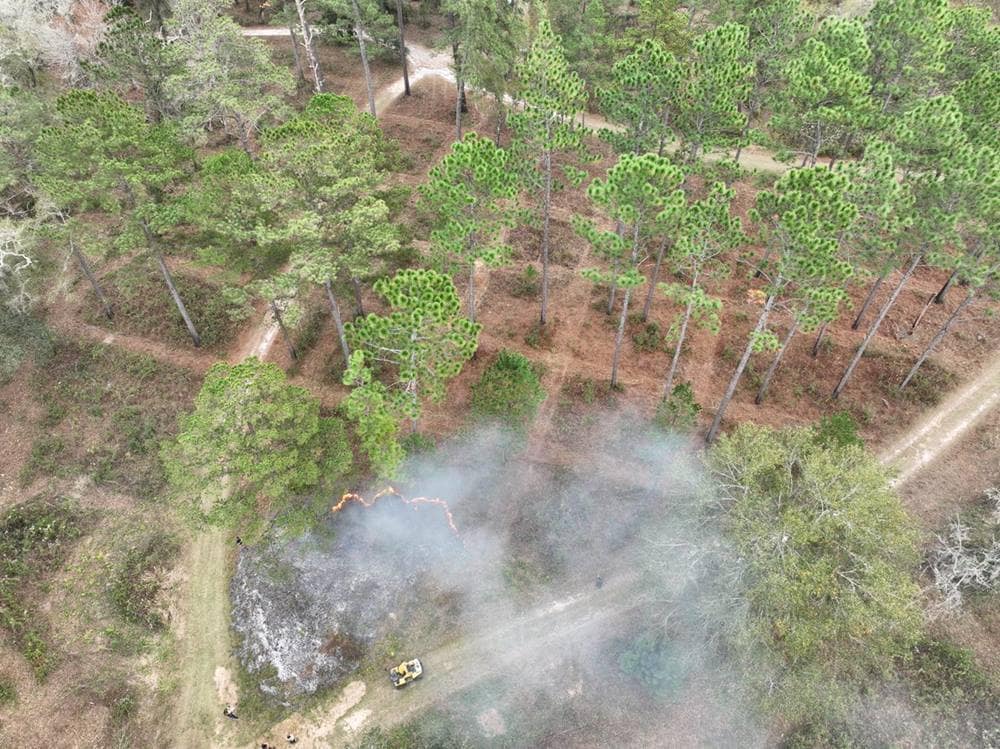 This aerial shot shows the triangle of the controlled burn, where drone weather sensors and communication technologies were tested.
A platform developed at Embry-Riddle called the Mobility Virtual Environment, or MoVE, is a software system designed to monitor pedestrians, air vehicles and ground vehicles in dynamic scenarios such as wildfires. The prescribed burn that Hunter participated in was a demonstration of the technology, which is designed to enhance collaboration in firefighting efforts.
"This interdisciplinary project, which allows pilots and engineers to work together while helping fight wildfires, has benefits to the pilots, the engineers and the emergency response community," said Compere.
Adrian Imai Bates-Domingo, who is earning his master's degree in Unmanned Systems with a specialization in Uncrewed Aerial Systems (UAS) Program Development, said that the drones used during the demonstration — a Sentaero and two DJI Matrice 100s — performed well, and the sensors and communication technology they were equipped with also had successful runs. He said the experience of participating in the project was hugely valuable to him.
"Getting the opportunity to work with engineers in-field during a drone operation was awesome. I got to learn about more aspects of research applications," Bates-Domingo said, adding that his career goal is to be a UAS consultant to organizations applying drones in such areas as nature conservation and public safety.
Jeremy Copenhaver, who is also earning a master's degree in UAS, said he is eager to bring his experience to "similar projects to help develop UAS solutions for real-world problems."
---
Drones for Good
In keeping with Embry-Riddle's Social & Environmental commitment, the university is leveraging drones in a number of similar projects, including to help law enforcement find missing older people with dementia, to help in military scenarios, to combat crime, for sea turtle conservation and to combat wildlife poaching.
Further, university researchers are studying how to keep the National Airspace safe through projects such as the FAA-sponsored Small Unmanned Aircraft System Traffic Analysis, which is led by Dr. Ryan Wallace, associate professor and program coordinator for B.S. in Unmanned Aircraft Systems Science; Dr. Brent Terwilliger, associate professor in the College of Aviation; Dr. Scott Winter, associate professor, associate dean and program coordinator for M.S. in Unmanned Systems; Dr. Stephen Rice, professor of Human Factors and Neurobiology; Dr. Kristy Kiernan, associate professor in the College of Aviation; Dr. Scott Burgess, associate professor in the College of Aviation; Dr. Carolina Anderson, associate professor in the College of Aviation; and others. That group just published its annual report, which is available to view online.
Posted In: Aviation | Engineering | Uncrewed Systems