Eagle Researcher Develops Procedures to Make Aborted Landings Safer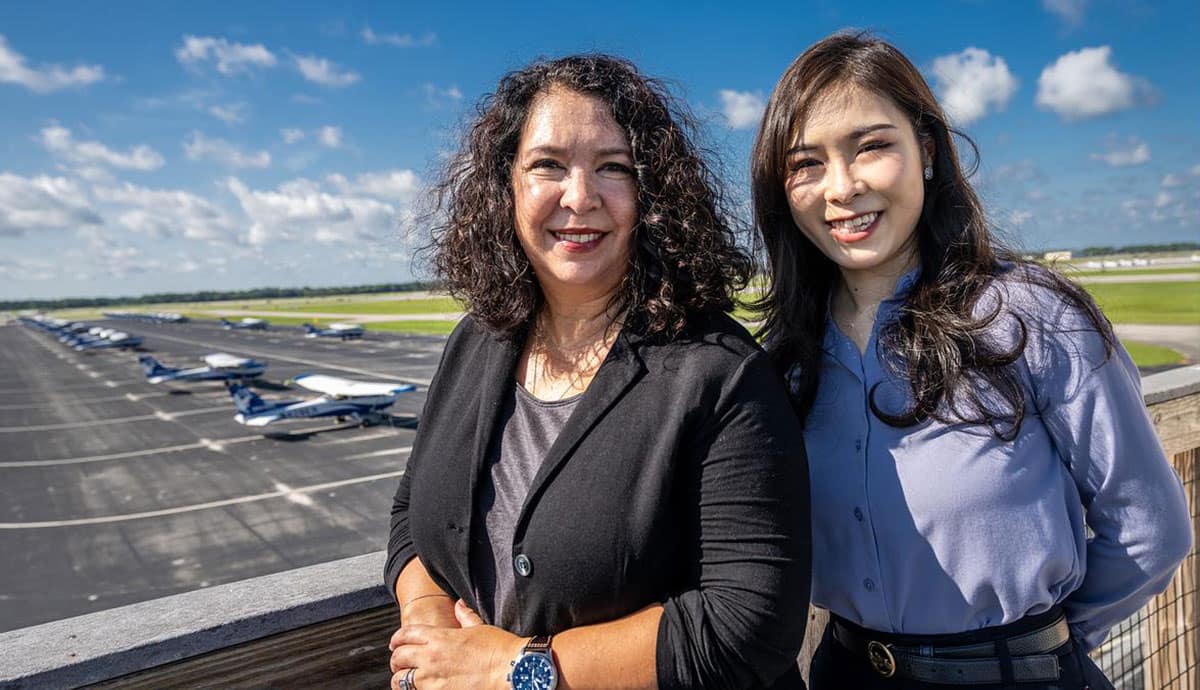 When a pilot discontinues a landing mid-descent — climbing away from the ground to conduct another approach or divert to another airport — the maneuver is called a "go-around." Although common, the tactic comes with a high potential for the unexpected, which can reduce a pilot's situational awareness and even lead to a loss of control in-flight (LOC-I).
According to an Advancing Safety Through Science report presented by the Federal Aviation Administration (FAA) earlier this year, one out of every 10 reports about go-arounds cite a potentially hazardous outcome, including exceeding aircraft performance limits or fuel endurance. Additionally, one of every six go-arounds is mishandled.
The procedure forces you to look at power and pitch, and say it, do it — not just recite it," one pilot reported about the new go-around procedures developed by Dr. Barbara Holder. Another added that Holder's method "provides a consolidated, clear picture.
With loss of control in-flight designated as the FAA's top safety concern, go-arounds are of particular interest throughout the industry. To discuss possible solutions, a recent workshop was hosted by Embry-Riddle Aeronautical University's Dr. Barbara Holder, who is leading groundbreaking research, funded by the FAA, on the design of flight deck procedures. The workshop was attended by senior leaders in training and flight standards from six major U.S. airlines and one regional airline, as well as senior leaders from Airbus, Boeing, the FAA and NASA.
"We continue to see risk factors for LOC-I during the go-around in the operational data," said Holder, Presidential Fellow and associate professor in the College of Aviation, School of Graduate Studies. "Precursors to loss of control in-flight, such as aerodynamic stall, low airspeed, low altitude and so on continue to be present in go-around execution across operators and aircraft fleets."
The goal of Holder's workshop was to engage industry leaders, discuss the new procedures and identify potential pathways to implementation. Participants also shared perspectives regarding go-around standardization and training, and expressed priorities for future research.
"Our final report will summarize our findings and recommendations, and be delivered to the FAA later this year," Holder said, noting that the FAA then plans to publish those findings next year.
Go-Arounds Get Real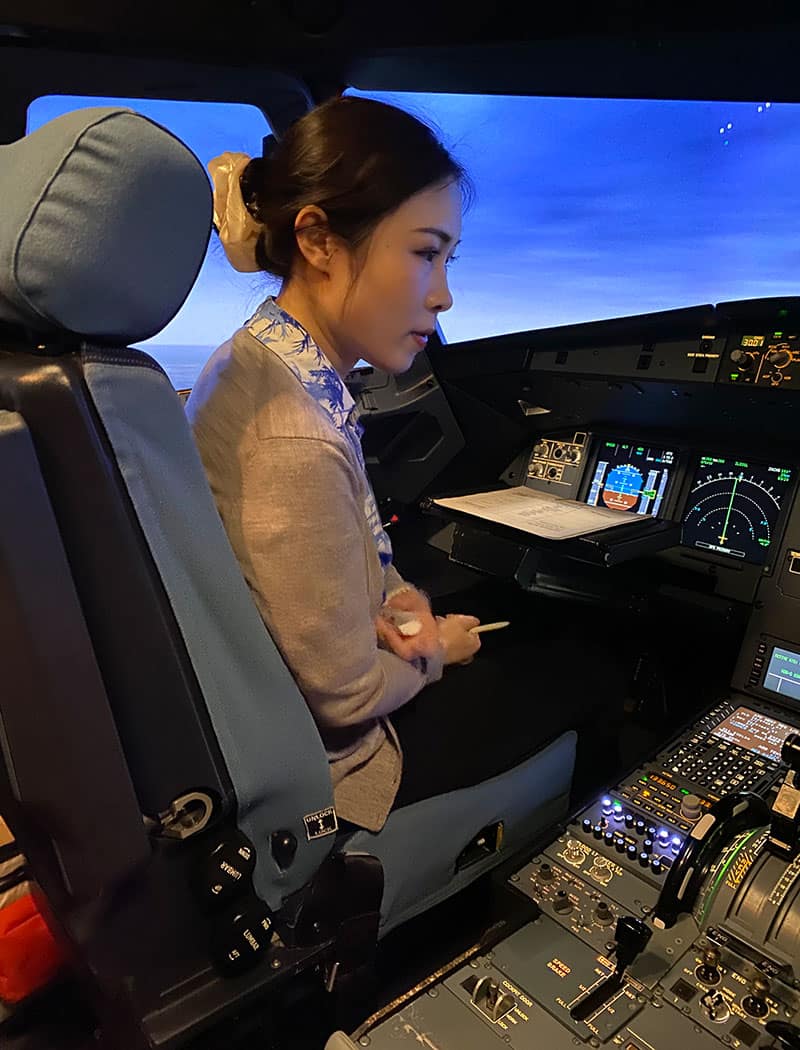 Aviation Ph.D. student Hui (Angel) Wang supported Dr. Holder during evaluations of new go-around procedures recently presented at two airline training centers. (Photo: Hui Wang)
At the workshop, Holder presented her research, pointing out that go-arounds in training are generally less complicated and more predictable than real-world go-arounds, which tend to be unexpected and come with many more complicating factors (i.e., numerous heading/altitude changes directed by air traffic control, noise distractions, a fatigued crew and operational pressures related to fuel, scheduling, traffic and more). In order to improve go-around safety, Holder said, the gap between flight conditions in training and the real world must be closed.
To address the risk of LOC-I, Holder's redesigned procedures incorporate joint responsibility for crew callouts, among other actions, to reduce single-point disruptions, direct attention to the flight path, balance workload among the flight crew and facilitate recall of the procedure. The new procedures were evaluated at three major U.S. airlines — by 10 737 crews and seven A320 crews who conducted 18 go-arounds per session and then provided feedback on their experiences.
"The procedure forces you to look at power and pitch, and say it, do it — not just recite it," one pilot reported about the new go-around procedures.
Another added that Holder's method "provides a consolidated, clear picture," while others offered that, although the "callouts are wordy, they seem right."
Feedback and results indicated that the procedures can be easily learned — crews were only briefed, with no formal training required, and acclimated to the steps after only three to four repetitions. Most important, the proposed actions showed a decreased risk of error during go-arounds by more appropriately allocating pilots' cognitive resources.
"The first phase of the research set out to understand the hazards associated with go-around maneuvers," Holder said. "We identified 10 mitigations and applied human factors science to develop new go-around procedures for the 737 and A320 aircraft to mitigate the highest risk, which is loss of control in-flight. We evaluated those procedures with three airline partners, and the results are very promising. Now, we are drafting our final report with recommendations to the FAA for their implementation and training."
Impacting the Next Generation
Holder is assisted in her research by second-year Aviation Ph.D. student Hui (Angel) Wang, who also earned her master's degree in Aeronautics from Embry-Riddle, as well as her bachelor's in Air Traffic Management.
"I first assisted in conducting a literature review," said Wang, a China native who moved to the U.S. in high school. "Then, I learned about the pilot side of human factors and safety issues by helping Dr. Holder collect data at the airlines' training centers. By working on this project, I learned about flight deck procedures and performance, which helped me understand the logic behind procedure design."
In addition to helping advance aviation safety, the project will also help Wang reach her goal of becoming a professor or researcher after graduation.
"Building knowledge and passing it on to others is fulfilling to me," she said. "With my participation in the project, I am grateful to learn new things and be able to expand the body of knowledge of human factors in aviation. The achievements now will be the foundation to reach my goals in the near future."
Dr. Holder studies human cognition in real-world, safety-critical systems to develop safer and more efficient methods to apply to aviation. She has been working on this FAA-funded research for three years now. The project began when she was a Technical Fellow at Honeywell, one year before she joined Embry-Riddle, in late 2021. It will continue until December 2023.
"Dr. Holder's work is truly revolutionary and will have a significant impact on managing the risks associated with conducting go-arounds as well as reducing or eliminating loss of control accidents associated with go-arounds," said Dr. Alan Stolzer, dean of Embry-Riddle's College of Aviation. "I'm proud of the research she's doing and that this meaningful work is being done right here at Embry-Riddle."