Eagle Pivots From Career as Longtime Airline Captain to Drone Pilot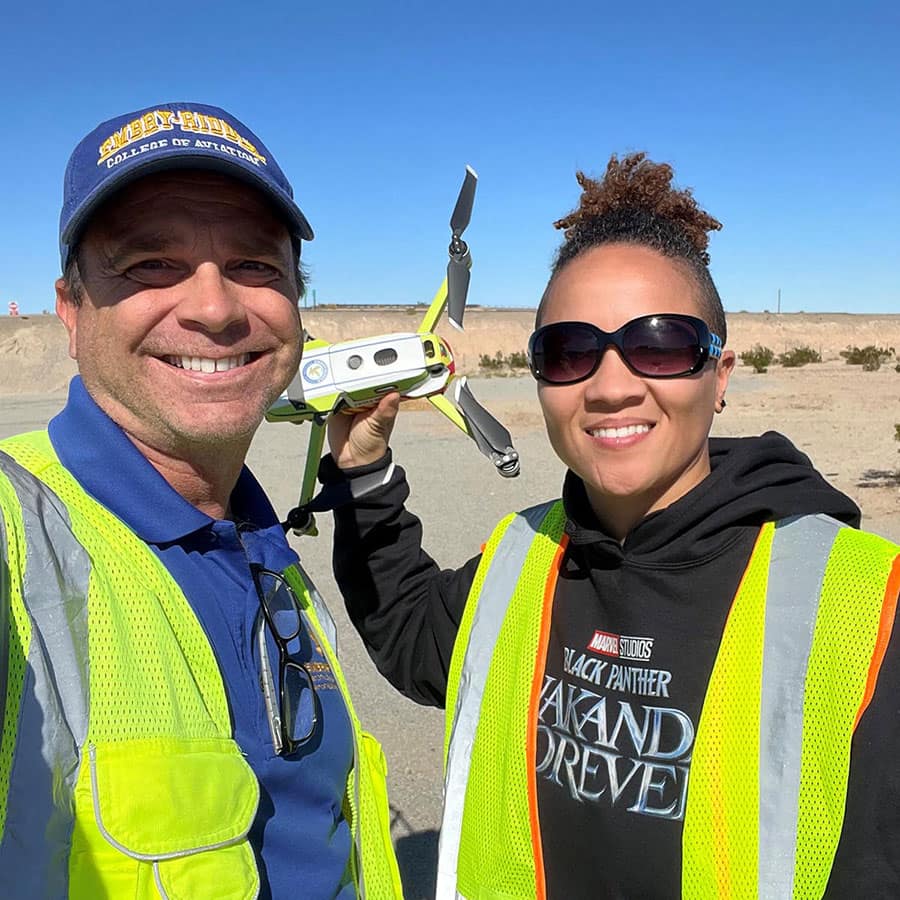 One of the first female African American captains to fly for American Airlines, Mika Tang spent nearly 20 years as a cargo and passenger airline pilot.
When her flying career was disrupted, however — first by the coronavirus pandemic, and then later by a medical situation that required her to take a leave of absence — Tang decided to take her love for flight in a new direction.
"In the beginning, I was devastated, but I fell in love with flying drones," said Tang, who recently earned her certificate in Uncrewed Aircraft Systems from Embry-Riddle Aeronautical University's Worldwide Campus. "Embry-Riddle's program really gets creative on how to teach these principles through an online environment, and it's flexible."
Tang completed the certificate in May, and the 12 graduate-level credits she earned through the program can be applied toward a Master of Science in Uncrewed Systems degree.
She also capped off the program by successfully passing the Association of Uncrewed Vehicle Systems International's Trusted Operator Level-3 check-ride, assisted by instructors from Embry-Riddle's Worldwide Department of Flight. The AUVSI Trusted Operator is an industry certification for professional uncrewed aerial vehicle (UAV) pilots, and Embry-Riddle was the first academic institution to receive certification as a Trusted Operator Training organization from the AUVSI.
"I loved the UAS Department faculty," Tang added. "They are just very supportive [and] experienced, and they build up your confidence."
Tang completed her UAS flight test in Yuma, Arizona, with Dr. Joseph Cerreta, an associate professor at the Worldwide Campus College of Aviation. She completed another two-day UAS flight at Embry-Riddle's Daytona Beach, Florida, campus.
"Mika has accomplished so much, and Embry-Riddle College of Aviation Worldwide is honored to have such a dedicated student in one of our degree programs," said Dr. Nicole Bier, assistant professor of the practice in Worldwide's Department of Undergraduate Studies.
A Chicago resident, Tang is also a business owner: Her companies are Urban Pride Investments LLC and All Flight LLC, which focus on real estate investing and leasing, specifically renovating distressed properties. With her new skills in uncrewed systems, however, she's incorporating drones into the companies' operations moving forward, using them to inspect properties with thermography, photogrammetry and photography.
Also, Tang volunteers with several nonprofit organizations, including Bessie Coleman Aviation All-Stars, the Organization of Black Aerospace Professionals and Sisters of the Skies. Through these groups, she intends to share her knowledge, and teach both adults and teens about UAS and how to safely operate them.
"You're never too old to learn," said Tang. "I just feel so blessed with all the opportunities I've had in life."
Posted In: Aviation | Uncrewed Systems