Eagle Earns Tillman Scholarship, Builds on Embry-Riddle Research to Improve Human Performance in Space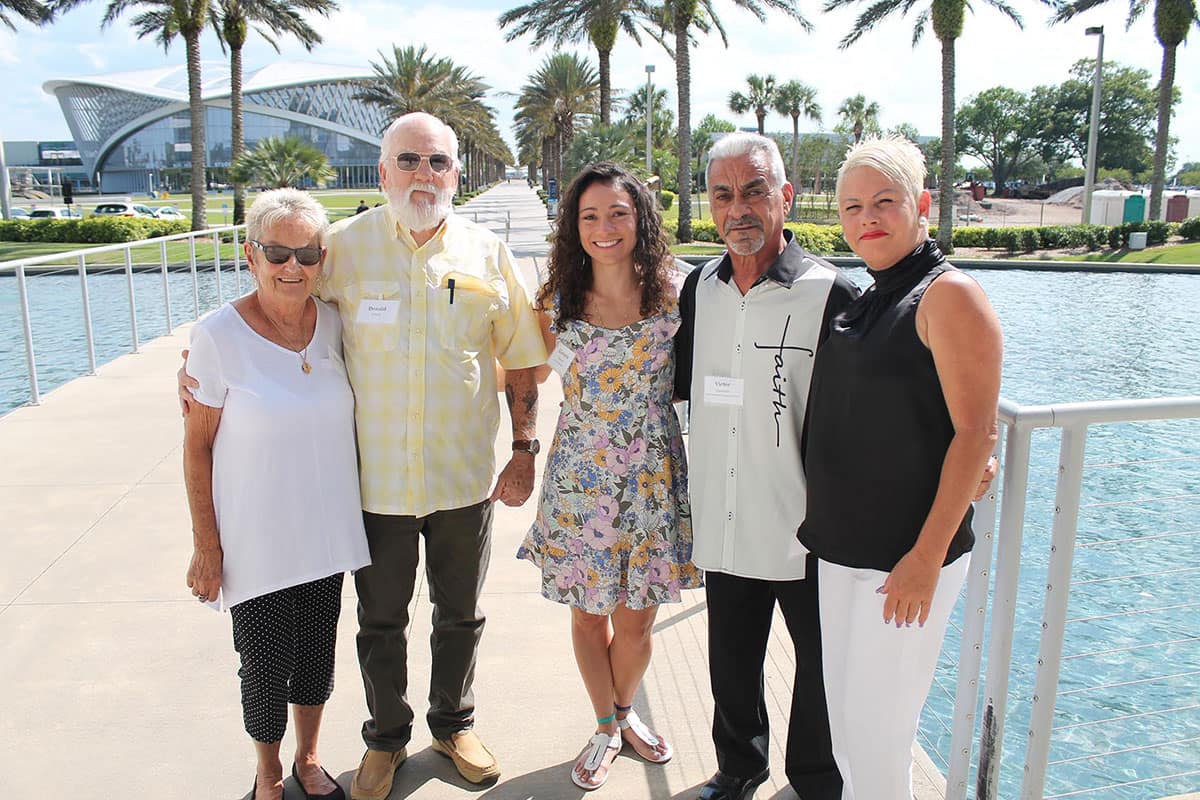 Embry-Riddle Aeronautical University alumna Giovanna Camacho is a lot of things: a boxer, a scuba Divemaster and a U.S. Army medic, to name a few. This summer, however, she added yet another title to her resume — that of Tillman Scholar.
Camacho, who graduated with her master's degree in Human Factors and Behavioral Neurobiology in 2022, was one of only 60 total scholars this year chosen by the Pat Tillman Foundation, which was created in honor of the former NFL player killed while serving as an Army Ranger in Afghanistan. The award comes with academic funding, networking opportunities and entry into a global community of military service members, veterans and scholars.
"You have the opportunity to meet other Tillman Scholars doing amazing things and can lean on each other," said Camacho, who is now pursuing her Ph.D. in systems engineering at the University of Virginia. "You kind of have a new tribe."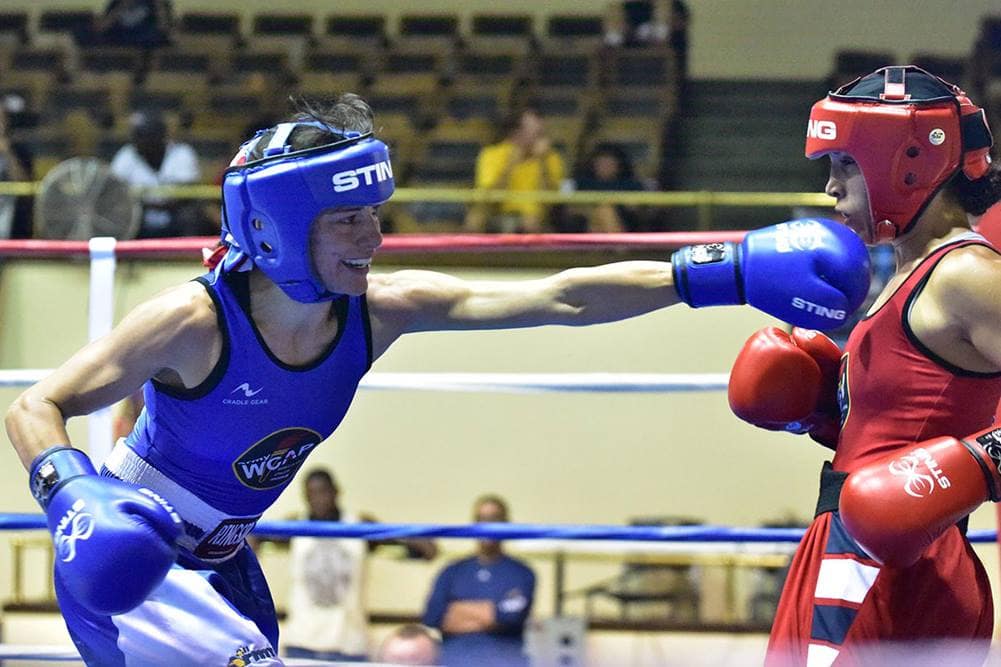 Eagle alumna Giovanna Camacho boxed at the 2016 Olympic Trials. (Photo: Giovanna Camacho)
Finding the Right Path
Returning to graduate school in 2020 was an adjustment for Camacho, who had previously served nearly 11 years in the U.S. Army. Soon, however, she began to feel like she "fit."
"Embry-Riddle helped give me that extra nudge to believe in myself," said Camacho. "It gave me a safe space to figure out who I was and to move forward."
Camacho said she found out about the Tillman Scholar program through the university's Office of Prestigious Awards and Fellowships, and she credits the office's director Brittany Davis and former associate director Deanna Dempsey with helping her through the application process.
"I remember having a late-night Tillman dinner for applicants and talking as a group about the process," she said. "They really cared."
As a student, Camacho also worked at the Daytona Beach Campus' Veteran Student Services.
"That experience was very healing to help other service members on their journeys," she said.
A Wealth of Experience
As a veteran/graduate student at Embry-Riddle, Camacho, who is from Riverside, California, brought a wealth of experience. She graduated from the United States Military Academy at West Point in 2013 and served as a medical officer in the Army with stints in Korea, Poland and Russia.
At West Point, she established the West Point Women's Boxing Team, but she notes that it wasn't always easy to reserve gym time or be taken seriously by a mostly male student body. Boxing helped her channel her emotions, though, she said, so she kept at it, until she eventually ended up competing at the 2016 Olympic Trials.
Camacho also started scuba diving at West Point. She became a Divemaster and even did conservation diving in Barbados, and then continued with Force Blue in Florida to help repair coral reefs.
"Diving is so peaceful; you get to experience a whole new world," said Camacho, who left the Army in 2019 with the rank of captain. "I have a lot of injuries, but I don't feel pain underwater."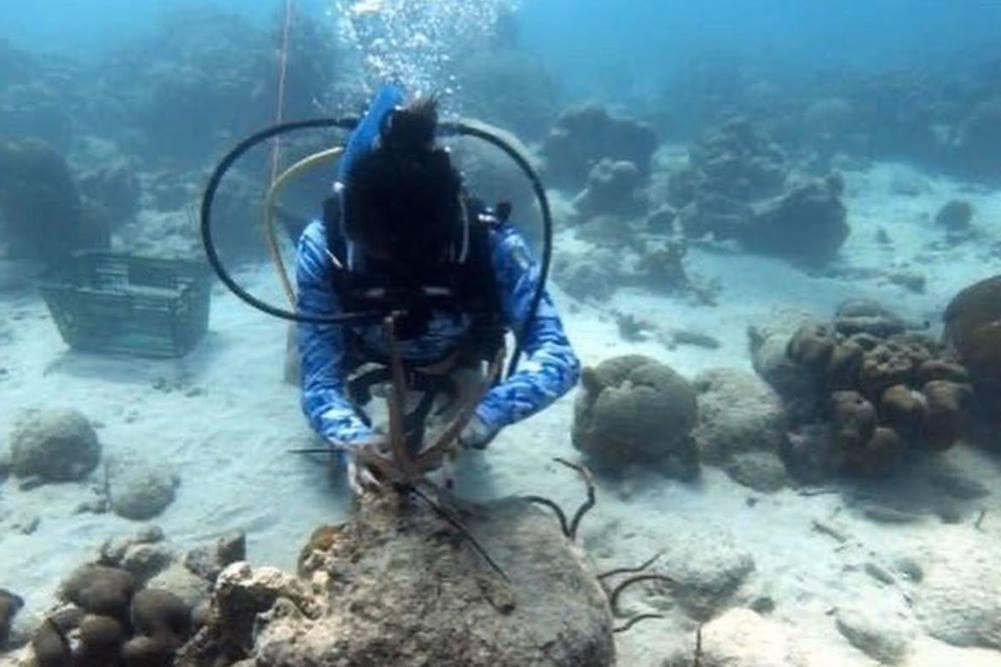 Eagle alumna Giovanna Camacho is a Divemaster and conducted a conservation dive in Barbados to help repair coral reefs. (Photo: Min Moschopoulou)
Advancing Her Research
Working as a Jefferson Fellow at the University of Virginia, Camacho is currently studying systems engineering, with a focus on human factors, cyber-physical systems and robotics. She hopes to combine her engineering and human factors knowledge with her experiences as a medical officer and diver to research ways to enhance human capabilities and prevent injuries.
Specifically, she is developing a vibrotactile navigation system to improve diver navigation, orientation and situational awareness. The tool could be adapted for a multitude of operations, including spacewalks.
"NASA does a lot of space research underwater, so it made sense to apply this prototype to the space realm, as well," said Camacho, who was awarded a 2023 Laurel Clark Sea to Space Physiology Research Grant through the Women Divers Hall of Fame.
She said her experiences at Embry-Riddle helped lead to her current research interests. Through Dr. John French, a professor in the Department of Human Factors and Behavioral Neurobiology, Camacho met Dr. Angus Rupert, a senior research development scientist at Embry-Riddle who specializes in aviation research, including spatial disorientation research with his Tactile Situational Awareness System (TSAS). His research inspired her to apply similar vibrotactile methods to alternative environments.
She also credits past internships for broadening her research focus: She interned at the U.S. Army DEVCOM Army Research Laboratory, the U.S. Naval Air Warfare Center Training Systems Division, KBR, Inc., and Pratt Miller.
"Without those connections, I would not have had the experiences to prepare me for my dissertation that I am working on now," Camacho said, adding that she is heading to Ireland soon to investigate whether or not her prototype can also be used to help those with disabilities.
"With this vibrotactile system, I am targeting astronauts, divers and individuals with disabilities," she said. "With these three focus areas, that leaves the door open for a lot of opportunities and potential."
Posted In: Applied Science | Human Factors | Space