Eagle Developers Gamify Healthcare, Military Strategy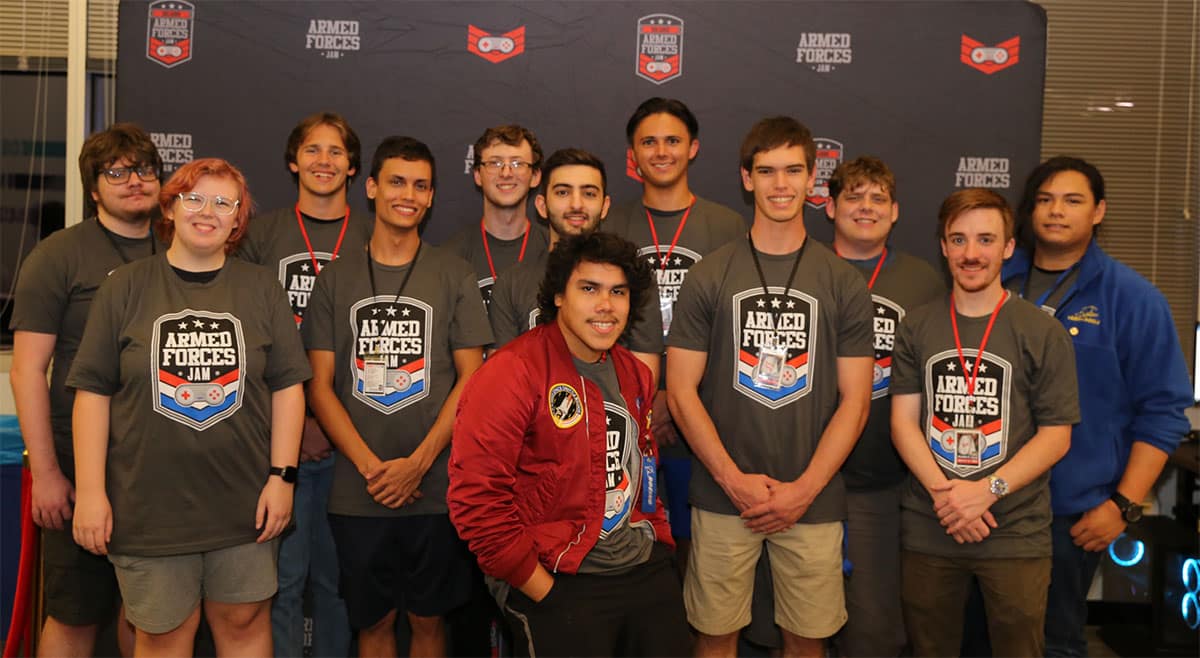 Students in Embry-Riddle Aeronautical University's Game Development Club took first place in the MeGa Health Jam, a weekend-long game development competition in Orlando, Florida, for a game they created that could help medical patients practice respiratory exercises.
Joseph DeMartini and Noa Baggs, along with musician Nick Rosaci, created Spiro, a game that uses an electrical instrument to track a person's breathing. Spiro includes separate mini-games for different breathing exercises that people commonly practice.
"We have two mini-games that demonstrate basic breathing patterns, but we may talk to respiratory therapists to see what types of breathing patterns they think are the most important and what patients are actually being sent home to do," said DeMartini, the club's president. "We could replicate those exercises in additional games and potentially release them for use on tablets and phones."
Spiro gamifies respiratory training by utilizing a digital instrument that can be plugged into a computer. It is designed to enhance its users' focus on routine breathing exercises by gamifying the process.
The user breathes into the microphone, which measures the airflow and is used to control the player's avatar in different mini-games. It could be used for anyone who needs to perform breathing exercises, including those suffering from respiratory illness or anxiety disorders, as well as athletes in training or scuba divers.
"There are a lot of people who may be tasked with respiratory training, including children who need to do breathing exercises," said DeMartini, an Engineering Physics student. "Our game could make it a little more fun and interesting and would help them do it correctly."
On a Winning Streak
This is one of two recent wins for the Embry-Riddle Game Development Club, which also won second place at the Armed Forces Jam 2022, an annual military game and simulation development competition held in Orlando, Florida, for their game Cannon Fodder.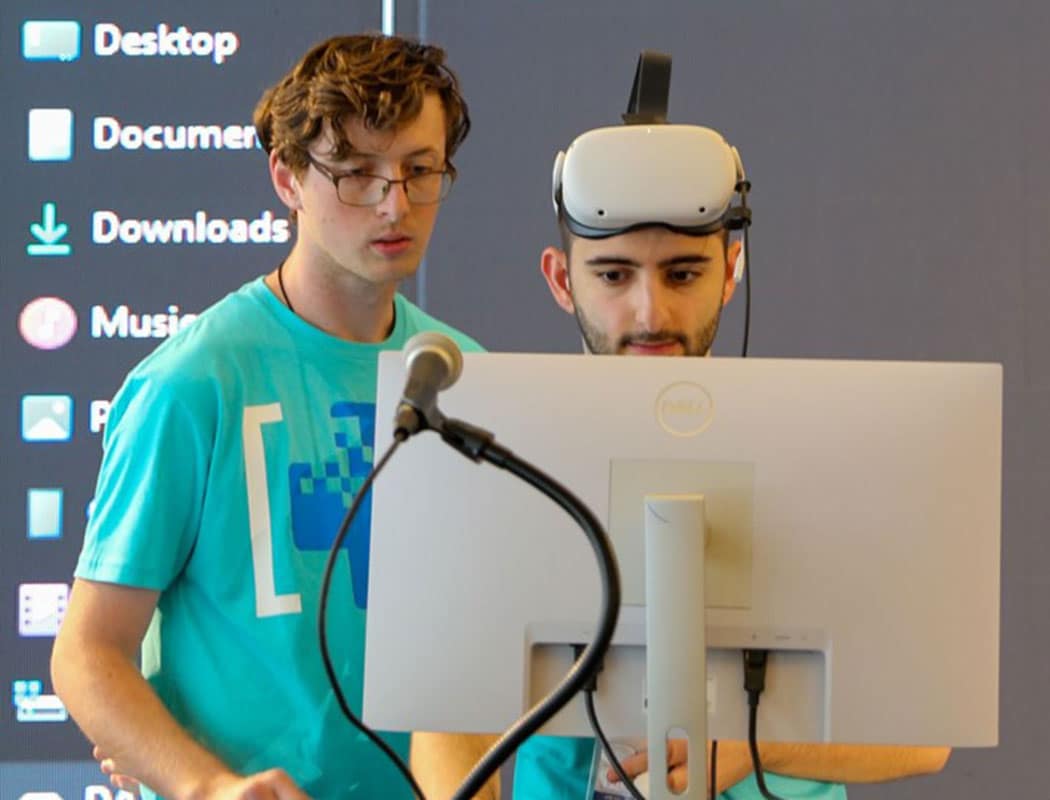 Embry-Riddle students Noa Baggs and Joseph DeMartini get ready to present at MeGa Health Jam, a weekend-long game development competition in Orlando, Florida. Their team won first place for a game they developed aimed at helping medical patients with respiratory training. (Photo: Joseph DeMartini)
"We had 12 people from the club attend the jam, and a lot of them had no game development experience, said DeMartini. "By the end of the event, everyone had contributed to our game and learned a lot about game development."
The game is an action-strategy military simulator, with a pair of two-person teams competing against each other. One player operates an artillery cannon in VR, while the other player scouts the battlefield with a drone. The goal is to move an army of tanks to the enemy's trenches while simultaneously destroying oncoming enemy tanks.
"Joseph and Noa are very skilled and are always looking for different projects," said Dr. Shawn Doherty, the club's faculty advisor and an associate professor in the Human Factors and Behavioral Neurobiology Department. "We are lucky we have them in the club, and they are willing to teach other students what they know."
"Joining the club has been the best decision I have made coming to school because it has given me so much opportunity," said DeMartini, who works as a developer in the university's Extended Reality (XR) Lab and ultimately would like to work in XR development for NASA. "Getting a job at the XR Lab, I kind of fell in love with simulation and game development in general because we build VR simulations for pilots. Through doing that, I gained a lot more professional experience."
While DeMartini focuses on programming, Baggs' expertise is the visual side of game development.
"Art is as critical to game development as it is to filmmaking, as it is primarily a visual experience. Everything you see must be created by a person," said Baggs, who works as an artist for the XR Lab and is the club's art director.
Game art involves a lot more than just beautiful visuals, he said. It also includes creating an effective user interface (UI), which is essential for understanding what's going on in the game. Other important aspects include visual feedback, which makes the game more satisfying, and environmental art, which enhances storytelling and immersion.
This year, DeMartini said the club is looking forward to focusing more on project-based learning and competitions.
"I want to facilitate collaboration through all the different aspects of game development," he said. "And these jams we go to specialize in building things for real-world application."
Embry-Riddle offers a Simulation Science, Gaming & Animation degree at its Prescott, Arizona, campus.
Posted In: Computers and Technology