Eagle Alumni Magazine Goes Green, Shifts Focus to Scholarships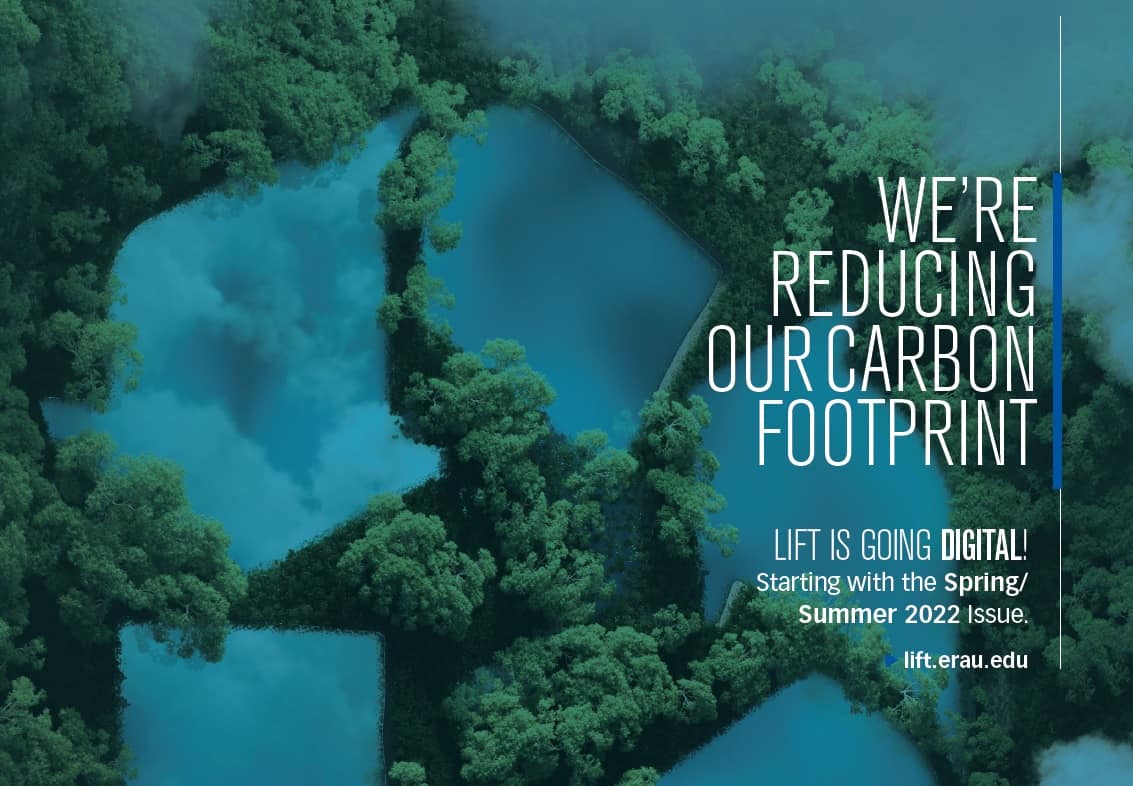 Featuring alumni who are battling wildfires and launching space tourism companies, Embry-Riddle Aeronautical University's latest edition of Lift magazine also marks a seismic shift toward a more environmentally friendly, "digital first" publication strategy.
As explained in Lift, beginning in June 2022, the publication will become a "digital-first" resource, available to all Eagles, everywhere, at lift.erau.edu.
"In a recent survey conducted at Embry-Riddle, 92% of survey respondents said it's important for the university to demonstrate its commitment to social and environmental responsibility," Editor Anthony Brown explained. "In response, Lift is embarking on a new path that aligns with the university's commitment to environmental sustainability, fiscal responsibility and our Eagle values, which call on us to be of service to one another."
On-Demand Print Copies Support Students
Those who still wish to receive two print copies of Lift per year can help provide much-needed resources for Embry-Riddle students through the One University Scholarship.
For a suggested annual voluntary contribution of $100 or more, or a minimum contribution of $25, Eagles can subscribe to Lift through a print-on-demand service, Brown announced. Proceeds from the tax-deductible subscription (minus a $5 premium for the cost of the magazine) will support scholarships.
To begin a subscription, readers can go to alumni.erau.edu/liftsubscription by April 30 to receive the Summer 2022 issue.
Highlights from the current edition of Lift include:
… and many other compelling articles. Please read more about Embry-Riddle's Commitment to Sustainability and send us your feedback at liftmag@erau.edu.