Eagle Alumni Donor Q&A: Rose and Trevor Mountcastle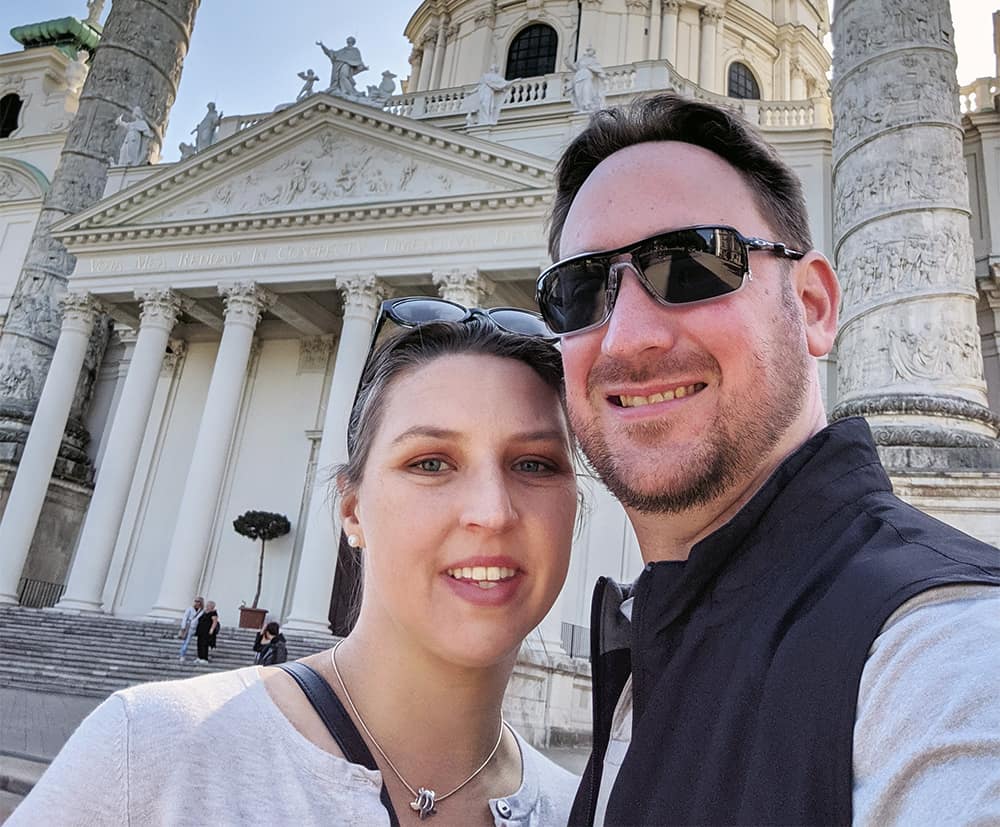 Trevor ('08) and Rose ('07) Mountcastle first met as undergraduates at The Catholic University of America, but Embry-Riddle was where they moved as graduate students and where they solidified their future life together.
"When Rose got into Embry-Riddle, I followed, because I knew she was the one," Trevor recalled. "Before we graduated, I proposed to Rose down at the Kennedy Space Center, at Launch Pad viewing A/B with the beach in the background, because I knew how important space was to Rose."
Rose, who earned her master's degree in space science, is now a thermal engineer at Lentech, Inc., supporting NASA's Earth-orbiting satellites. With a master's degree in business administration in aviation, Trevor is a program manager at the Department of Defense Information Systems Agency (DISA) Business Systems Program Management Office, managing contracts and finance for a $50 million annual portfolio.
The couple, who reside in Maryland, share a passion for world travel and fund most of their adventures using frequent flyer miles and credit card points. Trevor writes a blog that highlights tips for traveling on a budget at https://saverocity.com/taggingmiles/.
"We make it a point to see as much of the world as possible," Trevor said.
We asked Trevor and Rose about their Embry-Riddle experience and what motivates their financial support for their alma mater. Their responses follow.
Why do you give to Embry-Riddle?
We give to Embry-Riddle, because we believe in the mission. Space and aerospace is very close to both of our hearts, and we need more people focused on these integral areas. What Rose does supporting space satellites and eventual space travel is a huge game changer. While I don't work in the aerospace industry, we are both avid travelers and follow the airline/aerospace industry. We see the great impact that Embry-Riddle has had and continues to have.
What are you most passionate about and why?
We are passionate about space and aerospace. Space hasn't been as much of a focus as it once was, and [it] needs to be even more of a focus in our opinion. But, perhaps just as important, is the importance of aerospace. We've had the privilege to travel the world, having been to 40-plus countries and six of the seven continents. None of that would be an option, if we didn't have safe, reliable aircraft, skilled pilots, mechanics and crew, and people that understood how to make such a business model work. Air travel creates common understanding and the sharing of ideas.
What is one of your best memories of being a student at Embry-Riddle?
Rose: The camaraderie with others in the classes. Teachers' support and assistance, and camaraderie with the ROTC students when I was a teaching assistant.
Trevor: Professor Waguespack's mentorship, and I remember attending a talk by the chief operations officer of Dallas-Fort Worth Airport, which has stayed with me all these years. He opened my eyes to how wide an aperture airports manage, including other revenue streams beyond just air travel.
What other organizations or causes do you support?
Rose: We support Toys for Tots, and our military, with Trevor working in DoD, and both of our fathers having served, it's an important aspect.
Trevor: We also try to support Honor Flights and Rose's high school, Hawaii Preparatory Academy.
What would you say to encourage others to give to Embry-Riddle?
Work that Embry-Riddle is doing in space and aerospace is so incredibly integral and ERAU fills a vital need in continuing to cultivate STEM in our next generation.