Eagle Alumna Wins NASA Trailblazer Award for Work on Manned Rocket Mission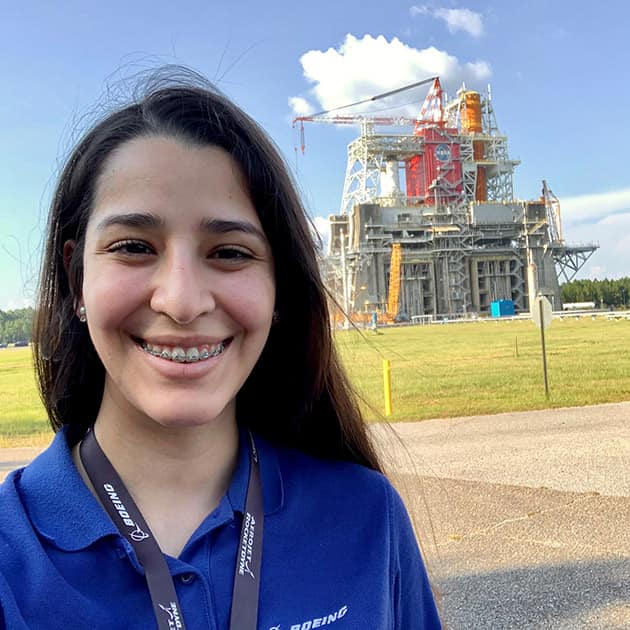 Embry-Riddle Aeronautical University alumna Nathalie Quintero ('15) was one of two early-career systems engineers at The Boeing Company to earn NASA's Space Flight Awareness Trailblazer Award for her work on NASA's Space Launch System (SLS), the world's most powerful rocket that will land the first woman and next man on the moon.
Quintero, who came to the United States from Caracas, Venezuela, as a dual citizen, earned a Bachelor of Science in Aerospace Engineering degree, with a double minor in Aerospace Life Sciences and Computer Aided Design/Computer Aided Manufacturing, from Embry-Riddle, and then a master's in Systems Engineering from Cornell University while working full-time. A member of the Embry-Riddle Honors Program, Quintero graduated summa cum laude and was active in a variety of clubs and organizations, including the Society of Women Engineers (serving as both its president and treasurer in different terms), the Women's Ambassador Program, the Society of Hispanic Professional Engineers, the Biomedical Engineering Society (vice president), Up Til Dawn @ ERAU (member), the Catholic Student Union, the International Student Programming Council (mentor), Tau Beta Pi engineering honor society, Sigma Gamma Tau aerospace engineering honor society, the O-Team and others. Also, in 2019, she was a member of the Boeing Career Mentor Program.
She earned the NASA award alongside colleague Brandon Burroughs, a Tuskegee University graduate. Both recipients are working across teams and enterprises to ensure NASA's Space Launch System deep-space rocket will take humanity back to the moon and beyond.
"It takes multidisciplinary teams to build, test and launch the world's most powerful rocket, so collaboration and communication are keys to success," said Quintero, a Daytona Beach resident. "We're all working toward the same goal."
Quintero and Burroughs' relationship-building, as much as their technical skills, has helped them reach a level of performance that was recognized in a virtual ceremony in November. Their Trailblazer Awards were given on behalf of the NASA-managed Space Flight Awareness recognition program.
Specifically, Quintero was recognized for her development and implementation of new procedures for work authorization document reviews, as she integrated the Boeing Design Center with Kennedy Space Center operations personnel. She also directs the technical review of SLS ground operations procedures, coordinating Boeing's feedback with NASA personnel, and she serves as the Boeing Launch Operations team focal for Integrated Test Checkouts. Additionally, she recently completed her Green Run Electrical Power System console certification as part of the Green Run Avionics Test Team.
"Working with NASA to build the next generation of human space exploration capabilities is an incredible opportunity to watch a new generation of talent take the baton and run hard to the finish line," said John Shannon, Space Launch System vice president and program manager for Boeing. "Nathalie and Brandon exemplify this program's unwavering commitment to mission safety and success."
Both engineers started at Boeing as interns – Burroughs with SLS and Quintero with two stints at Commercial Airplanes before SLS. And despite their challenging schedules, they are active with early-career and other Boeing diversity groups, engineering societies and community outreach.
"Boeing has provided me with opportunities to be involved and engaged since I was an intern, and in return I try to bring new perspectives, the incorporation of new technologies, and adaptability," said Quintero. "Over the past six years, I've found mentors who have helped shape my career and supported me as I completed my master's in systems engineering, which made me more versatile and valuable to the team."
To follow Nathalie Quintero's youth outreach project, visit her Instagram account: @STEMforAerospace.
*This article is based on a story originally published by The Boeing Company.
Posted In: Engineering | Space